No two ways about it — induction cooktops seem pretty neat.  A nice smooth surface that looks nice and is easy to clean, and you don't even need a stovetop cover to turn the "stove space" into "counter space" when it's not in use.
Sounds ideal for a boat, right?  About once a month I get a question asking me if one would be a good choice.
The reality is that an induction cooktop isn't going to be satisfactory for most boats.  So read on about the pros and cons.  Admittedly, I don't have one, and only know of one cruiser who did have one . . .
220 Volts
Most 4-burner induction cooktops require a 220-volt hookup, yet most US and Canadian (non-European, that is) boats are only wired for 12 volts and 110.  If you're at a dock and planning to run it off shore power, it's an issue there, too, as US/Canadian/Mexican marinas are wired for 110.  Most of the Caribbean is also 110.  You can get generators that put out 220 volts, so that is an option — but it means running the generator any time you want to use the cooktop.

In a quick internet search (not exhaustive), the only 110/120 volt units that I found were single burner "portable" units.  Basically a high-tech hotplate.  Probably not quite what you were thinking of . . . and there are still other issues (see below).
Power Draw
Each "burner" (technically an induction zone) typically uses between 1300 and 1800 watts.  That's going to take a large generator to operate more than one burner simultaneously.  And if you are thinking of using it off batteries and an inverter, just one burner will draw 125 to 150 amps off a 12 volt battery bank.  For most boats, that's a lot of power, even if you assume only one hour total of cooking time on just one burner per day (as a comparison, that's more than our boat refrigerator drew per day in the 100+ degree weather).
It'll take a very large inverter to do it, too, particularly if you want to be able to use all four burners at once (and why would you want four burners if you couldn't use them simultaneously?).
Huh?  You might be asking.  I thought induction cooktops were supposed to be energy efficient.
Well, they are.  In comparison to other electric stoves, that is.  But for boats, where electrical power is usually in short supply, propane, CNG or alcohol are usually going to be easier to supply.
No Pot Restraints
If the power problems weren't enough, you're likely to have problems keeping your pans on the induction zones.  Since induction cooktops aren't designed for boat use, they don't have any sort of pot restraint to keep the pan on the "burner."  If there are waves — even at a dock, let alone in an anchorage or underway — pans are going to slide on the very smooth surface of the cooktop.
The first problem is that once the pan slides off the induction zone, it stops cooking.  The second problem is bigger — since the pans aren't restrained, they can fall to the floor or, worse, get launched across the boat and become a missile.
Special Cookware
Induction cooktops heat food via magnetic fields, and that requires compatible cookware with perfectly flat bottoms.  You current cookware may need to be replaced — check with the manufacturer to see if it is compatible with an induction cooktop.  Some stainless pans can be used with one and others can't.
Magnetic Fields
Did your ears perk up when I mentioned magnetic fields?  Every boat is different, but your cooktop could cause interfence with your autopilot, radios and possibly other electronic equipment as well.
The Good News
Induction cooktops do have a few points in their favor if you can work out solutions to all the above.  First off, they put the least extra heat into the boat of any type of stove.  Second, there is less of a fire risk at the burner — clothing and paper towels coming into contact with the burner simply can't burn.  And third, they're easy to clean.
Bottom Line
For me, the few good points can't come close to outweighing the negatives, particularly the power draw.  I'd be interested in hearing from anyone who has installed an induction cooktop and made it work successfully on a boat — the one couple that we know who tried it quickly ripped it out and returned to propane.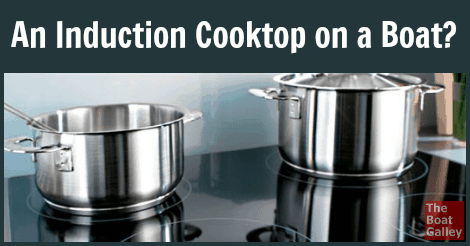 ---
Our FREE Provisioning Spreadsheet
Wondering how much of what foods to take on your next trip? Know just how much to buy of what — all arranged by grocery store aisle — with our handy Provisioning Spreadsheet. Includes detailed instructions to edit it for your favorite foods, how much your family eats, and how long you'll be gone. No spreadsheet skills needed!
It's FREE — get it here.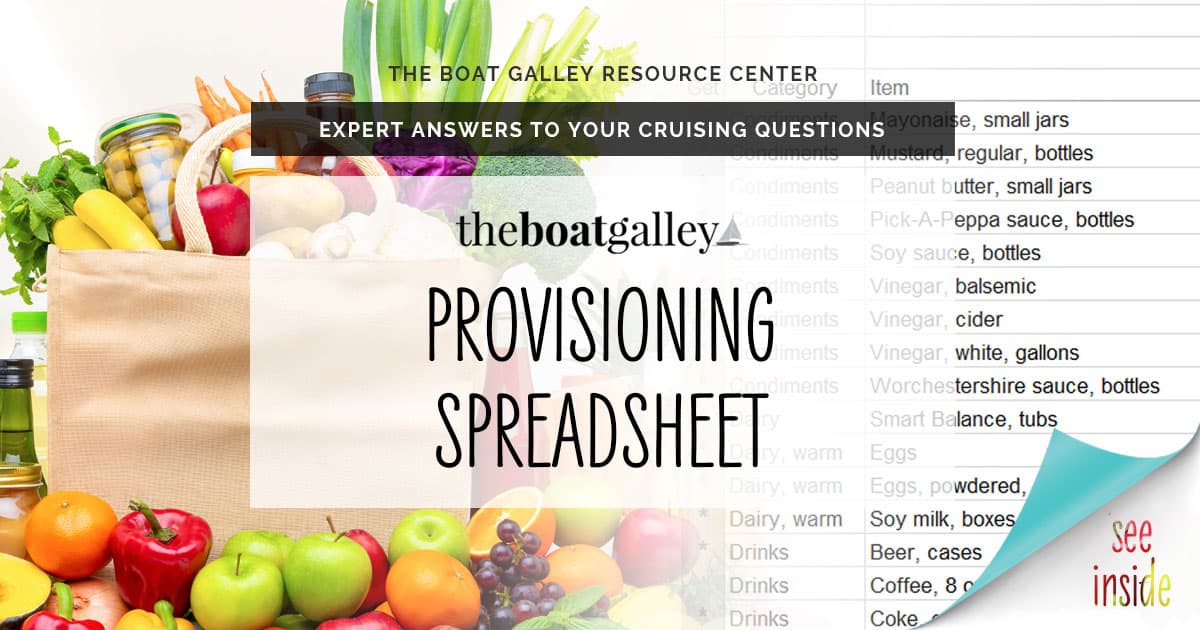 Some links above (including all Amazon links) are affiliate links, meaning that I earn from qualifying purchases. Learn more.