So many things can go wrong in a cruiser's first weeks, months, and years. Today's guest post is a good example of the steep learning curve a newbie faces when they sell everything and take off cruising.

I sympathize. I've been there too. And it's why I share what I've learned in over a decade of cruising–to help others avoid the worst mistakes. (If you're facing that learning curve, check out my series of courses to help new cruisers learn about everything from downsizing to cooking on board.)
Luckily, anyone can learn. And most mistakes, while uncomfortable, aren't fatal.
Pamela is a member of The Boat Galley team, working as my virtual assistant.
This post appeared first on her website, Emotional Nomad, where she wrote about the emotional side of cruising and full-time travel.
---
I've read plenty of social media posts that say the same thing—"How does anyone survive downsizing and move onto a boat (or RV)? It's overwhelming."
But the stressed-out, potential nomad manages the transition and sails off into the sunset. They put the trauma of moving aboard behind them and get on with their new lives. We never learn how they actually managed the move.
Until now.
Here's a peek into how my husband and I managed (or mismanaged) our transition to life on a boat. And I share the important life lessons that will help you avoid the issues we struggled with. Things that nearly everyone downsizing onto a boat or RV will have to deal with.
Selling The House
Every cruising book I've ever read starts by asking wannabe nomads, "Do you want to keep your house while you travel?"
Ha!
I know many cruisers have the means to buy a boat while still paying taxes, maintenance, and possibly a mortgage on an existing dirt house.
And sure, keeping your house gives you the potential for rental income. As well as a home base to return to. But you also need enough money to buy the boat.
That wasn't an option for us. We needed to sell our house to have the cash to buy a boat.
Luckily we lived in a hot real estate market—one where houses in our neighborhood got multiple offers in a week.
We had no worries about selling our house. And we decided to make it as easy on ourselves as possible.
Putting the House on the Market
The last house we owned took a year to sell. Every time someone wanted to see the place, I took our highly reactive dogs out for a long walk. Was it just my imagination that it rained every time?
I hated the idea of constantly cleaning up dog hair. And of not being able to live in the house like real human beings while prospective buyers toured it. So we found a pet-friendly Air BnB location to hole up for a week. The last day, we'd review bids and sign a contract with the buyer. Easy peasy.
Of course, it didn't work out that way.
Negotiating with Buyers
As expected, we had several bids on our house. Two were above the asking price—one significantly so.
While the realtor for the high bidder told us about his clients, I remember thinking they seemed unlikely buyers for my house. They already owned a pricey property in Princeton, New Jersey. Nothing I learned about them led me to believe they'd love my modest house with one bathroom.
The lowest bidders didn't appear to be able to afford the house.
The second highest bidder, however, sounded like someone who would love the house as much as I did.
But it would be crazy to not accept the highest bidder with a large, cash down payment, right? So I did the conventional thing and chose the high bid.
All my misgivings came to bear as the buyers brought in contractors to price installing a whole house air conditioner (in the Finger Lakes of NY where the average summer temperature is in the 70s). They started making their own agent crazy before finally pulling out of the deal because a house more suited to their needs came on the market.
So now we have to put the house back on the market and deal with the same no man's land of living-but-not-living in a house so it's pristinely clean for showings.
In the end, the second highest bidder made another offer and we eventually negotiated a successful sale. I'm happy to know my old home is being loved by a charming woman.
But I regret the extra time and money wasted by dealing with the first buyers.
Life Lesson – Always trust your instincts. Even if 99 out of 100 people would make a different choice, you have to listen to the little voice inside you that knows better.
Downsizing to Move onto the Boat
With the excitement of selling the house behind us, we only had to get rid of everything in our house that wouldn't fit onto a boat.In truth, this was the easiest part of the process for me. I wrote about how I managed to get rid of all our stuff in Can You Downsize Without Stress.
New York involves attorneys in every real estate closing. That gave us about a month longer to clear out our belongings than many other folks.
Because we didn't have unlimited money, I felt the need to sell as many things as I could for the best price I could get.
I did the following to sell our household belongings:
held a whole house sale
sold specific items on Craigslist
had an online sale for items of interest to my dog-loving community
took items to a consignment store
delivered large furniture to an auction house
sold computer gear to refurbishers.
Things I could not sell, I donated. I left a small number of sentimental items in my sister's attic.
On the day we moved, everything we owned fit into a Kia Soul.
While I worked hard to maximize the amount I could make from selling our stuff, I knew our used stuff would sell for a small fraction of what we paid for it. In truth, I did the best with things I bought used to begin with—occasionally selling them for more than I bought them for.
But my primary goal wasn't actually to make the most money possible selling our stuff. It was to feel happy about releasing things we had used and enjoyed into other people's homes.
My house sale was a particularly joyful experience. I witnessed students from my classes for first time home buyers buying tools they'd need to set up housekeeping. It felt good to know things that had been useful to us would continue to benefit other young families starting out.
Life Lesson – Find a positive end to clearing our your stuff. If you meet a happy goal when downsizing, you'll feel much better than if you focus entirely on making money or getting rid of stuff quickly.
Shopping for a Boat
Our hometown on an inland lake wasn't the best place to start shopping for a cruising boat. Besides that, we had enough to do with downsizing our home. And we did not yet have the money to buy a boat.
Frankly, we also didn't feel confident about buying a boat.
Although we read tons of information about boats and had a list of likely prospects, it was an intimidating decision to make.
When we discovered that the creator of one of our favorite research sites offered consulting services, we opted in. I described the kind of boat I was looking for and sent off a ton of questions. I looked forward to getting advice from someone about balancing our budget and our lack of experience.
Wouldn't it be great to consult with someone who could help us find the right boat?
Unfortunately, the consultant's idea of consulting was to push us in the direction of buying a boat being sold by one of his former clients.
Yeah, it was a nice boat. It was built by a manufacturer on our consideration list. But it was also several feet longer, well over our budget, and loaded with expensive electronic gear we didn't want or need.
We pondered a long time whether we should spend the time and money to see a boat in Florida that didn't fit our needs. In the end, we chose not to. And I don't regret that.
But I do regret paying $750 to a consultant who was less interested in helping us find the right boat than in generating what was, in essence, a finder's fee for connecting us with a former client.
Am I sour on hiring a boat broker or a consultant to help find a boat? Not really.
I'm thankful for expertise. And I'm happy to pay for it when it's helpful.
But if I were doing it again, I'd hire a consultant who spells out precisely what their services cover. And who gives every indication that they know how to listen.
If I had known about Behan and Jamie Gifford's Ask A Cruiser service when I was shopping, I would have signed up for it instead.
Life Lesson – No one knows you better than you; work with people who listen to you.
Buying the Boat
A slipholder selling his boat at the Cambridge Maryland Municipal Marina had shared his copy of Spinsheet magazine with us.
Yep, we found our perfect boat in a classified ad.
We wanted our dream boat to be
well-built; sturdy enough to keep us safe while we were learning
affordable; older (but not too old), no longer than 36 feet long
and simple; not filled with complex electronic gear.
In the end, after looking at a series of boats in the Chesapeake Bay area, we bought a 1990 Pacific Seacraft 34 owned by three couples.
John, the owner who handled showing the boat, was an interesting person. He answered all our questions and with a lifetime of sailing behind him and had lots of good advice for a couple of newbies.
And although we knew it would be harder to buy a boat without a broker involved to take care of the paperwork, it was nice not dealing with someone whose attitude suggested he thought we were crazy for not buying one of the boats he was representing.
We visited the boat several times, took it out for a sea trial, and made an offer based on how Meander's equipment and condition compared to other Pacific Seacrafts we had looked at.
With a few minor negotiations, Meander was ours.

We had a terrific survey. Yes, there were some things the surveyor told us to look out for in the future. But we were buying a sturdy boat that would take care of us for years—if we took care of it.
To transfer the payments (we made a large deposit and agreed to pay the balance after the owners did some work on the boat), we set up an escrow account with an online service.
The escrow service was a nod to my experience working with some less-than-ethical real estate-types. But it wasn't necessary.
The sellers trusted us and we trusted them.
They even let us move onto the boat a few days before the final cash transfer took place.
And that's where the real fun began.
Life Lesson: Do business with people you trust. It's not worth trying to keep up with the shenanigans of someone ethically-challenged. And there's always another boat. Really.
Moving onto the Boat
After living in my sister's guest room with all our stuff for two months while shopping for a boat, we felt ready to move onto the boat.
My sister and her husband probably felt even more ready.
You'd think it would be simple moving onto a boat. After all, everything we owned fit into a car.
But we had to find places for everything. And keep track of where it was so we could find it later. We also had to get to know the boat.

Everything was new to us—cooking on a propane stove, using a marine head—heck, even sailing a 13,000-pound vessel. The largest boats we had sailed up to that point were quite a bit lighter.
What made move-in more challenging was the marina where we were located.
It was cheap. If I recall, the slip cost $90 a month. Yes, you read that right.
But the electricity was iffy. I was afraid to put any of our belongings down on the dock ornamented with bird poop dating back to the dinosaur era. And our slip looked out on a large fish processing plant.
When the wind came from the right (or wrong, depending on your viewpoint) direction, our noses became overwhelmed with the aroma of dead fish.
It's no wonder we didn't figure out immediately that the holding tank for our head was full and seeping out the top (if you want the whole gross story, read what I wrote about our bad day when it happened). Yes, it smelled. But I couldn't distinguish it from the rank smell coming from the fish plant.
What finally clued me in? My sheets were getting wet. Yes, our holding tank was under the v-berth—my side of the v-berth.
That was it!
We packed up every piece of cloth on the boat and drove an hour, round trip, to the closest laundromat.
Oh, didn't I mention the other thing that made this marina so tough to live in? It was in the Northern Neck of Virginia, located miles from anywhere.
To get a cell phone signal we had to drive a few miles up the road, park at the edge of a soybean field within site of a tower, and conduct our business as efficiently as possible. Once we returned to the boat we could no longer reach the outside world.
On one of those sessions in the bean field, I researched online and found a small, pet-friendly motel some distance away.
After the stress of move-in compounded by sleeping in feces, I decided we needed a vacation. We stayed in the motel several days while we we recovered our sense of humor. And to give the boat time to air out.
Oh, in case you're wondering, it takes a couple living full time on a boat about three days to fill a 12-gallon holding tank.
If this had happened to us in most other marinas, we would have had other boaters for company to tell us their horror stories. We might have been able to get the boat pumped out right in the slip.
Best of all, we might have been able to research how long it takes to fill our holding tank before we found out the hard way.
Life Lesson – Don't underestimate the challenges of where your boat is located when you move on board. You might find a great deal in that remote boat yard in Guatemala. But figure out how to make the transition as easy as possible given the limitations of where you find your boat.
Early Days Living Aboard
Living aboard was a challenge. But moving the boat together was even more so.
Yes, we had compressed our entire lives into a space smaller than the average guest bedroom. But back in our dirt house, we spent all our time together anyway.
I had decorated a guest room in our old house to give Mike his own office. Did he use it for more than a month? Who remembers?
Eventually we moved his drafting table into my office.
I remember wondering why we had so many rooms in our house (a total of eight, including the bathroom and foyer) when we simply followed each other from the kitchen to the office to the bathroom to the bedroom.
So the small space wasn't such a big deal.
The real test came when we took the boat out of the slip.
Moving the boat—together
The challenges of our marina didn't end with its lack of livability. It had its own navigational pitfalls—at least for a couple of newbies.We had to carefully find the deep water that led to our slip. Get off track a few feet and you could run aground.
And that huge fish processing plant? It meant we had to remain constantly mindful to stay out of the way of the massive fishing boats that went out day and night.
But the biggest navigational challenges of that marina? The navigators themselves.
Our first trips on the boat were a blur.
I remember a lot of yelling. Some crying. And even a mutiny that led to me being declared captain of Meander from then on.
It would have been different if one or both of us had more sailing experience before we moved on board (we had taken ASA sailing lessons and chartered a boat on our own in Canada). But it would not necessarily have been easier.
Embarking on the new challenge of life on board and feeling afraid exposed the emotional wounds we had both suffered in our lives. Three years later, we're still trying to figure things out.
It's hard to keep fear from ruining your relationship.
From the beginning to now
The more we sailed the boat, the easier it became.
In between, we struggled to navigate in busy Charleston Harbor while sailing the boat. We ran aground in the ICW countless times. I can't tell you how many tricky dockings we managed until landing in nearly any condition became almost easy.
While I can't say I've been happy to learn how angry my husband can get when he feels incompetent, I'm very proud to see him become a masterful boat handler—especially in tight quarters.
Most of my best moments on the helm have come because I learned from watching him.
I'd like to think there are things he's learned from watching me too.
Life Lesson: Be prepared for anything. You have no idea what crazy experiences fate has in store for you. Just be ready to roll with it.
What Will Happen When You Set Out
Maybe your next adventure will be in an RV instead of a sailboat. Perhaps you have years of experience handling a boat. You might even be setting out alone.
Your experience will be entirely different than mine.
But what will be the same, as it is for everyone, the task of managing your emotions will be harder than any physical challenge you face.
I'm assuming that the reason you're contemplating the nomad life is because you want to challenge yourself. You're looking for a new way to live. And you want to explore new places.
So read books about engine repair and sail structure. Learn the skills that help you do the work you need to do.
But also work on yourself. Because when you set out, managing your emotions will be the greatest adventure of all.
---
Our FREE Provisioning Spreadsheet
Wondering how much of what foods to take on your next trip? Know just how much to buy of what — all arranged by grocery store aisle — with our handy Provisioning Spreadsheet. Includes detailed instructions to edit it for your favorite foods, how much your family eats, and how long you'll be gone. No spreadsheet skills needed!
It's FREE — get it here.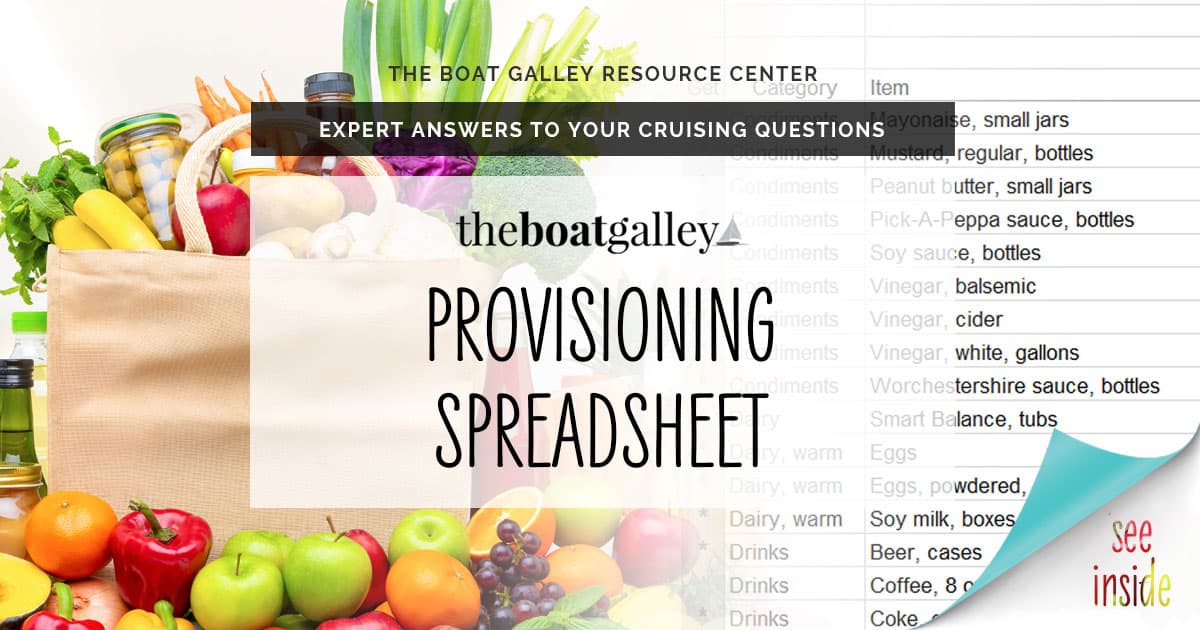 Some links above (including all Amazon links) are affiliate links, meaning that I earn from qualifying purchases. Learn more.