Here's a great idea for holiday decorating from a long time cruiser, Marilyn Oliveira aboard Tortuga. We got to know Marilyn and her husband Rick in the Sea of Cortez – they've owned Tortuga since 1980, and raised their two daughters aboard.
Marilyn says:
We celebrated many holidays on the boat and I actually have a locker dedicated to holiday decorations collected over the years. But most of them don't come out of the locker anymore since it is hard to celebrate holidays with the cruising lifestyle. But I still want a little recognition of the holidays.
Now, she gets holiday-themed window clings – they'll stick to smooth fiberglass just as well as to glass (or plexiglass/Lexan), they're inexpensive and  they're colorful. She sent me the picture of her Halloween decorations that I used at the top of this article – so easy!
Clings take virtually no room to store — you can put them under a bunk or settee cushion to keep them flat and out of the way, and reuse year after year.
There are a wide variety of patterns, too, to suit your own preferences. I just looked on Amazon for Christmas window clings, and found everything from pieces for a Nativity scene to "How the Grinch Stole Christmas" or Santa and a Christmas tree. And if you're missing that winter weather, you can get a pack of snowflakes.
The nice thing about clings is that they can be put up in just minutes and taken down equally fast, with no tape residue or other marks.
Check the directions on the package, but you generally can't just take them out of the package and stick them on (I think this is why a number of clings have mixed reviews on Amazon, with poor reviews from those who thought they were just stick-ons). Usually, you need to get a spray bottle of  soapy water, spray the area where you want to put the clings (protect anything below from the soapy water), put the cling in place and then use your hand, credit card or squeegee to smooth out the cling and remove the excess soapy water. Wipe with a rag for the final clean up.
In addition to using clings for holidays, Marilyn has collected a bunch of tropical fish clings and turned the head into an aquarium!
You can often buy the clings at dollar stores, but if you don't see ones you like – or want to buy some ahead for various holidays if you're going to be out cruising – check out Amazon. I can find clings there for pretty much any holiday – and also for favorite sports teams and more. The only limit on your decorating is your imagination, as it seems you can get almost any cling you can think up!
---
Our FREE Provisioning Spreadsheet
Wondering how much of what foods to take on your next trip? Know just how much to buy of what — all arranged by grocery store aisle — with our handy Provisioning Spreadsheet. Includes detailed instructions to edit it for your favorite foods, how much your family eats, and how long you'll be gone. No spreadsheet skills needed!
It's FREE — get it here.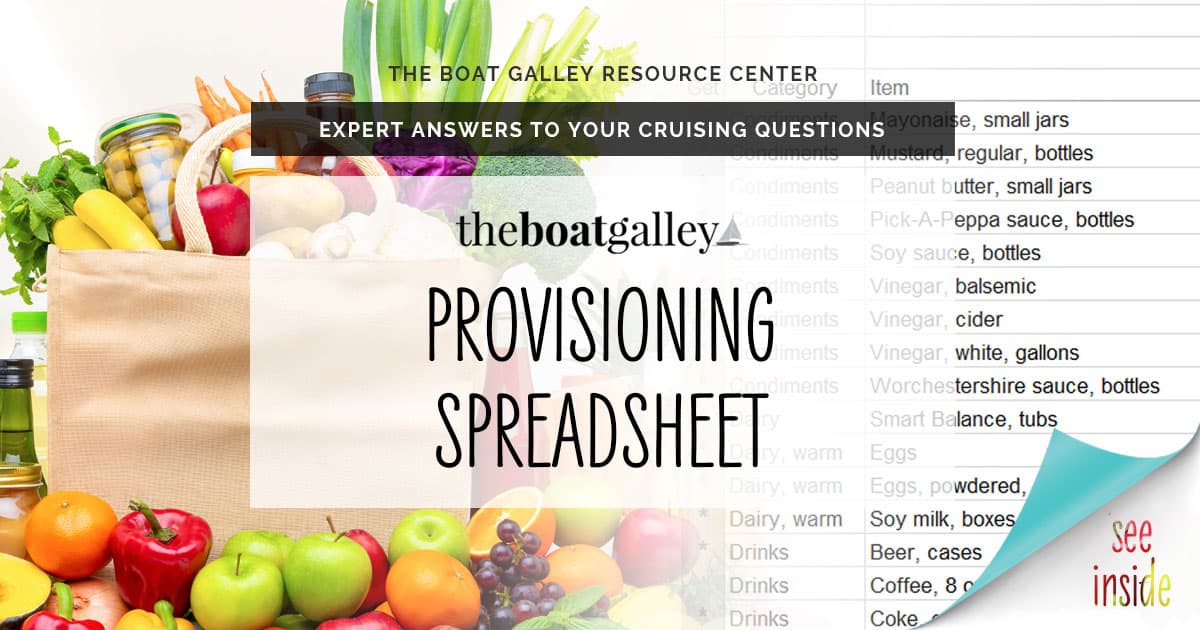 Some links above (including all Amazon links) are affiliate links, meaning that I earn from qualifying purchases. Learn more.