St. Patrick's Day calls for green beer!  And if you don't drink beer, how about some other green drink — green wine, green 7-Up, or even a green martini?
I'll be honest — we had never really done anything special for St. Patrick's Day before we began cruising.  But we found ourselves socializing a lot more in general — nearly every day we'd do something with friends from other boats — and various holidays such as St. Patrick's Day were great excuses for get-togethers and even provided a theme.
And making green drinks is just plain easy.  All you need is some green food coloring (or blue and yellow, which will mix to form green) and a pale drink.  A few drops of food coloring, a swish of a spoon, and it's ready.  Just be careful as the food coloring can stain counters and clothing should it spill.
Dark beer doesn't work as well as regular, but will turn a dark green.  For kids, 7-Up, Sprite, ginger ale or even water works well.  White wine can be tinted, margaritas can be made "greener" and many rum drinks such as Painkillers and Pina Coladas can be colored.
Serve drinks in clear glasses for the most impact, and have fun!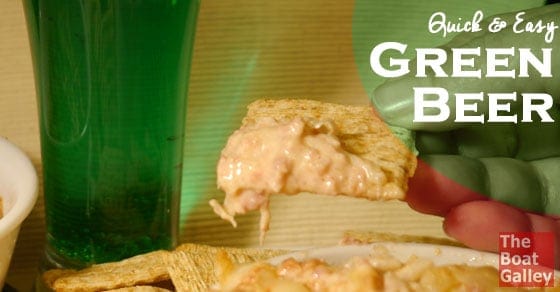 Some links above (including all Amazon links) are affiliate links, meaning that I earn from qualifying purchases. Learn more.