I never use meat tenderizer on meat, but I always keep a jar on hand.  Huh??
First, the reason for never using it on meat:  it tends to make meat mushy.  Meat tenderizer works by breaking down proteins.  When you sprinkle it on the outside of a piece of meat, it breaks down the proteins on the outside, making it mushy, without doing a thing to the inside of the meat.  So if it was tough to begin with, it will still be tough . . . just with mush on the outside.
But that same quality of breaking down proteins is why I do always keep some on hand.  You see, most venoms are proteins.  That's bug bites, bee stings, fire ants, spider bites, jellyfish and even stingrays.  Probably others too.
Just pour a bit of meat tenderizer into the palm of your hand, add a few drops of water and mix into a paste that you can rub on the affected area.  It may not instantly stop the pain, but it will considerably lessen the pain fairly quickly.  I know that for me, it turns a very painful bee sting into something I can live with.
So next time you're provisioning, be sure to add a bottle.  Get the original "unseasoned" variety — you really don't want to be rubbing a bunch of spices into the bug bite!  But don't use it on tough meat – the best way to deal with tough meat is long slow cooking in liquid.  Save the meat tenderizer for critter bites.
One note:  if the venom is something you're allergic to, this won't stop a reaction.  You still need to keep antihistimines, steroids and Epi-Pens on hand for that.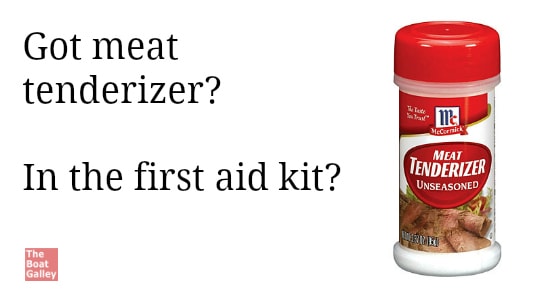 Some links above (including all Amazon links) are affiliate links, meaning that I earn from qualifying purchases. Learn more.