NOTE: I love this bag and our EPIRB, but the offer was good in the summer of 2015. The promotion has ended.
One of our "to-do" items for this summer is to seriously up the safety gear aboard Barefoot Gal. She didn't come with a lot and much of what she did have was not in great shape. Last spring we got new PFDs and tethers — read about those here.
Next on our list was to get an EPIRB. In case of a major disaster, an EPIRB with GPS is the fastest way to get help even if you are out of radio or cell phone range. And it can be taken with you in the life raft or dinghy, or even just float next to you in the water.
This is one of those things that we're spending money on and hoping we'll never, ever use.
When I began researching our purchase, I discovered a good deal going on now through August 15 or possibly longer. When you buy any one of four ACR EPIRB models from Defender or Landfall Navigation, you get a free large ACR RapidDitch bag. Since these otherwise cost $75 to $85 (list $116), I wanted to make others aware of it (I have no ties to ACR, Defender or Landfall Navigation).
If you need both a ditch bag and an EPIRB, as we did, it's a good deal. (You can also use large dry bags, Pelican cases or other items for a ditch bag, so this is not your only option.)
The bag is a floating ditch bag and will float up to 25 pounds of gear. You may have recently read of a cruiser on the gulf side of Florida who had a fire aboard and threw his ditch bag over the side and missed the dinghy . . . the bag didn't float and all his emergency gear went to the bottom.
Just to make sure that ours will float, we'll put a lot of our gear into waterproof boxes (Lock & Lock and others) which will also have some air. And wherever there's a bit of space, I'll add some pieces of a swim noodle.
NOTE: The ditch bag is just the bag; it's up to you to fill it with emergency supplies. As we stock ours, I'll post more on what we're including and why.
Now on to the EPIRB. If you are planning to coastal cruise or go offshore, you really should invest in one. I know a number of boats on a budget don't, but you can get a good one for $425. Every time I hear a story about someone who is lost at sea (the recent story of the two 14-year-olds lost off Jupiter is fresh in my mind), I wonder if the outcome would have been different if they'd had an EPIRB. After spending thousands on a boat, you owe it to yourself and those on the boat with you to have one.
Both Defender and Landfall Navigation are offering the same free bags with the same EPIRB models, but their deals are a little different.
Defender will ship the ditch bag to you with the EPIRB and the deal is good through August 15. You have to pay shipping. Go to the Defender page.
Landfall Navigation offers free shipping and says the deal is good through the end of August "while supplies last." However, you have to send in a rebate form with various proofs of purchase and proof of registering the EPIRB and then wait 8 to 12 weeks for the bag. Go to LN's EPIRB page.
A total of four models are included in the promo — the ACR GlobalFix Pro (Cat 1 or 2) and the ACR GlobalFix iPro (Cat 1 or 2). Defender has put together a nice comparison chart of all the EPIRB models they sell — see it here.
In many respects — battery life, location accuracy, waterproofness, strength of signal and so on — the models are the same. And the prices at Defender and LN are close.
So what did we get? The ACR GlobalFix Pro (Cat 2) from Defender. Since one of our summer jobs was to set up our ditch bag, it was worth paying shipping to get it now instead of three months from now. That explains why we chose Defender but why this model? Admittedly it is the least expensive of the four . . .
The iPro features a digital display for testing. The Pro uses lights and beeps when you test it. The digital display would be nice, but we dealt with beeps and lights in testing the one we had aboard Que Tal and never felt uncertain of the unit's condition.
The iPro also has an NMEA GPS interface. With this, you can connect the device to your boat's GPS and it will transmit your position with the first data burst. It comes with a connector that you have to splice into the boat's NMEA backbone (or at least that's how I read the owner's manual; it's not very clear — apparently you unplug this when you release the unit from its bracket). While this seems nice, I'm not sure that transmitting the location a minute or two sooner (the internal GPS is designed to lock in very quickly) is going to make a huge difference in a rescue. We figured that the Pro would serve our needs.
That left the question of whether we wanted Category 1 or 2. Category 1 will automatically release itself from its bracket if submerged in water (think capsize or sinking); Category 2 must be manually released.
The only time that this is important is for automatic activation (that it, no one on board deciding to activate it and taking action to do so). Both Cat 1 and 2 EPIRBS automatically activate only if both out of their bracket and wet; otherwise they must be manually activated. Either one can be manually activated in or out of the bracket. We decided that manual activation was the much likelier scenario and so opted for the (roughly $100 cheaper) Category 2.
A couple of notes about buying an EPIRB:
Units are sold by the boat's country of registration. The units in this promo are programmed for US boats (not boats in US waters but US registered boats anywhere in the world).
After you get the EPIRB you must register it. Registration connects your EPIRB to your boat and your emergency contact info.
Read the instruction manual and do the periodic tests.
---
Our FREE Provisioning Spreadsheet
Wondering how much of what foods to take on your next trip? Know just how much to buy of what — all arranged by grocery store aisle — with our handy Provisioning Spreadsheet. Includes detailed instructions to edit it for your favorite foods, how much your family eats, and how long you'll be gone. No spreadsheet skills needed!
It's FREE — get it here.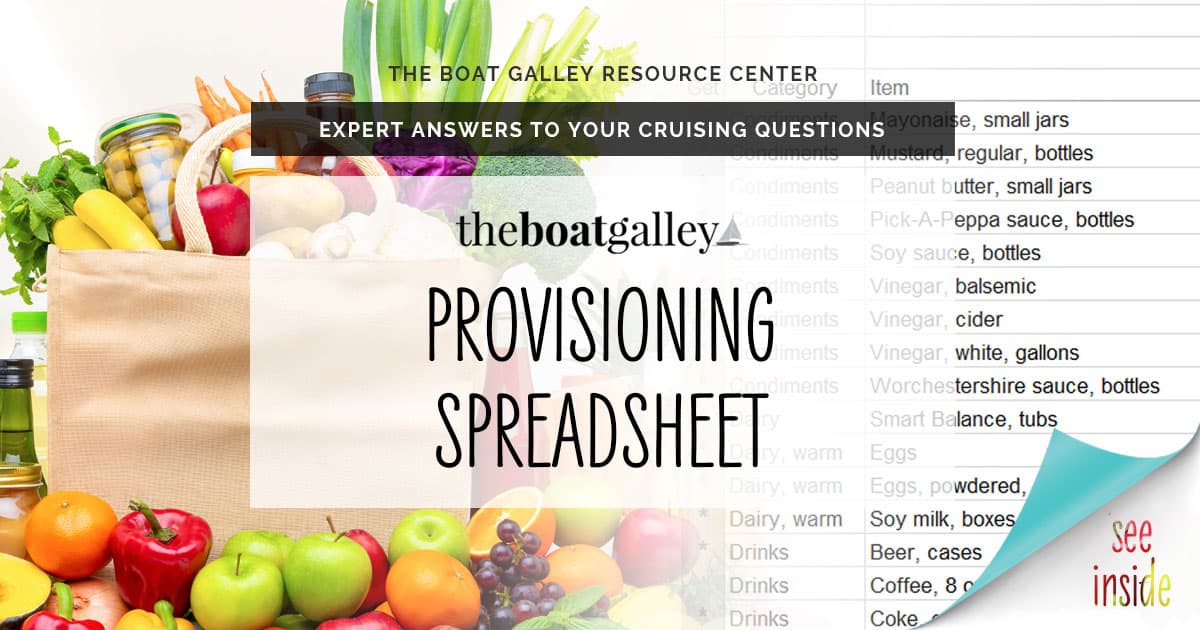 Some links above (including all Amazon links) are affiliate links, meaning that I earn from qualifying purchases. Learn more.