An ice pack is a really handy thing on a boat.  There's the obvious need in case of an injury, but also the less obvious use of keeping food cold.
Taking a cold dish to a pot luck where it might sit out for a while?  Having a sour cream dip on a day when it's 95+ in the cockpit?  Putting it on ice would sure be nice!

If you're like us, you may have a freezer, but not use it to make ice.  Those vertical ice cube trays just take up too much room in a tiny freezer . . . space I need for meat, fish and frozen yogurt!  I can spare a little space, but not enough for a whole tray.  So how to have an ice pack?
A homemade gel ice pack solves the problem.  By making it yourself, you can make any size pack you have space for in your freezer.  And since it doesn't freeze solid, you can stick it in any corner or odd-shaped space in the freezer — even fold it or roll it up.  And when you take it out to use it, you can make it into pretty much whatever shape works best — wrap it around a neck or ankle, put it flat on your back, or cup it around a dish.
If you have a freezer aboard, you most likely have the other items you need to make your gel ice pack — and it will cost just a fraction of what those fancy ones in the drugstore cost!
You need:
2 Ziploc™ freezer bags — the type that press together are less likely to leak than the ones with the "zipper" and either quart or gallon size will work, depending on the size pack you want.
Good duct tape — lately we've been plagued with duct tape that is paper-thin and tears apart easily, so we've been using Gorilla Tape for jobs where the tape can't fail — I highly recommend it but it's not cheap.  (It's available many places, such as Wal-mart and Home Depot).
1 part alcohol — rubbing alcohol or any rotgut stuff you'd use to stun a fish on the line (don't use the good stuff!)
2 parts water — even sea water

Place one of the Ziplocs into a bowl or measuring cup so it stands upright (you could also have someone hold it upright), and pour the alcohol and water into it.  I used a quart Ziploc, 1/2 cup alcohol and 1 cup water.
Remove the bag from the container and carefully press it to get as much air out as possible, then press the sealing strips together.  It's important to get as much air out as possible, as it makes it easier to fit into the freezer and to curve around an ankle or bowl once frozen.

Fold the top of the bag over just below the seal strip, and then duct tape the whole length of it, going slightly around the ends.
Label the other bag "Ice Pack" or something similar — you don't want someone to try to eat it or throw it out.
Then put the taped bag in the second bag, get the air out, seal it and tape it.
Put it in the freezer any way it will fit — since it won't freeze totally solid, but instead will be slushy, the shape just does not matter.
It took about 4 hours for my bag — with 1-1/2 cups of liquid total — to freeze to slush.

It may not look the prettiest, but putting a bowl with food that you need to keep cold while serving it inside another bowl with the gel ice pack in between works well.
Use it and re-use it . . . and if you suddenly need that extra bit of space in the freezer, you can take it out and put it in a locker, then put it back it the freezer when you have space.
Keep an eye out for wear on the outer bag.  If holes start to develop, either seal them with more duct tape, or replace the outer bag.  Don't wait until there's a hole in both bags and the "slush" leaks out!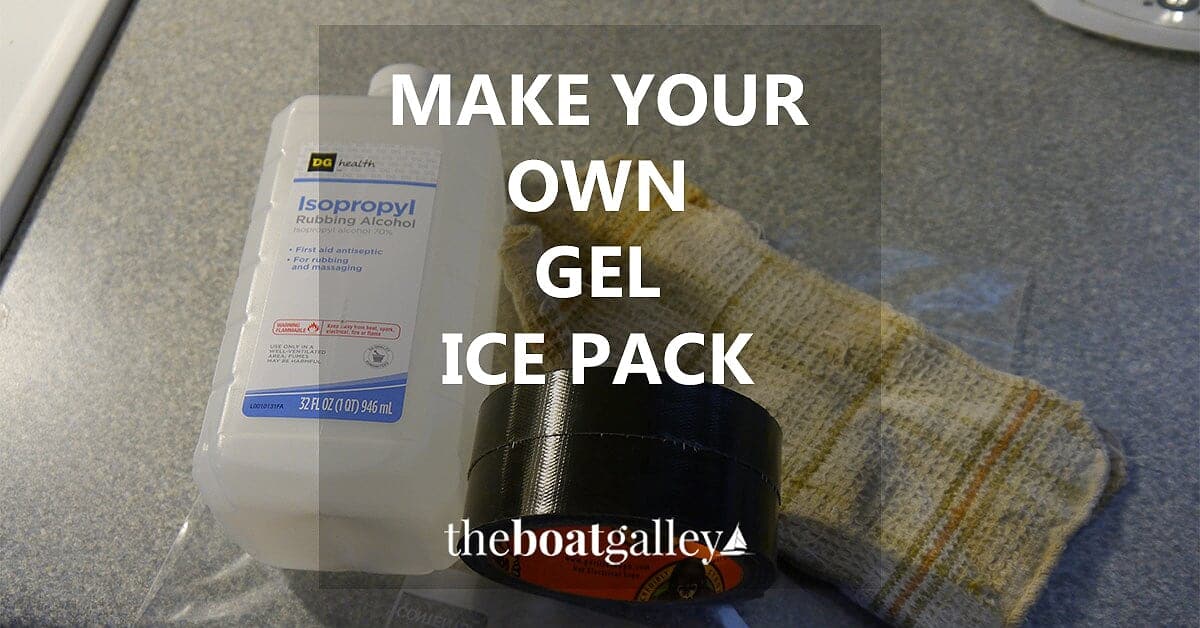 Some links above (including all Amazon links) are affiliate links, meaning that I earn from qualifying purchases. Learn more.