I first heard about Galleyware's plans for a line of tempered glass dishes a little over a year ago at the Annapolis Boat Show. In fact, owner Kris Nonnenmacher made a special point to talk to me about them there.
They came out in late spring and I've been using them for about six months now. Dave and I really like the set for several reasons:
They look nice! Five designs to choose from, each with dinner plate, salad plate, soup/cereal bowl and a large serving bowl. Four designs are shown above — the fifth is a crab. I frequently use the serving bowl for cracker and chips during happy hour with friends, as well as for salads and other side dishes.
The plates are a hard surface, more like china than plastic or melamine. In fact, similar to Corelle, but a little heavier to me.
Unlike plastic, you can cut on them without it showing. None of the wear problems you have with melamine. And you can use them in the microwave, which you can't do with melamine and many plastics.
They are quite break resistant — an important quality on a boat. Not to say that one can't break — Dave dropped a stack of dishes about a month ago and a bowl did break. I'm guessing that one landed on top of another with a sharp blow, but we'll never know for sure exactly how it happened.
I store the dishes in a drawer with a bit of padding and have not had one break while underway.
The biggest difference between the Galleyware plates and Corelle is what happens if one breaks. Galleyware will break into a number of pieces, including some small ones. Corelle will usually shatter with lots of very sharp shards going everywhere (I used Corelle for years). It's not that the Galleyware dishes will never break (they seem about as break resistant as Corelle to me), but that they'll be a lot less dangerous if they do.
Here's a picture of our broken Galleyware bowl — there were also some smaller pieces that had to be swept up. Following that, a picture from when we broke a little Corelle bowl.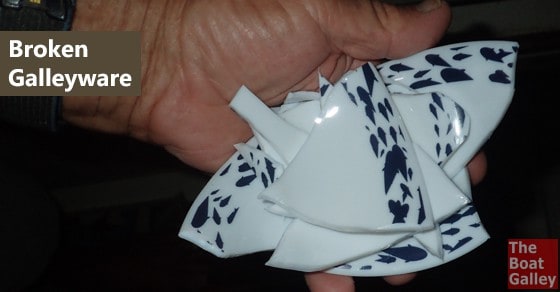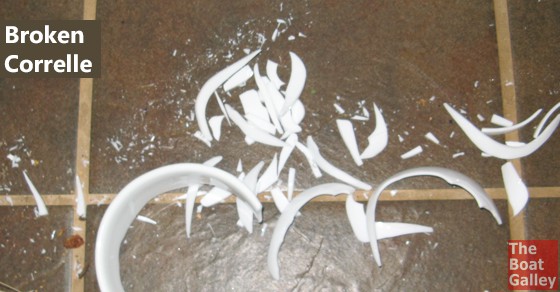 Galleyware took a video of one of their plates being dropped on a concrete floor. There are some small pieces, but not nearly as many as when I broke a Corelle bowl on a tile floor in the photo above. And, while you can't see it in the video, the pieces aren't as sharp and "sliver-y" as the Corelle shards were.
I have to admit, unless you've had one of each break on the floor in front of your bare feet, it's hard to see the difference. But there definitely is one!
One thing to note about the Galleyware dishes, which is also true of Corelle, is that they do not have non-slip bottoms. You can make them non-slip by using non-slip placements or one of my other "non-slip solutions."
BOTTOM LINE: I want "real dishes" instead of plastic or melamine. I know that there is always the chance of mishaps, so I want a set that is break resistant. Between Galleyware and Corelle, I'm choosing Galleyware because it's a lot less dangerous should a piece break.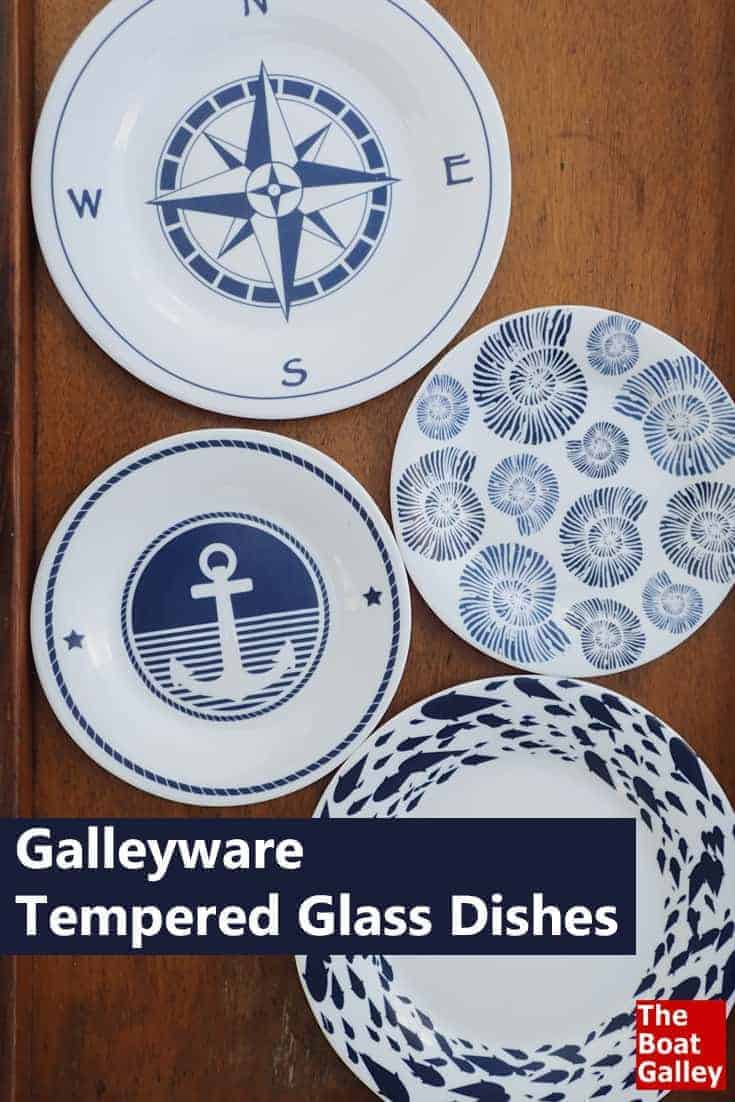 Some links above (including all Amazon links) are affiliate links, meaning that I earn from qualifying purchases. Learn more.