So many recipes specify things like "3 cloves of garlic, minced" . . . and all you've got is garlic powder.  You know that it'll work to substitute it—but how much should you use?  If you have an internet connection, you might Google it.  On a boat, though, you may not have an internet connection when you need it.
Keep the following list handy for the most common substitutions, but note that heat and age can considerably reduce the potency of many herbs and spices, so you may need to use more.
Garlic
1 clove, minced = 1 teaspoon minced = 1/8 teaspoon garlic powder
Bouillon Powder/Cubes and Salt
1 bouillon cube = 1 teaspoon bouillon powder
1 teaspoon bouillon powder has about 1/3 the sodium of salt (I often use bouillon powder in place of salt to add flavor to meats and decrease sodium)
Garlic/Onion?Celery Salt vs. Powder
The "salts" are generally half salt and half powder, so if the recipe calls for 1 teaspoon garlic salt, use 1/2 teaspoon salt and 1/2 teaspoon garlic powder. Similarly, if it calls for 1/2 teaspoon garlic powder and all you have is garlic salt, use 1 teaspoon and cut any salt in the recipe by 1/2 teaspoon.
Herbs
1 tablespoon fresh, minced = 1 teaspoon dried UNground = 1/2 teaspoon dried ground
Ginger
1 tablespoon fresh (grated or minced) = 1/8 teaspoon powdered ginger
Onion
1 medium onion, chopped = 1 tablespoon onion powder = 1-1/2 tablespoons garlic salt (this includes an extra 1/2 tablespoon salt that you'll need to compensate for)
Celery
1 cup chopped or sliced celery = 1 tablespoon celery powder = 1 teaspoon ground celery seed
NOTE:  So many times, I haven't known what the exact conversion was for a particular item and have just winged it.  I finally began compiling a list and included it in the cookbook Jan and I wrote.  Our Substitutions chapter is huge—28 single-spaced pages in Word (way too long for an article)—as we both know how substitutions are just a way of life when cruising. And our recipes always list lots of substitutions right in the them. Get a free sample of it here (sorry, the Subs chapter isn't part of the sample):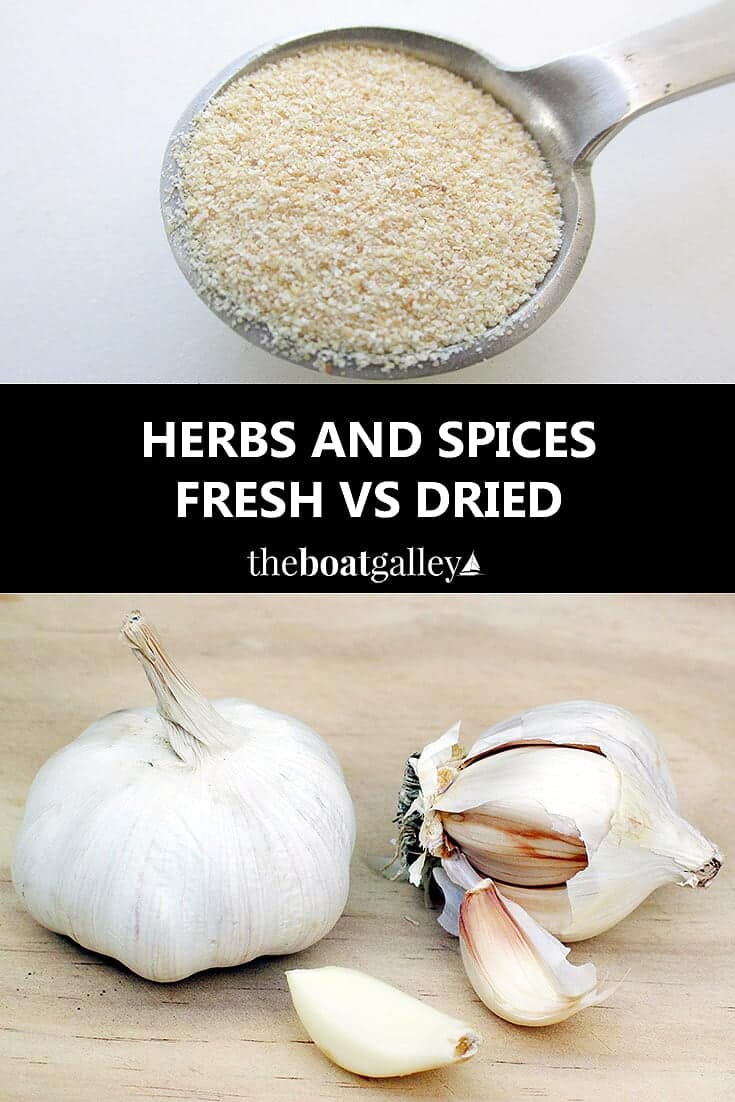 Some links above (including all Amazon links) are affiliate links, meaning that I earn from qualifying purchases. Learn more.