Going on a bareboat charter and wanting some fresh fish? Want the fun of catching it yourself but not the hassle of getting the right licenses and renting gear . . . let alone finding the best spot? And there's always the chance your hook will look like the one in the photo as some sneaky fish steals your bait without getting hooked.
Reading the March 2013 SAIL magazine, I had an a-ha moment reading about Senior Editor Meredith Laitos' charter in the Florida Keys. Meredith is also the host of The Charter Channel at sailmagazine.com and has chartered all over (check out her great recipe from a trip to Desolation Sound). I immediately wrote Meredith and got her permission to share . . .
Meredith's trick? A half-day fishing charter!
She sets it all up ahead of time, researching the opportunities online and making reservations. You may even be able to find a company that will pick you up right from your boat in a designated anchorage, the way many dive boats will.
One thing to be certain of, though, is that you're allowed to keep what you catch. In some areas, there's a local custom of catch and release or that the fish belongs to the boat. When booking, be sure to specify that you're looking for fish to eat, not just the thrill of catching. Some fish just plain aren't good eating and you want to concentrate on those that are.
Admittedly, a sportfishing charter isn't a cheap way of getting fish. Prices vary greatly, and if you don't have a big group on your boat you can often do a "shared charter" where you pay per person instead of chartering the whole boat. But it can be a fun addition to a vacation and generally includes everything — and someone else will clean the fish and turn it into fillets for you.
Meredith (center) stopped by the get-together that Jan (left) and I hosted at the Annapolis Sailboat Show a couple years ago and snagged a copy of The Boat Galley Cookbook. I really appreciate her willingness to share her tip here!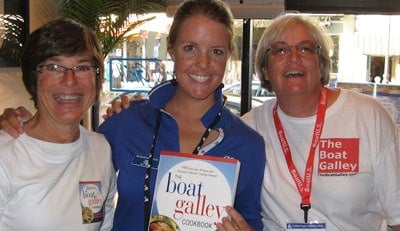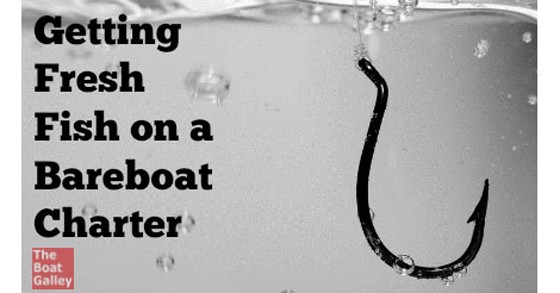 Some links above (including all Amazon links) are affiliate links, meaning that I earn from qualifying purchases. Learn more.