Food allergies are on the rise.  And they can suddenly strike at any age, with symptoms ranging from mild to deadly.  So how does this concern cruisers?
Cruisers are the most social group I know.  Pot lucks, happy hours and just sharing treats on the beach are a way of life:  once we didn't eat dinner alone for 17 straight evenings . . . and on the 18th, we were invited to another boat for dessert!
But potlucks are scary for those with food allergies.  And they're even scarier if the nearest emergency room is more than an hour away.

In 2007, as we were cruising the Sea of Cortez, Dave had a couple of episodes where his lip and/or tongue would swell for an unknown reason but that his doctor suspected was a food or drug allergy.  Shortly later, on a trip back to the US, a more severe episode landed Dave in the ER as swallowing — but not breathing — was compromised.  As we worked with an allergist to find the cause (he had a delayed reaction, making the diagnosis more difficult), he landed in the ER twice more, now with breathing problems.  I can't begin to tell you how scary it is.
When we finally got the diagnosis — a milk allergy that developed when he was 68 years old — I became a fanatic about knowing what was in everything he ate.  (The good news is that with the allergist's help and paying close attention to ingredients, Dave hasn't had a major episode in over 2 years.)
Cooking at home was easy:  I've always cooked mostly from scratch, making it simple to know exactly what ingredients are in a dish.
But eating something that a friend prepared was trickier:  they'd often forget an ingredient or use a prepared sauce that I didn't know what all was in.  But for someone like Dave with an anaphylactic food allergy (those that cause the throat to swell, cutting off the airway — most people are familiar with this reaction to a bee sting but it can occur with any allergy), the basic rule is simple:  if you don't know the ingredients are safe, don't eat it.
And that brings us back to cruising and pot lucks.  No one is sure exactly why food allergies are increasing, but they are.  And, like Dave, they're occurring not only in kids, but in people of all ages.  Estimates range from 1 in 15 people to 1 in 25 — meaning it's very likely that at least one person at a cruiser get-together will have a food allergy.  And it's a pain — and Dave finds it embarrassing to call attention to himself — to have to ask what's in every dish.

So how about making it a little easier for those with food allergies? Instead of them having to ask if any X is in your dish, and you having to try to remember all the ingredients, why not make a little card listing what's in it?  You can see the one I made recently for a pan of brownies in the photo at right.  It would have been even better if I'd added my name, so if someone had a question, they'd know who to ask.
You can do it either one of two ways:  list all ingredients, or note the presence or absence or the eight most common allergens:
Milk/Dairy Products, including cheese, yogurt, butter, margarine, and cream.  Breads often contain milk products.  Watch out for flavored chips – ranch, nacho, cheese, and other flavorings almost always contain milk proteins.   Many sauces, particularly packaged spaghetti sauce, contain cheese or other milk solids.  A lot of processed meats (sausages, lunch meats) contain milk products.  Many box mixes (cakes, bread mix, biscuit mix) contain powdered milk. Plain mayonnaise does not contain milk, contrary to what most people think.
Eggs – in addition to the obvious, eggs are a major ingredient of mayonnaise and Miracle Whip.  They're also in almost all baked goods, including bread, cakes, cookies, and often crackers.
Peanuts – those who are allergic to peanuts often cannot be anywhere near peanuts or any dishes containing peanut butter or peanut oil.  This is considered to be the most severe food allergy in general.
Tree nuts such as almonds, cashews or walnuts.
Fish – if a dish contains fish, it's usually pretty obvious!
Shellfish – including such things as clam juice (watch out for Bloody Marys made with Clamato juice!)
Soy – including soy sauce.  Many crackers and processed meats contain soy, as do most margarines.
Wheat – notably, anything with flour, even if it's just a bit for thickening or coating.  More and more people are also developing an intolerance or allergy to gluten, which is contained in wheat.
And please, don't be offended if someone won't eat "even just a taste" of that special dish you prepared, or if they bring their own food, or if they turn down an invitation to check out a new restaurant.  Depending on how severe someone's food allergy is, and how close medical help is, it just may not be worth the risk.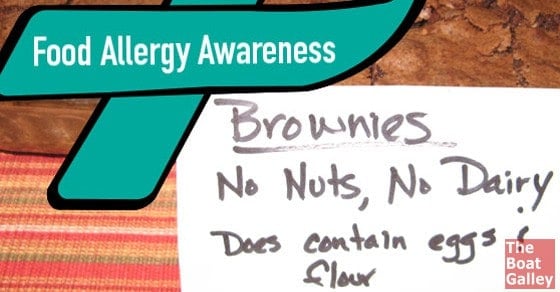 Some links above (including all Amazon links) are affiliate links, meaning that I earn from qualifying purchases. Learn more.