In November, I bought a Tower inflatable stand up paddleboard (read about it here).  A big reason for getting an inflatable was being able to travel with it — particularly when flying to charter or spend time on friends' boats.
We recently spent ten days in the US and Spanish Virgin Islands with Denis Oudard and LaDonna Thomas aboard their Lagoon 380 Beagle Knot, and I learned the ins and outs of flying with an iSUP.  It's not particularly difficult, but does require some advance planning.  I'd definitely do it again — we loved having the board with us — and I wanted to pass on some things I figured out in the process.
I have the 14′ Xplorer board — I believe it's the largest inflatable board made by any company.  The longer length makes it a faster board, but you have to pay attention to airline baggage requirements when planning to fly with it!  Shorter inflatables will be a little easier, but you still need to plan ahead.
Tower says you can roll the pump and paddles inside the board to fly and it will still be under the 50-pound weight limit imposed by most airlines. (NOTE:  Some airlines have different weight and size limits, check with yours and don't blindly assume they'll be "standard.")  That's true, but the limit that is going to be more of a problem is the size limit.
Most airlines have a 62-linear-inch requirement — that's the total of the length, width and height — or you'll be hit with oversize fees.  For example, on Delta (our airline) bags over that size are assessed an additional $200 each way! Again, be sure to check with your airline as to what's "oversize."
The board will be under a 62-inch limit if you are careful in how you pack it:
The board must be tightly rolled, tied and put into a tight-fitting bag . . . and it will be just under the limit.  I measured and measured mine to make sure it was.  Everything but the board must go in your other luggage (more hints on this below).
Start by taking off the bow line and leash.  Be sure that the air valve is locked in the open position, so that air escapes as the bag is rolled.  Roll the bag tightly — we found we had to roll it two or three times to really get all the air out and get a tight roll.
Use a piece of flat webbing — about 4 feet long — to tie the board securely in the rolled up position.  We used a variant of a trucker's hitch to tie it tightly (if you're not familiar with a trucker's hitch, read here where I used a variant to secure a tablecloth).
I made my own bag as I assumed that a local store would have a duffel bag that would work, and then couldn't find one and didn't have time to order one online.  It's hard to find a duffel that will work, as the rolled board is 37″ wide and you need one that's "top loading" — the ones with zippers that I saw just don't have a large enough opening to get the board in (you really can't bend it to get it in), even though the board might well fit inside.
I think — but do not guarantee — that this 50″ by 30″ top-loading duffel would work (link below).  The 42″ by 25″ one might work but is a longer shot.  The length measurements are the total length of the bag, including the portion that goes over the top and into the clip, which is why I'm not sure if the 42″ x 25″ one would work.  The "width" measurement is the width of the bag laid flat so I think that the 25″ part (which would be a total of 50″) would work.  I'd probably wrap some duct tape around the bag with the board in it so that the bag wasn't loose.  Top Load Canvas Duffel Bags on Amazon
Here's photo of the bag I made — I made it so that the top rolls down and clips, similar to a dry bag, and then there are clipped straps over the top (between the handles) to keep it all tight.  The board and bag weighs just under 39 pounds.

We packed the board a couple of days in advance and put our other bags on top of it, not as any big "plan" but just in the course of packing.  I was surprised to find that the board bag actually flattened out by over an inch, making it nicely within the size limit instead of just meeting it!  So we did the same on the return trip . . .
Okay, I'll admit that the airline didn't actually measure the bag, so who knows if it was really important to make sure that it was within the limits?  For me, the threat of that extra $400 to transport the bag if it were determined to be oversize was sufficient to make sure we were within the limits.
So now, on to packing the rest of it, which is pretty easy.  I got to looking at the pump and discovered that it breaks down into three pieces — the pump itself, the hose and the gauge.  They all easily unscrew from one another.  You want to protect the hose from being crushed or kinked, and taking it off the pump makes it much easier to do — just lay it in a bag in a big "U."
I put the gauge into a Ziploc with the skeg, a small screwdriver the right size to attach it, the bow line and the leash.  None of these are particularly fragile, I just put them together so nothing would be lost.
NOTE:  A leash is important for keeping the board near you if you fall off, particularly if there is any surf or wind.  If you don't have one, I'd get one (some places require them — the beach where we learned in Hawaii did).  You buy them by the length of the board, which makes most "surf board" leashes too short.  You could just tie a line around your ankle and to the D-ring on the board, but I like the comfort and ease of the padded Velcro strap.  The best price I could find for a leash for a 14′ board was on Amazon — see it here.
That leaves the paddle.  I've written before on very simple maintenance that you need to do after every use so that it will come apart when you want it to (read that here if you haven't already), so it should be a simple matter to break it down into two pieces.  They'll each be about 36″ long, so you need to have a bag that's long enough (we had several that they fit in; I'm guessing that you probably have a bag that will work but don't wait until the last minute to check).
The paddle is pretty tough, but it made sense to me to give the blade some protection.  I wrapped one of our fleece pullovers around it, making sure that the bottom and side edges of the blade weren't likely to slip out.  On the way home, when we had a pretty full dirty clothes bag, I just stuck the blade down in the bag and tightened the drawstring around the shaft.  I then put the paddle into the middle of the bag; since we were also taking snorkel gear, I put the fins around the outside of the bag as protection.  I loaded lots of nice soft clothes around the paddle.  Overkill?  Probably — but my toys came through without a scratch!
Packing this way, we only ended up with one more bag — the board bag — than we would have had otherwise.  Since we kept it within the "standard" weight and size limits, we just paid the standard baggage fee ($35 each way) for it.

Some places require that you wear a PFD and enforce this rule with nasty fines.  Kids 12 and under very frequently must be wearing a PFD when doing anything around the water.  Check regulations where you are headed and be sure to pack a comfortable PFD if one will be required!  (The PFD makes good padding for the paddle if you have to take it along.)
I'm not trying to push anyone into getting an iSUP, but if you've been thinking about one, Tower is having a Valentine's Day 15% off sale on the 14′ Xplorer package (iSUP, pump and paddle — what I have) through February 15, 2014 (you have to sign up for their newsletter, Like them on Facebook or do one of several other things to get the discount, but it amounts to about $135 off).  Click here to learn more.
---
Our FREE Provisioning Spreadsheet
Wondering how much of what foods to take on your next trip? Know just how much to buy of what — all arranged by grocery store aisle — with our handy Provisioning Spreadsheet. Includes detailed instructions to edit it for your favorite foods, how much your family eats, and how long you'll be gone. No spreadsheet skills needed!
It's FREE — get it here.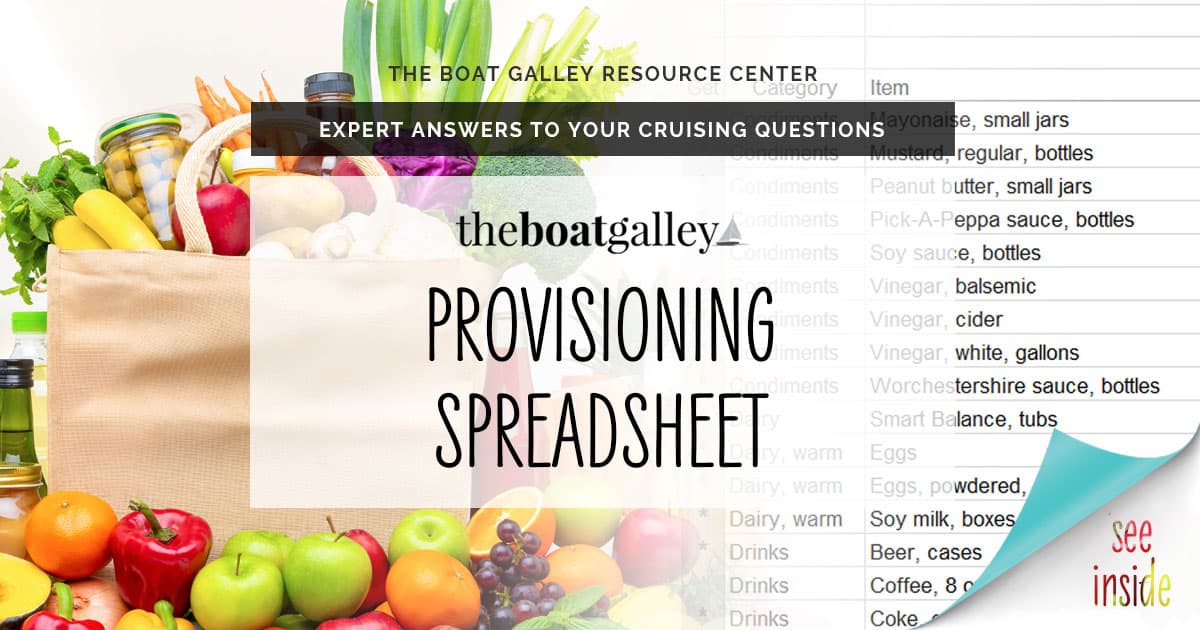 Some links above (including all Amazon links) are affiliate links, meaning that I earn from qualifying purchases. Learn more.