When we first adopted Paz, we honestly never thought about taking her on an airplane.  And if we had, I'm sure our reaction would have been "we'll deal with that when we have to."
Nine months later we had to.  Dave had some health concerns and wanted his brother — a physician — to oversee the tests and coordinate the various specialists (turned out fine).  Our boat, however, was in El Salvador and his brother in Florida.  We were going to fly and Paz was going to go, too.
We learned a great deal about traveling with a dog on that and other trips, and while I don't know all the ins and outs of traveling with a dog — particularly with a large dog — I'd like to pass on what we have learned.  We have not traveled to/from the EU or the South Pacific.  Our experience is strictly within the US, Mexico and Central America where there are no quarantine requirements.  I want to emphasize that you need to research the requirements that will apply on your flights and to your dog!
If you are venturing very far from your "home area" with your dog, be prepared for the possibility of having to fly home with Rover.
Keep good veterinary and immunization records.  You'll probably have to get a health certificate before flying, and our experience is that a vet that has never seen the animal before is going to want to look over all their records (even ones in foreign languages).  When you go to get that health certificate, have your passport with you.  Twice we've had to have our passports copied and made part of her certificate.
As far in advance as possible, check what you'll have to do as far as documents, immunizations, microchipping or even quarantine are concerned.  Don't leave these to the last minute as we've encountered delays with documents several times.
If you are in an area where companion animals are not common, it can be very difficult to find an airline approved pet carrier of any size.  It can be extremely difficult to find one for a larger dog that has to fly as cargo.  You are much better off to get one when you're in a place that sells such things even if you don't need it then (yeah, it's a pain to store something that large).
If you're in a place where it's hard to get a carrier, you may just have to get what you can and modify it as best you can.  That's what we had to do in El Salvador.  We used it exactly once and got a much better carrier in the US for the return trip.
For a small dog that will travel in the cabin, we found that a backpack style carrier worked best (but don't take my word for it if your gut tells you something else is better for you and your dog).  Several people have asked me where they can get one like the one they see in my photos.  For years, I couldn't find it again.  I recently happened to see it on Amazon:
Casual Canine Backpack on Wheels (it says it will hold up to 20 pounds, but that does not mean that it's large enough for a 20 pound dog.  I'd say 10 would be the max — Paz is 7+ and I can't imagine a dog very much bigger than her having enough room) Update: Casual Canine Backpack is currently unavailable but this is a similar item.)
It has held up for 8 years of use so far, and we use it at least a couple times a week on walks in addition to flights.  It's starting to show its age.
As I was looking at it to make sure it was the same, I saw another backpack-type carrier that also looks good (dimensions are different for each of these; see which seems best for your dog):
Pet Gear IGo2 for dogs up to 20 pounds  (there is an IGo2 Plus as well but beware — it's too large for most airlines)
As we see it, here are the things to watch for as you're buying this type of carrier:
Soft-sided carriers can only be used in cabin, not if the dog is large enough that they have to fly in cargo.
Think about the size and weight of the dog and also check carry on bag size limits for airlines you're likely to fly.  It has to fit under the seat in front of you.
Lots of ventilation is critical, particularly if you're in a tropical country where the airport or ground transportation may not be air conditioned.  I had to modify that first "bad" carrier that we got to add more screening.  The screen patches also let the dog see what's going on in the airport (they have to be inside, with the opening zipped up, in the airport waiting areas as well as on the plane).
Make sure there is a safety strap inside the carrier to hook on your dog's harness.  This is an important safety feature when using the bag as a backpack with the door unzipped.
The backpack style is much easier to carry any distance than any of the shoulder bags.  We also use it a lot on hikes — Paz tires out usually between 2 and 3 miles and it's much easier to carry her in the pack than under an arm.
Bags with just a single shoulder strap can cause back pain from the lopsided load, even with a fairly small dog.  That was just one of the problems we had with the first bag we got.
I've never yet seen a dog that liked being rolled (maybe there are some?).  Paz despises it and howls.  In airports, any dog that I've seen being rolled has seemed unhappy (yelping, barking, howling, even crying).  Unless you know your dog doesn't mind rolling, don't worry too much about the wheel and handle quality!
You want a bag that is reasonably sturdily built, yet not too heavy.  If I could find a backpack model without the wheels and handle — which add weight and are of no use to us — I would.  Unfortunately, I've never seen one.
We'd love a pack that is really constructed as a pack with a good waist strap.  We've never found one.  The weight hangs totally from your shoulders and if you're short (I'm 5'3″) the wheels will bump right over your kidneys.  Consequently, Dave usually carries Paz; if I do, I tie a rolled fleece around my waist as padding.
For use on an airplane, the bag must close completely, with no part of the dog sticking out.
A few notes on using the carrier:
If there is no padding on the bottom of the carrier, toss a blanket or towel in there.  Paz hated the carrier until we did this, and she instantly loved it once there was padding.
Get the dog used to the carrier before the trip.  There's enough that's new and different about flying!
For a couple weeks prior to a trip, we'll put Paz in the carrier — zipped up — for "practice" sessions.  We start with about 15 minutes and work up to a couple of hours.
We also use the carrier for "fun" walks so she doesn't think of it as a punishment.  Paz gets quite excited when she sees her bag taken from its storage place.
And some sort of miscellaneous notes on flying with a small dog:
Realize that it's going to be tougher than not having them on the flight.  Have realistic expectations and be prepared.
Don't be surprised if it costs more to fly the dog than yourself, particularly with getting a health certificate and other expenses such as pet fees at an airport hotel and tipping for luggage help.
You have to make a pet reservation to go with your reservations.  Usually there are a limited number of pet slots per flight and you can't check availability online.  I find the flights we want online, call the airline and see if there is pet space, then quickly make the "people" reservation online (because it's usually more expensive to make them over the phone) then call back and make the pet reservations.
If you'll be staying at a motel the night before or after your flight (or at a layover), make sure it's pet-friendly.  If you'll be using a shuttle service, make sure it allows pets (most — but not all — do if the pet is in their carrier).  If you'll be using public transportation such as a bus or subway, also check.
It's a balancing act on when to get to the airport.  You need to allow extra time as you have to check in at the counter, you'll need extra time at security and so on.  But you also want to minimize the amount of time they'll be cooped up in their carrier.
Going through security is never the same twice!  Be sure that there is nothing in the dog's bag that is disallowed (scissors, water bottle).  Sometimes we've walked Paz through the metal detector on leash, sometimes we've had to take her harness off and carry her.
At security, if there is a "slow lane" for people who need a little extra time, take it.  Getting shoes off, stuff out of pockets, the bag of liquids out, jackets off, laptop out, the dog out of the carrier and through the metal detector and everything put back together is tough enough without an impatient road warrior behind you!  Our experience is that the less frazzled we are, the fewer problems we have with Paz.  If we're calm and unhurried, she's calm.
A few airports (very few) have a "dog park" area within security so that you can go there for a bit of the wait time.  Good for one last potty and a bit of a leg stretch.
We try to give Paz a 45 minute to hour-long walk before going to the airport so that she's nice and tired and will sleep through the flight.
Try hard to get nonstop flights. We'll drive further to get to an airport that gives us a nonstop flight.
If you can't get a nonstop, make sure that layovers are long enough for a pee stop (few airports have a place within security, so allow at least an hour and a half to get out, do business and come back through security).
The more stress-free you can make the travel, the better: not having a long drive before the flight, allowing plenty of time so you're not rushed, having all documents readily available, getting help with the luggage so you can concentrate on the dog, and so on.
The dog carrier will count as one of your carry on bags and they'll charge you for it.
The fewer other bags you have to manage, the better.  Even with two of us traveling, we try to just have Paz and one other carry on bag (no extra purse, camera bag, etc.).  If we're wearing a winter coat, we stuff it in a checked bag just before checking it.  You have to deal with the dog and their documents at check in and security and the less other stuff in your hands, the easier it will be.
You can't take a full water bottle through security.  We take some sort of dish — usually a section cut off from the bottom of a water bottle — and can fill it from a drinking fountain to give Paz a drink.
Check your airport regulations — some airports don't require dogs to be in carriers in some areas.  Five minutes out while walking down a pedestrian walkway (perhaps instead of taking a tram) can do wonders to keep a dog happy.
There are no magic formulas for flying with a dog.  Preparation is key along with realistic expectations.  I can tell you what has worked for us, but you know your own dog and have to go with what you think is right.  And I don't know a thing about flying with  dogs that are too large to travel in cabin!
---
Our FREE Provisioning Spreadsheet
Wondering how much of what foods to take on your next trip? Know just how much to buy of what — all arranged by grocery store aisle — with our handy Provisioning Spreadsheet. Includes detailed instructions to edit it for your favorite foods, how much your family eats, and how long you'll be gone. No spreadsheet skills needed!
It's FREE — get it here.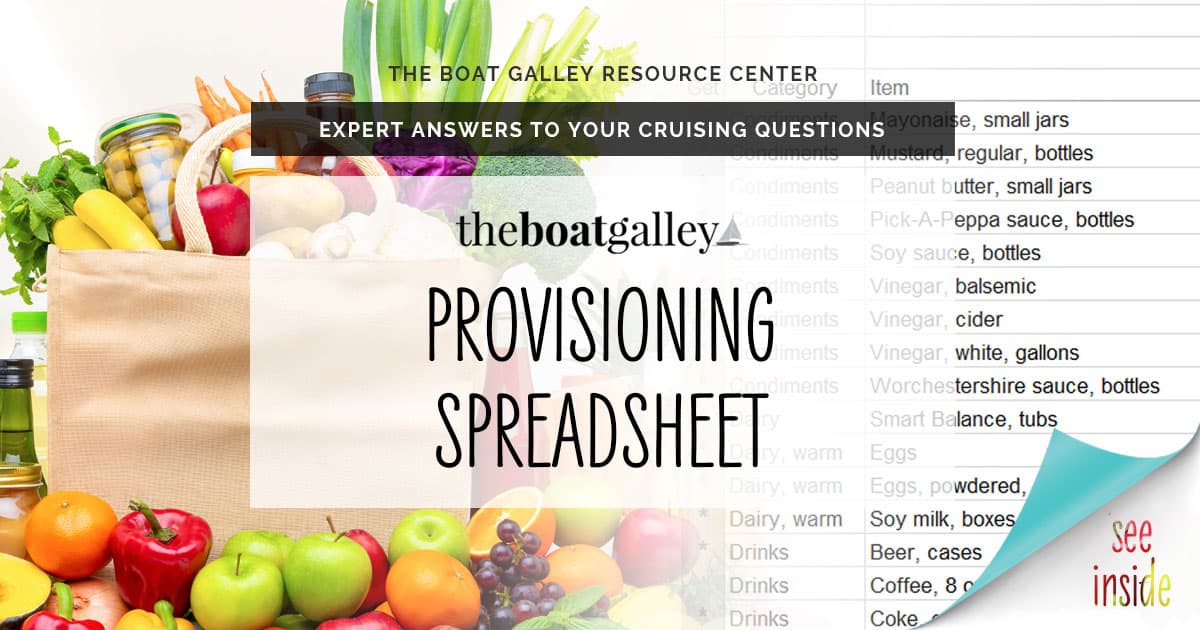 Some links above (including all Amazon links) are affiliate links, meaning that I earn from qualifying purchases. Learn more.