I've always thought that one of the benefits of cooking aboard a boat, where I cook almost completely "from scratch" is that it's much healthier than using prepared foods or frozen foods.  Cooking from scratch, I control the fat, the types of fat, whole grain versus processed, the amount of salt used and pretty much everything about what's "in" the food. Here are my tricks for producing flavorful food with a lot less salt.
First, note that I don't say "no salt."  The FDA's Dietary Guidelines recommend no more than 2300 milligrams (mg) of sodium per day for the general population.  That's about 1 teaspoon of straight salt.  For people with certain health problems, including high blood pressure, the recommended amount drops to 1500 mg. or about 3/4 teaspoon of straight salt.
So where does that sodium come from?  The FDA says about 10% of the total is just naturally in the raw ingredients that our food comes from.  We add another 5 to 10% at the table.  And the remainder — more than 75% — is added during food processing, whether in "processed food" or in the kitchen.  That's where cooking from scratch on a boat gives us a HUGE advantage for keeping the salt down while still creating flavorful dishes.
At the Store . . .
Choose products without seasoning or little "seasoning packets."  Add your own spices and flavors — I'll detail ways to do this with far less salt than what they use.  For example, buy plain rice instead of rice "side dishes" in foil pouches.  Make your own spaghetti sauce instead of using a jar.  Make your own soups.  The more basic your ingredients, the less salt that someone else has already added.
Whenever possible, buy canned goods "with no added salt."  Canned beans, such as kidney beans, black beans, navy beans and so on, typically have lots of salt added.  Two ways to decrease the sodium:
buy the brand with the least sodium, and then drain and thoroughly rinse the beans; OR
start with dried beans and cook them yourself without salt — easy to do in a Thermos, but you can't start them at the last minute!
Two Simple Changes in the Galley . . .
I threw away all the "real salt" we had and replaced it with "Lite Salt."  Lite salt looks just like regular salt, but is made of half regular salt and half potassium chloride.  Thus it has half the sodium per teaspoon . . . and potassium "can help blunt the effects of sodium on blood pressure" according to the FDA.  That doesn't mean you can use an unlimited amount of Lite Salt, just that it's generally a better choice (there are a few medical conditions — such as diabetes — where Lite Salt is NOT a good choice, so check with your doctor before switching).  I can't stand the taste of "Salt Substitute" which is 100% potassium chloride, so don't use it.  The 50/50 mix of Lite Salt tastes just like salt to me, so it's no problem to use.
You can also get rid of garlic salt, onion salt and celery salt, and replace them with garlic powder, onion powder and ground celery seed.  Each of the "salts" is a mixture with roughly 50% of the "flavor" and about 50% salt, meaning that if you use 1/2 teaspoon of garlic salt per serving, you've added 1/4 teaspoon of salt per person.  Using just the flavor adds none, and lets you choose how much salt — or Lite Salt — to add.
To use garlic salt as an example:
Recipe calls for 1 teaspoon garlic salt.  That is actually 1/2 teaspoon garlic powder and 1/2 teaspoon salt, so there's about 1200 mg. sodium.
I replace it with 1/2 teaspoon garlic powder and 1/4 teaspoon Lite salt, making it 300 mg. of sodium — a 75% reduction.  For someone with high blood pressure, this is still 20% of their daily allowance, so they may want to further reduce the amount of Lite Salt they're using.
Note that I'm both using a lower-sodium choice and using less of it than the recipe originally called for.  I find that I don't like using no salt, but I don't need as much as many recipes call for in order for the food to taste good.  So the combination of using a lower sodium choice and using less of it makes it easy to stay well within doctors' guidelines.
Good Flavorings with Less Salt
I've discovered lots of other seasoning choices, too:
Bouillon powder contains between 30% and 35% of the sodium of an equal amount of salt, but adds a LOT of flavor.  Depending on the dish, that can make it an even better flavoring choice than Lite Salt.  You can also get sodium-free bouillon powder, but it replaces the sodium chloride completely with potassium chloride and I don't like the taste.
Old Bay Seasoning has just 28% the sodium of salt.  It's not just for seafood — it's great on rice, pasta or potatoes, fried eggs and sprinkled over steamed veggies.
Montreal Steak Seasoning has about 33% of the sodium of salt.  And don't limit it to beef — it's one of my favorite all-around spice mixes, with garlic and a couple of types of pepper.  And note that McCormick's Grill Mates line has a version with 25% less sodium, which would bring it down to about 25% the sodium of an equal amount of salt.
All varieties of Mrs. Dash are totally salt-free.  There are now 14 varieties, as well as six marinades.  The original Mrs. Dash is a good all-around choice and a great way to keep the sodium low — add just a tiny bit of one of the other seasonings that does contain some sodium and then use Mrs. Dash for the rest of the flavor.
Cajun seasoning is one of my favorites for lots of flavor with minimal sodium.  Check the brand though — cheap "cajun seasoning" can be up to 50% salt; McCormick's Cajun Seasoning by contrast has just 3% salt and I once found another brand (long ago, can't remember the name unfortunately) with none.  Cajun seasoning can go on almost anything and if you keep the amounts in moderation, does not have to be fiery (although if you want it to be . . . ).  Or you can make your own and either omit the salt completely or scale back and use Lite Salt!
100% Natural Fruit and Vegetable Juices often have no added salt (check labels, V-8 is very high in sodium) and add a lot of flavor when substituted for the water in many recipes.
Worcestershire sauce has just 65 mg. sodium per teaspoon — put a dash or two in the water for veggies, rice or potatoes for added flavor, as well as using it with meats.  A drop or two in deviled eggs is great, too!
Vinegar is sodium-free.  We use a splash over the top of many veggies, such as tomatoes, spinach, beets and turnips.  Different vinegars give different tastes, too — we use cider for a sharp taste, balsamic with tomatoes for a mellow flavor and wine vinegar with potatoes.
Hot sauces are generally low sodium, with less than 100 mg. per teaspoon.  Since I'm the type that only uses a few drops, the amount is trivial.  And if you're like me and not really wild on Tabasco, try Pickapeppa sauce — milder but really flavorful.
Salt-free or low-salt versions of many favorite blends.  Lots of companies make low- or no-salt varieties of their "big-name" seasoning blends.  Amazon has a whole category for no-salt seasonings.  Check out Bragg Sprinkle as one highly rated mixture and search for others. I always check on the labels, though, to be sure that they haven't just replaced the salt with potassium chloride — I find that very bitter and don't like it.  As always, I recommend trying one package of something before stocking up on several.  And beware of things that say "reduced sodium" but are still fairly high in sodium (taco seasoning seems to be this way).
And one more bit that doesn't seem to fit in anywhere else:  whenever you're using tomatoes (fresh, canned, sauce, paste, whatever), adding just a tad bit of sugar — in the range of 1/8 to 1/4 teaspoon of sugar per cup of tomato — really brings out the flavor of the tomatoes.  One note, though:  this is a chemical reaction and I have not found that any artificial sweetener (even Splenda) does the same thing.  Both brown sugar and white work.
---
Our FREE Provisioning Spreadsheet
Wondering how much of what foods to take on your next trip? Know just how much to buy of what — all arranged by grocery store aisle — with our handy Provisioning Spreadsheet. Includes detailed instructions to edit it for your favorite foods, how much your family eats, and how long you'll be gone. No spreadsheet skills needed!
It's FREE — get it here.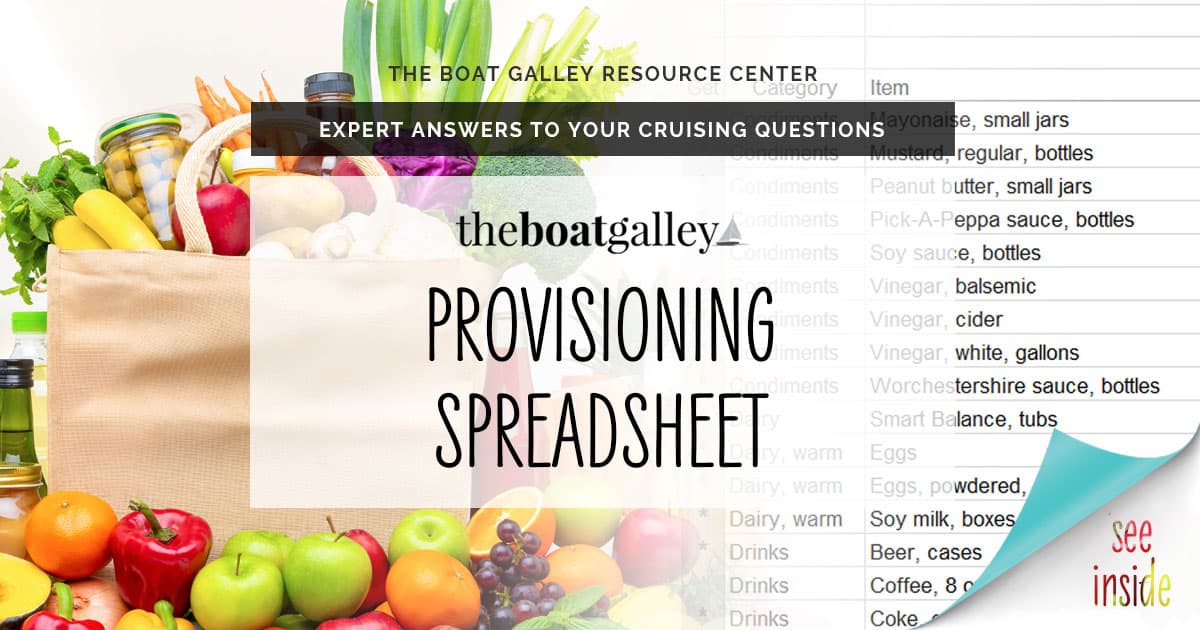 Some links above (including all Amazon links) are affiliate links, meaning that I earn from qualifying purchases. Learn more.