Stomach flu isn't limited to those living ashore. It can hit you on the boat, in a remote anchorage. No stores nearby. As we're stocking up for a Bahamas trip — where part of the time we hope to be in remote anchorages — I've thought a bit about various illnesses that could befall us and what we'd want . . .
None of us really plans to get sick with stomach flu, but it's important to have foods aboard that won't make the situation worse.
Thus, you might want to think about this when you're provisioning — particularly if you're going to be cruising where the shopping is limited.
A few caveats on this:
I'm not a doctor, so this isn't medical advice (although most of the "do's" and "don'ts" did come from Dave's brother, who is a retired physician).  If you're seriously ill, get medical attention!
I'm not talking about seasickness here or morning sickness — both of which have different needs and guidelines (although staying hydrated is important for anyone).
These foods aren't going to cure you — you may need antibiotics or other meds for that.
If your doctor recommends something different, take their advice.
Instead, here are some things that are good to have on board both in the initial stages to keep you hydrated and get some calories into you, then as you recover and don't want to upset your digestive tract as it returns to normal.
Initial Stage — clear liquids:
Gatorade or rehydration drink (if you have pets aboard, get some large "medicine droppers" or syringes without needles to be able to give some to them if they are sick, too; dogs and cats usually won't lap it up on their own, but it's equally important to keep them hydrated.  Our vet recommended giving very small amounts every 20 to 30 minutes to start, and increasing the amount as she was able to keep it in her.)  In severe cases, rehydration drink is better than Gatorade — you can buy packets to mix with water or make your own.
Tea with honey — honey is better than sugar as a sweetener, Dave's brother says, as it tends to calm the stomach.
Flat soda such as ginger ale, 7Up, Sprite — stir it to get all the carbonation out.
Rice water — don't give them the rice, but cook it in double the amount of water you'd normally use, and let the person drink the water.  You can add a little honey, too.
Jello (or the local brand of gelatin) — plain, clear with nothing added.  Don't use the no-calorie type as you're trying to get calories into the patient.  Jello is particularly good as it gives the person the sensation of "eating" (Dave's about as sick of eating it as I am of making several packages a day but it's been the best thing for him). If you're in a hot climate, make it with less water than the directions state and it won't melt as fast.  Make it in a plastic bowl with a locking lid so it won't slosh out before it sets up.  And even without a refrigerator, liquid Jello makes a tasty drink.
Freeze pops or plain popsicles.  Anything that would be a clear liquid when melted is okay, but things with ice cream should wait — many people that don't truly have lactose intolerance can be bothered by milk products when their digestion is already off.  I like the freeze pops as I can usually find room for a couple no matter how full the freezer is . . . and you can even "drink" them if they're not frozen . . . and they are dirt cheap!
Returning to Solid Foods:
When you've had an episode lasting more than two days, you need to reintroduce solid foods very, very slowly to avoid irritating the digestive system.  It's not uncommon to try to return to your normal diet too quickly and have a relapse, necessitating going back to clear liquids.
Dave's brother said that we shouldn't even begin to reintroduce solid foods until we'd had no vomiting or diarrhea for 12 hours, then begin with just a single spoonful.  Wait 6 hours, if there was no relapse, try 2 spoonfuls, wait 3 hours and try a bit more.  During this time, we supplemented the solid food with lots of the clear liquids.  He also noted that after a particularly nasty episode of "intestinal distress" it could take 3 or 4 days — even without a relapse — to slowly work back to a "normal" diet.
But it's not just keeping the amounts small, you also need to start with foods that are easy to digest.  And again, that's where having the right provisions aboard is crucial.
Good first foods:
Banana (can be mixed in Jello, too — be sure to totally cover the banana or it will tun brown)
Oatmeal (make it soupier than normal) — see "Boatmeal" for an easy way to make it
Vegetable broth or any fat-free broth (fats irritate the digestive tract).  Canned chicken noodle soup, while long considered a comfort food, is not a good choice in this case as it is relatively high in fat.
As the "first foods" are tolerated without a relapse, good ones to try next include:
Yogurt IF it has active culture
Egg — try just the white first (yolk has a lot of fat), and cook it well; then move to whole hard-boiled eggs.
Cooked "easy to digest" vegetables such as carrots, potatoes and sweet potatoes — but don't add butter or other fats.
Chicken or fish (cooked without fats) are good first meats to try.  Beef and pork tend to be harder to digest because of their higher fat content.
Foods to stay away from:
Anything that normally upsets your stomach.
Anything with fat, oils, butter and the like.
"Gassy" or hard-to-digest vegetables such as beans, broccoli, cauliflower, cabbage, brussels sprouts, onions and corn, to name the most popular.
Acidic foods, such as orange juice and vinegar.  Coffee bothers some people but not all.
Milk products can upset some people.
All of these should be slowly reintroduced once you're eating "normal" meals without them.
Other Considerations:
Digestive upsets can interfere with other medical conditions as well.  Again, I'm not a doctor, but this is something to be aware of and think how it might affect you.
If you're on a diuretic for high blood pressure (or any other condition), check with your doctor if you should discontinue taking it if you're losing more liquid than normal.
Check whether any other medicines, vitamins or supplements should be discontinued.
Watch your blood pressure if you have problems with it:  mine ran quite high for several days and my meds had to be adjusted as pills weren't being absorbed properly.  The opposite problem can also occur with blood pressure dropping if you're a little dehydrated.
If you have diabetes, you need to really confer with your doctor about what foods to eat — the typical ones suggested (as above) are all very high in sugar.
Birth control pills may not be fully absorbed.  Stories abound of seasickness leading to pregnancy — the same can happen with a bout of the flu!  Check with your doctor and carry alternatives.
Obviously, the same problem of insufficient absorption will apply to any medicine you take on a daily basis.  Talk to your doctor ahead of time about what you should do if you expect to be out of direct communication range.
If you're just out for a day or two, just some Gatorade or Pedialyte aboard is probably sufficient.  But if you're heading out where it would be more than a day to get provisions or medical help, you need to carry more of the needed foods with you. And I hope you never need them!
Have you discovered any other foods that are useful in case of a bout of stomach flu?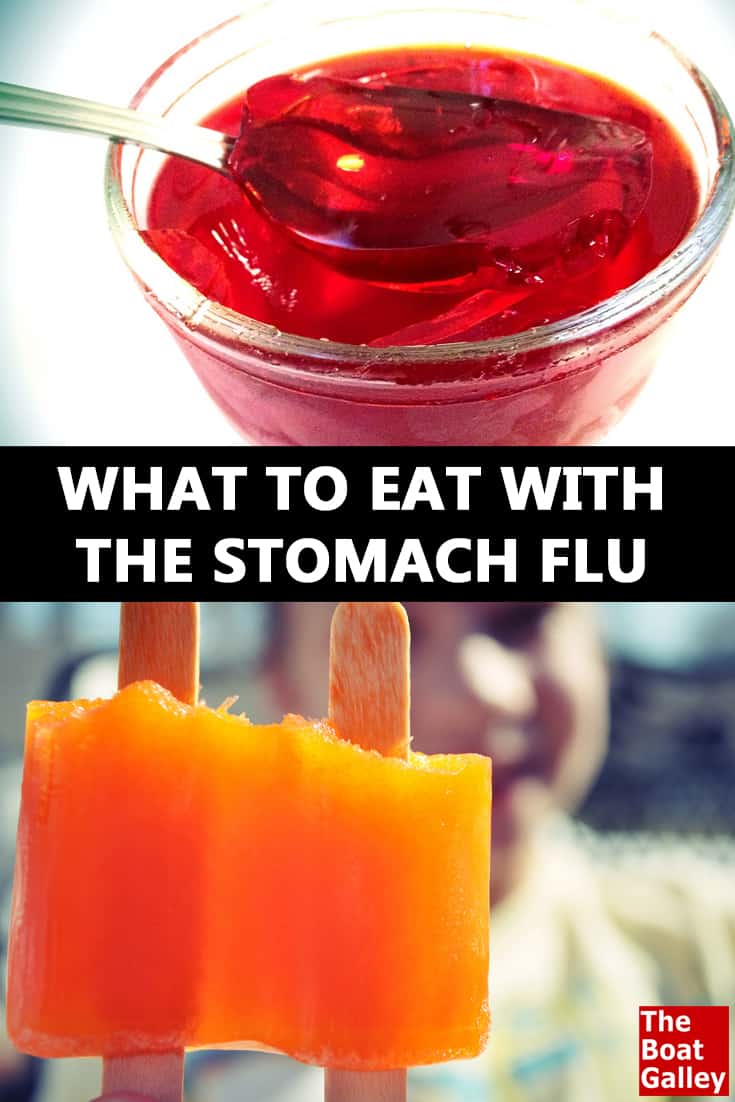 Some links above (including all Amazon links) are affiliate links, meaning that I earn from qualifying purchases. Learn more.