Okay, we're not dumpster divers in the sense of getting our food or clothes there. But sometimes I'm amazed at what I find there – especially as most marinas and sailing clubs have a "give-away" place too, where you can put items that you can't use any more but are still usable.
Case in point: our fenders.
Barefoot Gal had only one – smallish – fender when we bought her. We budgeted to buy at least four big ones. Even at Defender's pricing, they're $75 each (plus shipping).
A friend on the lake we live on in the summer re-did her dock configuration and asked if we could use two of her old fenders that she was no longer using. Could we!? Sure. And they were the big 10" Big B's that we wanted.
Okay, that was two down . . . but that was a giveaway.
Then we went to a regatta at the Indianapolis Sailing Club this summer. I picked up a bunch of trash in the parking lot and took it over to the dumpster . . . only to find a perfectly good but dirty 10″ Big B sitting there. In the dumpster. Absolutely nothing wrong with it and it even had a line attached and a stainless carabiner worth at least $20 on it. Yep, I grabbed it out.
Then, here at the boat yard, three times I've taken stuff to the dumpster and found a fender there – two large ones (the one in the photo and one that was truly filthy) and one medium-size (perfect for one hull's bow at the dock). About forty-five minutes with a scrub brush, Krud Kutter and some Soft Scrub and the merely dirty one and the filthy one were both clean enough to use. If you're counting, we now have 5 large fenders . . . with no outlay other than some cleaning supplies.
Maybe none of our fenders look brand new. They're all serviceable if not identical. If I wanted, I could make covers for them all and they'd look pretty similar.
Yesterday, Dave found a water filter housing in the dumpster, complete with hoses and LOTS of hose clamps, all in good condition. The housing has some rust on it and a check valve in the system was bad, but why throw out all those hose clamps? Ten minutes to take it apart and we now have seven more hose clamps in our parts box and several pieces of hose to use as chafe guard on our dock lines.
The funny thing with all of these finds at the boat yard dumpster? The giveaway area is only about 20 feet away.
Yes, I like saving money – our wish list is always bigger than our budget. But I also like rescuing/reusing/repurposing items instead of sending them to the landfill. Consequently, if we think something has any life left in it, we'll put it on the giveaway bench. And almost all our offerings – items left by previous owners that we're not going to use for one reason or another – have been picked up.
How about you? Got any good stories of dumpster diving or being given something?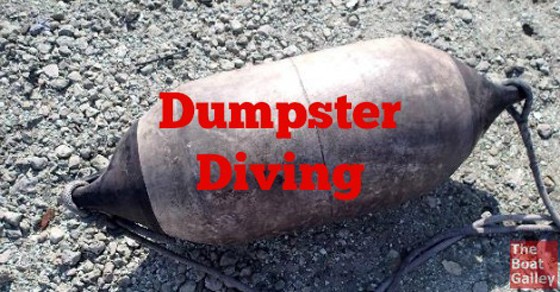 Some links above (including all Amazon links) are affiliate links, meaning that I earn from qualifying purchases. Learn more.