Most of us probably don't want to admit just how often we reach for the roll of duct tape. We use it for everything from making quick labels to emergency repairs.
But what we learned cruising is that there's duct tape, and then there's duct tape. Great stuff, good stuff and really awful stuff.
The really awful stuff is thin, stretchy plastic that tears just coming of the roll and won't tear straight across where you want it to (it'll tear maybe a half inch across, then start tearing lengthwise) and doesn't stay stuck to anything for long. We've thrown almost full rolls of awful stuff away — it caused more problems than it solved.
Typical signs of the bad stuff . . . or what we learned to watch out for:
Cheap duct tape is usually bad, but just because it's expensive doesn't mean it will be good (we found this to be especially true in less developed countries).
The awful stuff is almost always not a name brand, although we ran into counterfeit "name brands" a few times.
Rolls of bad duct tape are lightweight for their size (more like what you'd expect from a similar-size roll of masking tape).
The cut end can be hard to find as the tape is thin.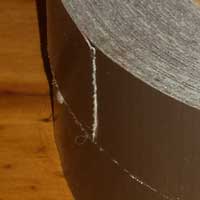 The good stuff tears well, doesn't stretch and sticks well IF the surface is smooth:
Rolls seem heavy for their size.
It's easy to find the cut end of the roll as the tape is thicker.
It's rare to find good duct tape being sold cheaply.
3M/Scotch and Duck Tape brands are good duct tapes (unless you get a counterfeit roll; more likely in developing countries). There are probably other good brands; those are the ones we're familiar with.
Just because a roll calls itself "heavy duty" or "professional" doesn't mean that it's good.
"Duct tape" that's marketed for crafts tends not to be all that great. The colored/patterned duct tape made by 3M and Duck brands is an exception to this (and usually isn't sold in the craft areas).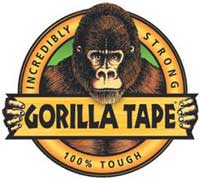 And then we come to the really great duct tape: Gorilla Tape. We first learned about Gorilla Tape when we were cruising in Mexico and a friend gave us a roll when we were back in the US for a quick trip (you know it's a good friend who "gets" your lifestyle when they give you duct tape as a present and it's one of your favorite presents ever!).
Gorilla Tape is not cheap, tending to cost about $15 for a 35-yard roll (in contrast to the "good" stuff that tends to cost a little over $10 for a 50-yard roll). We tend to save it for the repair jobs!
Why is it so good? It has three layers (as opposed to two for the good stuff):
A weather-resistant outer layer that gives it much better performance in direct sunlight (that is, it will still degrade over time but much more slowly);
A tough fabric layer that makes it stronger (the company says 145% stronger than the "good" stuff) while still letting you tear pieces off; and
An adhesive layer that's twice as thick as on the "good" stuff so it sticks much better to rough and uneven surfaces.
The adhesive is a different formula from most tapes in that freezing doesn't affect it.
Because Gorilla Tape is almost twice as expensive as just "good" duct tape, we usually have both on hand as shown in the photo at the top of this article. Then we choose which to use based on what we're doing. Labels and a temporary "extra hand" usually get the good tape, while McGyver repairs get the Gorilla Tape. I also use the Gorilla Tape for projects such as making a gel ice pack where I really don't want the tape to fail in the freezer.
Most home improvement stores and big box stores with a hardware department will sell cheap duct tape as well as the good stuff and Gorilla Tape. Don't be tempted by the cheap thin stuff — I've wasted way too much money on rolls that ended up in the trash.
If you just want to get it online, here are links:
A final tip for tearing duct tape — don't twist! Just pull your hands apart.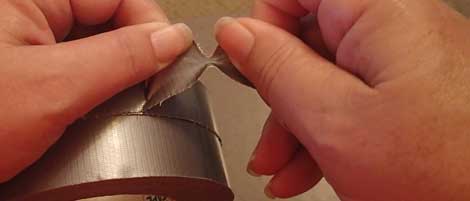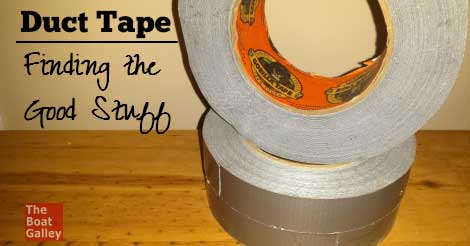 Some links above (including all Amazon links) are affiliate links, meaning that I earn from qualifying purchases. Learn more.