You'd think, on a sailboat with those nice jib sheets, lifelines and more, there would be plenty of space for hanging towels, dish rags, wash cloths and everything else that needed to dry.  But that wasn't always the case . . . and sometimes regular clothes pins would pop off, sending towels into the water.  Some were retrieved and had to have the salt washed out; others were sunk into muddy estuaries before we noticed and we never found them.
And so I wanted to share a brilliant solution that our daughter-in-law, Melody Shearlock, came up with on a recent camping trip for their family of nine — nine towels . . . nine swim suits . . . dish cloths . . . dish towels . . . face cloths . . . and the odd t-shirt that one of the little girls dunked in the lake.

Tie simple loop knots (picture at right — don't use slip knots) in your clothes line, then use clip-type hangers (like for pants and skirts) to hang items.  By tying knots every 3″ or 4″ apart, you can get far more on a relatively short piece of line, such as the ones we'd tie from the mast to the side stays.
Better yet, the clip hangers have a tighter grip than any clothespins I've used.  One day, we were all about 10 miles away from the camping area when a sudden thunderstorm blew up.  I didn't see an official wind reading, but it was sufficient to knock down a few tents in the campground, and the swimsuits that Dave and I had on our line ended up on the ground.  None of the items Melody had hung with the hangers had come off — and the loop knots (which she had tightened up somewhat after I took the photo at the top of this article) kept the hangers from blowing off.
The only real disadvantage of this system is stowing the hangers when not in use — yes, they do take up more space than a bag of clothespins!
A couple of related products I really like and use every day, just because readers have frequently asked (product links to Amazon; if you use the links to buy it does support this site a tiny bit):
Favorite quick-drying non-stinky dish clothes and washcloths:  Scruber and Trekr cloths from Lunatec (links to Amazon) — also see my article on these
Micronet Microfiber Bath Towel (formerly Rick Steves branding) — I've used these for over 4 years now and love the texture compared to other microfiber towels.  No, they don't feel quite like terry cloth, but it's not at all unpleasant.  And the extra-large size is a true bath towel size.  But the best thing is that they dry in just no time at all — generally about 10 minutes, although it depends on the weather and humidity.  Over the years, I've used a lot of travel towels and these are the only ones I've actually liked, as opposed to tolerated.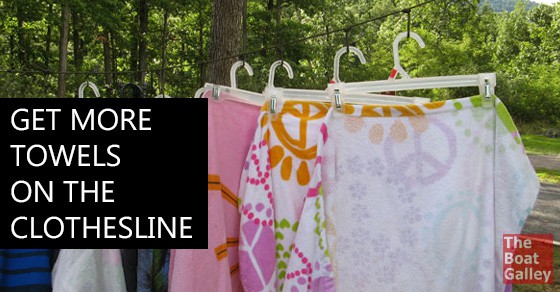 ---
Our FREE Provisioning Spreadsheet
Wondering how much of what foods to take on your next trip? Know just how much to buy of what — all arranged by grocery store aisle — with our handy Provisioning Spreadsheet. Includes detailed instructions to edit it for your favorite foods, how much your family eats, and how long you'll be gone. No spreadsheet skills needed!
It's FREE — get it here.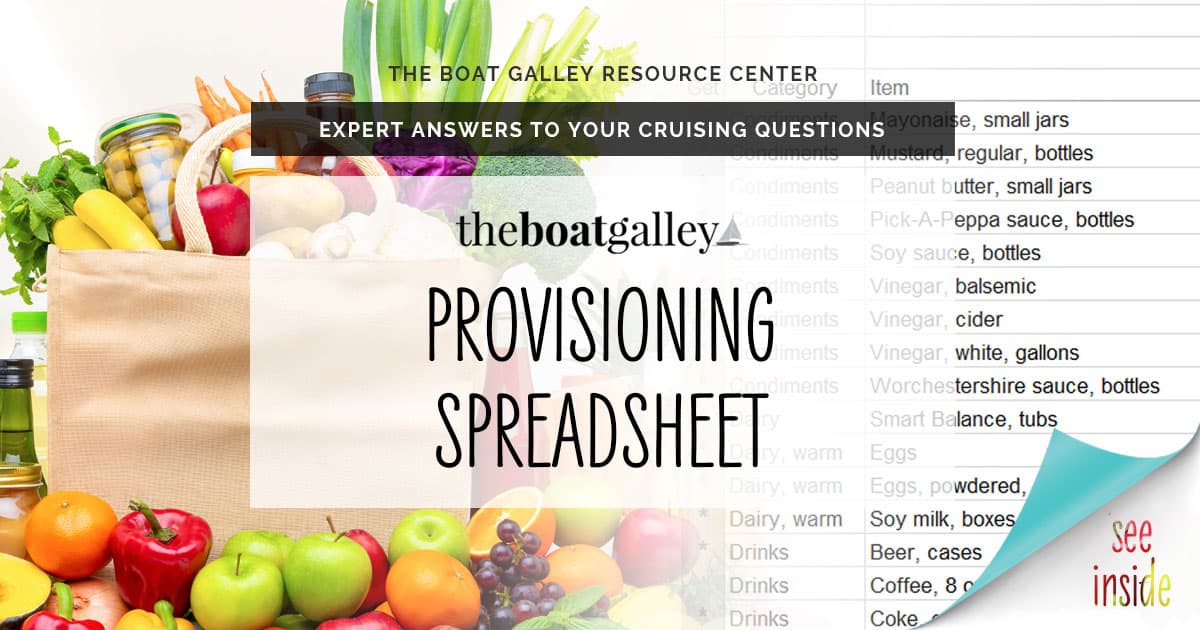 Some links above (including all Amazon links) are affiliate links, meaning that I earn from qualifying purchases. Learn more.