We've had DISH TV as long as we've had the house that we just sold, and we've always been happy with their service. Sure, we wished it cost less, but we were basically happy. Until we went to close out our account in connection with becoming full-time cruisers. Then it became a nightmare.
NOTE: The info here doesn't really have to do with cruising . . . unless you have DISH TV and plan to end your service.
As soon as we had an accepted offer on the house and a closing date, I called DISH to end our service when we moved out of the house, a little over three weeks away.
Nightmare 1: convincing them that I didn't want to — couldn't — have DISH service at my new address. Just saying that I was moving onto a boat wasn't enough – they had all sorts of ways for my boat to get DISH service. I finally said that we were going to the Bahamas and that stopped this line of questioning. (Believe me, just saying "no" didn't work.)
Nightmare 2: didn't any of my friends or family want DISH? I could give them my receiver and remote. How many times did I say no to this one?
I just wanted to get the receiver and remote back to them so I wouldn't be charged for them! The thought of what I'd be charged both for the equipment and continued service is the only thing that kept me pursuing this.
Nightmare 3: what was the name of the purchaser of our house? Didn't he want DISH service? I refused to give his name and said no, again . . . which is what he'd told me.
C'mon, how do I end our service and get the receiver back to you? I'd been on the phone over an hour at this point and my patience was wearing a little thin.
Well, since no one wants it, you can mail it back to us. DISH was to mail me a box to use. It would come in 5 to 7 work days. Oh, and I was also supposed to send back the "eye" of the dish . . . which is on our roof. I said no way, I'm 55 and my husband is 77, and we're not climbing on the roof and then reaching out over the edge to get this thing. They said okay, I don't have to return it; they supposedly made a note on our account.
And, by the way, maybe I don't need to return the receiver. If it's an obsolete model, I won't have to. But they can't tell me over the phone if it's obsolete; I have to wait until I get the instructions with the box and can check what model we have against the list there. Well, yes, they do know what model I have and thus whether to bill me if I don't return it, but the customer service reps aren't given this info. I almost feel sorry for the poor customer service rep that I'm talking to; he sees the absurdity of all this and can't do a thing about it.
We end the conversation.
Nightmare 4: no box. After ten days, I called. It'll be there, I was told. When? Just wait a few more days, I was told.
Friday before we are closing (and have to be out) on Monday, the box still hasn't arrived. I call again and am now told that the box hasn't been sent yet; the previous people were wrong about it being sent. It won't be sent until my service has ended.
I lost it. The box won't even be mailed to me until after I've moved out?? I have to take the receiver with me?? And how do I then get the box when I don't really have an address and we'll be traveling for several weeks?
I'm finally told that I can drop the receiver and remote off at a DISH retailer. Okay. The nearest one is now 50 miles away (the one we'd used to set it all up is out of business) but it's on our way to Dave's son's house, where we going for a few days, so we can do it.
Nightmare 5: the retailer can't take the gear without a box. Yes, we went there and the lady was very nice, but retailers are not allowed to take gear. As a courtesy, they'll take it with the box and have UPS pick it up from them. But without a box? Forget it.
Dave is so angry he has to leave the store. I am livid, but I realize that this woman is actually trying to help and is the only real person we've had contact with. She asks if we can't have leave the receiver with a friend and have the box sent there. Well, no. You see, we've already driven 50 miles. We're not going back to our old home.
I ask if I can't leave the equipment with her and have the box sent to her store. No, they refuse to be responsible for it. We discuss this a bit more and she calls some special DISH number that she has and finally gets them to send a box to one of the relatives that we'll be visiting in two weeks. And she is able to confirm that our receiver is a model that has to be returned.
I'm hoping we get the box . . . stay tuned.
Meanwhile, we have the receiver and remote in the car with us. I'm making room for it by getting rid of a few beers. I'm very, very happy that Barefoot Gal does not a satellite dish!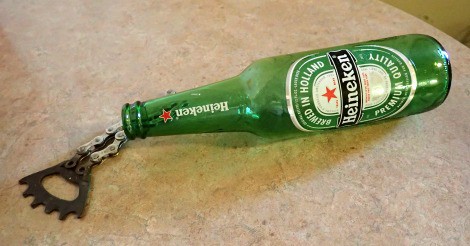 Some links above (including all Amazon links) are affiliate links, meaning that I earn from qualifying purchases. Learn more.