Don't get me wrong. I love my Lock & Lock (and similar) canisters and other containers. But I couldn't find ones that fit a couple of lockers on Que Tal.
I ended up getting some of these canisters in Wal-mart (housewares department). They come in half-gallon and gallon sizes. And they're cheap — $2 and $4 at my local store as I'm writing this.
You'll notice that I didn't title this article something like "my favorite canisters" or "great canisters." These are simply decent, cheap canisters that I wanted to point out. Be sure to read the "cons!"
Reasons I like them:
Big wide mouth — probably a good 4″ in diameter. Easy to get stuff in and out.
Hand grips molded in — makes it easy to hang on to them if the boat moves or to lift them.
Square corners — makes good use of space
Clear — can see what's in them
Inexpensive
But:
They're not as perfectly airtight as the Lock & Lock containers.
The "hard" plastic can shatter if dropped — particularly if it's really cold.
If there's a lot of boat motion of just the right type, the screw caps can loosen up (you don't want to know how I learned this)
If you store products with flour (flour, baking mix, etc.) be sure to stick a few bay leaves in to guard against weevils. And if you're storing anything sweet, stick a few cloves in to keep ants away. Since these containers aren't 100% airtight, it's even more important to guard against "critters" than when using Lock & Lock containers.
One final note: Since these containers aren't airtight, I wouldn't use them for things that are going to sit, unused, for months. I definitely wouldn't leave anything in them in the "off-season" or if you're off the boat for several months.
All that said, if you only use the boat for occasional weekends and take food home between trips, or want a container for a week's worth of flour or sugar (which is what I did, plus used a couple to stow little sealed bags of olives and nuts), they work well.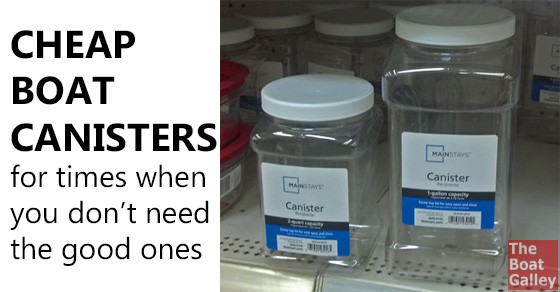 Some links above (including all Amazon links) are affiliate links, meaning that I earn from qualifying purchases. Learn more.