If you've ever had a bit of overripe fruit or veggie, you've probably had fruit flies.  It happened to me recently as a friend gave us a bag of tomatoes and peppers from her garden.  I set it on the counter and we talked for about half an hour.  After she left, I went to take things out of the bag and discovered that she hadn't just given me some veggies, she'd also given me some fruit flies courtesy of a tomato with a bad spot.
Serendipity?  When I looked on Facebook a few hours later, Belinda Wolfe had posted a note on The Boat Galley's Facebook page about getting rid of fruit flies.  So I tried it — and it worked for me too.  And, like Belinda, I discovered that I had more fruit flies than I thought.
Here's how Belinda described it:
Put apple cider vinegar in a flat dish. I use a candle dish. I like a flat dish better than a glass because the vinegar needs to be close to the rim. A full glass of vinegar would surely get tipped over!
Then add one drop of dish soap. Mine happens to be fruit scented which I think is also a plus. Mix it with your finger.
Set it out in the galley and wait. I seem to catch more at night with a light on in the galley. The fruit fly will first land on the rim, but be patient, they will go for a swim. The soap is sticky enough to trap them.
Yesterday I thought I had three fruit flies. I put out my trap, came back in four hours and found I had caught eight.
The first time I tried this I had a really bad case of fruit flies – I trapped 52 overnight. But if I put out my trap when I think I only have 3, I will never get to 52 again.
I love it — a really simple solution to a problem many of us have, and with cheap ingredients that you probably already have on hand.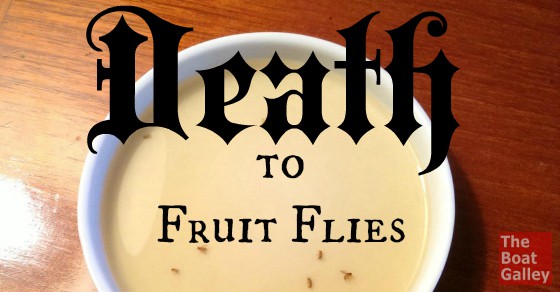 Some links above (including all Amazon links) are affiliate links, meaning that I earn from qualifying purchases. Learn more.