Elena and Ryan are cruising the Mediterranean aboard Kittiwake, a Heavenly Twins 26ft catamaran. They live frugally, sailing slow, anchoring out a lot, and earning a living along the way. They also run the YouTube channel Sailing Kittiwake.
In this post, Elena shares the realities of working while cruising and she offers some tips on how to earn a living from a sailboat.
Thanks to Elena for letting me share this article as part of the Cruising Stories series — a look at the real-life ups and downs of the cruising lifestyle. Follow her sailing channel Sailing Kittiwake on YouTube, her blog, and her Instagram.
Working while cruising – tips + what's it really like?
When Ryan and I decided to move onto a sailboat and go cruising, I knew we couldn't afford to do it unless we had an income. We're typical millennials – we spent most of our salaries on rent for many years and haven't managed to save a whole lot. So before setting off we set up some freelance work that we could do anywhere in the world, as long as we had an internet connection.
A year and a half later, we've never touched our original cruising kitty and the contingency money we had set aside. Remote jobs have worked extremely well for us.
Working while cruising isn't easy, though. Here are some tips and a look at what it's really like to make a living while sailing.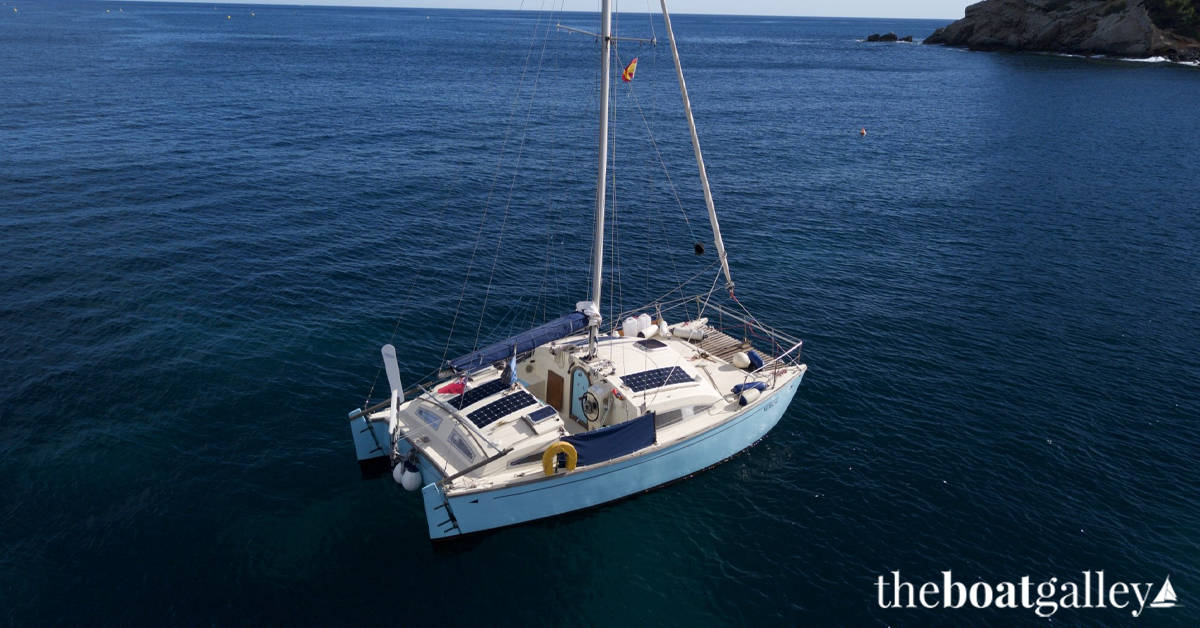 Jobs you can do from a boat
There are many different jobs you can do from a boat, and they're not all only online. Here's a few examples to get you started:
Virtual assistant
Online marketer
Freelance writer or editor
Book author
Social media manager
Language tutor
Web or graphic designer
Cartoonist
Affiliate marketer
Accountant
Consultant in your field
Photographer or videographer
Translator
Sailing instructor
Scuba diving instructor
Boat maintenance contractor
Canvas work tailor
You may be able to continue work in your field, like me, on the boat, or you may have to learn new skills. Ryan taught himself how to code, so he can now build websites for different clients. Take time to do some courses or teach yourself something new – it'll pay off in the long-term.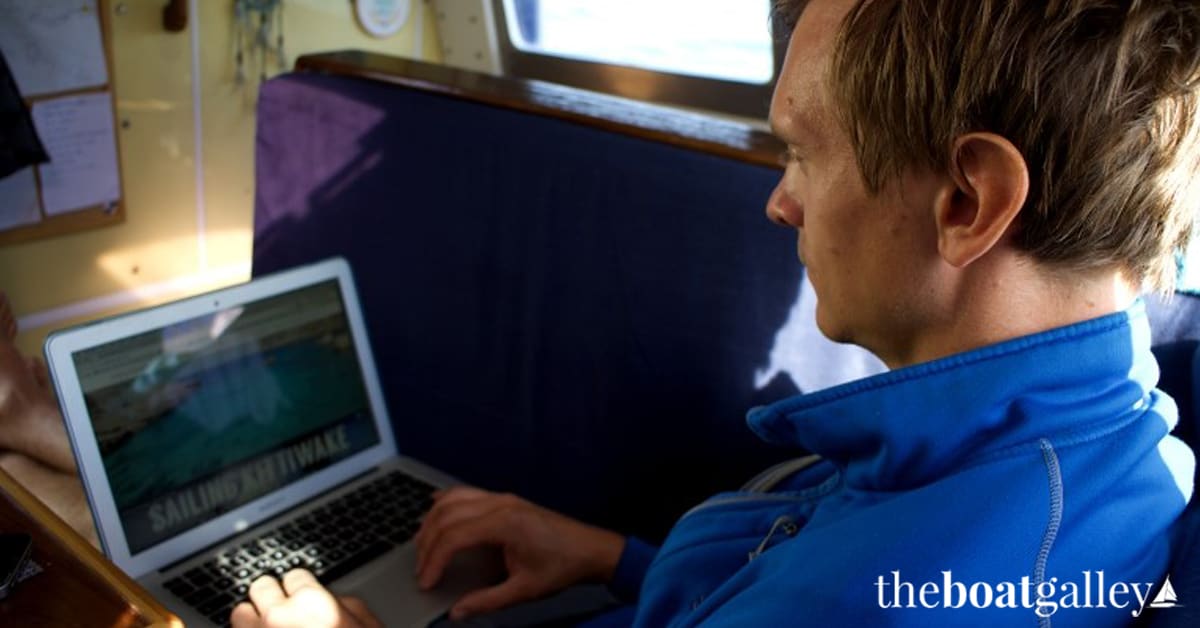 With online work, you can work anywhere there is a good connection, while with practical jobs you'll probably need to hang out in a cruising hotspot for a few months at a time.
How to connect to the internet
It's getting easier and easier to connect to the internet from a sailboat. If you can budget for marinas, you may want to schedule your work around marina stays. Beware though – not all marinas' Wi-Fi networks are good, so don't take it for granted.
We set up our mobile phones as hotspots to work from our laptops and use the data included in our monthly contracts. We find this method to be the best, because we can see our work emails coming in in real time on our phones 24/7. However, you'll need to purchase new SIM cards when entering new countries.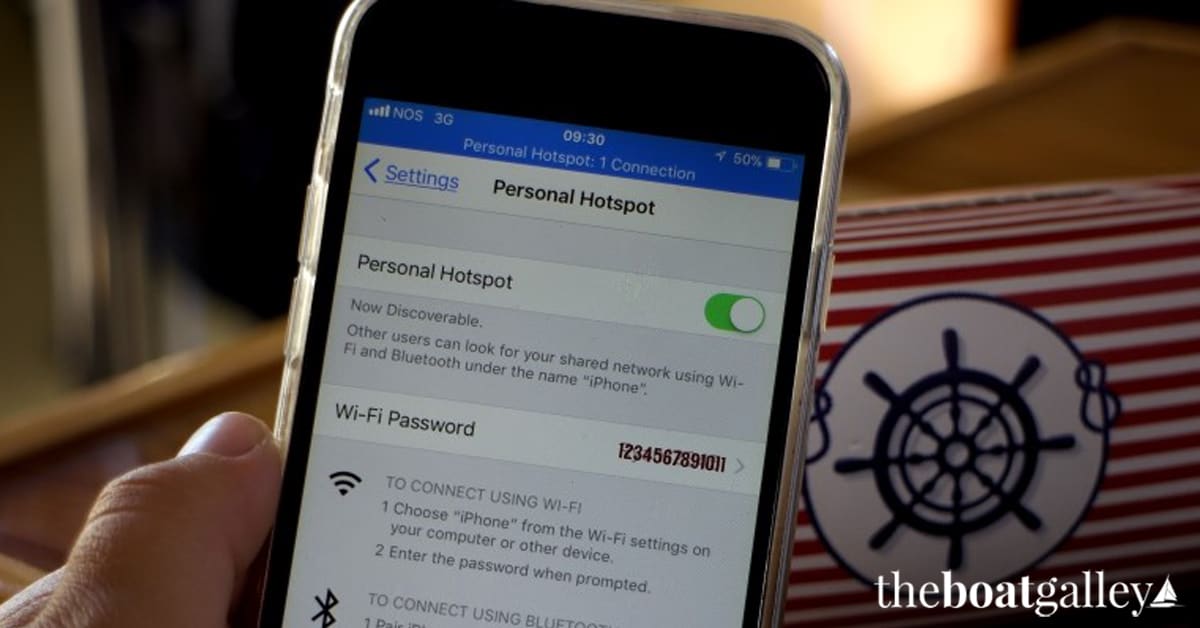 Other people buy less data for their phones and get Wi-Fi boosters. These are devices you can mount on your deck or mast to receive Wi-Fi networks located on shore. Most of these networks belong to bars, hotels and restaurants and they will be protected by a password. So you'll need to go to shore, and possibly have a drink, to obtain the password.
Another option is purchasing a Fi-ready Google phone or an iPad that supports an Apple SIM – these allow you to use one SIM card to purchase data and calls in most countries of the world.
If you're going off-shore, it might be worth considering a satellite phone or a satellite Wi-Fi hotspot to stay connected.
Meeting deadlines
Most jobs will have some sort of deadline. We try to fix deadlines together with our clients and push back on tight ones, which makes it easier for us to deliver the work on time.
However, some clients will decide when they need the work, and this can sometimes impact on your sailing plans. You may have to stay in a certain area to finish off a project, or make sure you're in a spot with good 4G on a particular day, and so on. It's not very difficult if you're in a developed part of the world, but you will need to get used to the idea that your cruising plans revolve around work.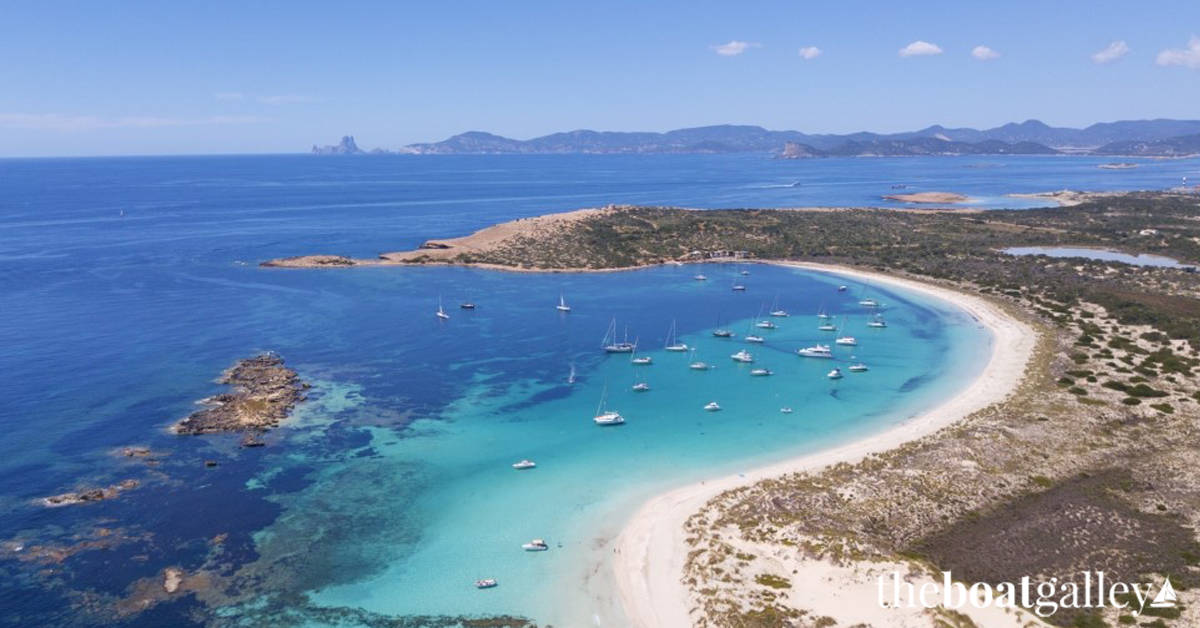 Cruising while working
Cruising while working isn't anywhere near as fun as just cruising, or so I suspect – I never tried it without having money worries. You'll miss weather windows, or will be forced to change plans due to a deadline or important conference call. You will sweat profusely in your bikini, typing away while your brain fries. You will have to say no to hanging out with other cruisers or go to bed early sometimes. Basically, you won't be as free as you can be. However, working is what allows you to lead this lifestyle, so you'll have to put up with the disadvantages it entails.
Ups and downs
If you plan to go freelance or launch your own business, you'll face ups and downs. It's inevitable. Just like any freelancer or small business owner on land, you'll have to look for clients and deliver outstanding work in order to keep them coming back. You will probably lose business every now and then and you need to be ready for it. Set aside a cruising kitty and contingency to help you keep on top of expenses when not much money is coming in. That way, you'll feel more relaxed about it all.
Since I started freelancing, I have gone through two tough periods where I didn't have much work coming in. They both lasted a month or so, and they were difficult times. Not so much from a financial perspective (we managed OK being frugal and barely touched our savings), but from an emotional perspective. I felt as if I had somehow failed and I wasn't sure I could replace the clients fast enough. Thankfully, both times it all turned out OK and I was soon on a high. These ups and downs teach us resilience – we can do it, we just have to keep going! It's important to be aware that this can happen, or it'll take you by surprise.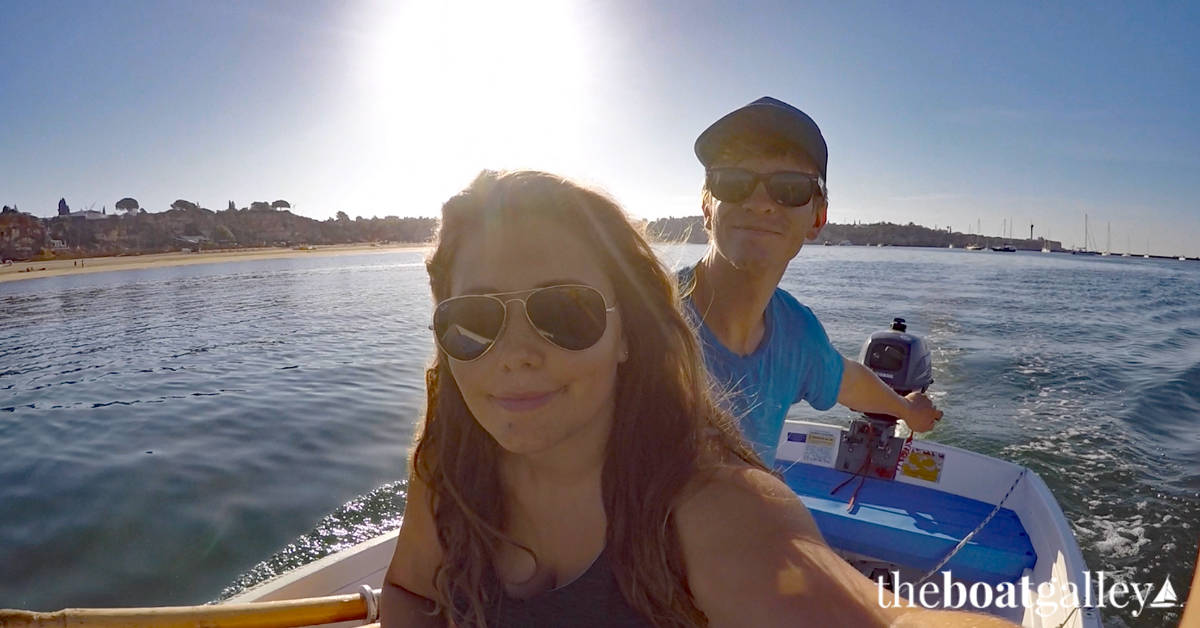 Taxes
Paying the correct tax can be a challenging topic. Make sure you research the subject thoroughly before embarking on your new venture. Each country is different, so I cannot tell you how to pay yours. However, be sure to do it!
Launching your business
Whatever work you plan to do from your boat, you'll have to launch your business at some point. I would highly recommend you do this before setting off. Make sure you can gather some clients before you sell everything and go cruising. Finding your first clients could take months, so it'd be wise to test the business on land, when trying something else might be easier.
I adopted this strategy myself. I started looking for clients six months before we planned to set off. Four months before our departure date I had two clients, two months before I was making a decent second salary. I had to work evenings and weekends, but that effort paid off big time – I could quit my job a month early and I felt confident I could make a living from the boat.
So working while sailing can be challenging, but living on a boat and travelling to beautiful destinations make it totally worth it. Best of luck with your new adventure!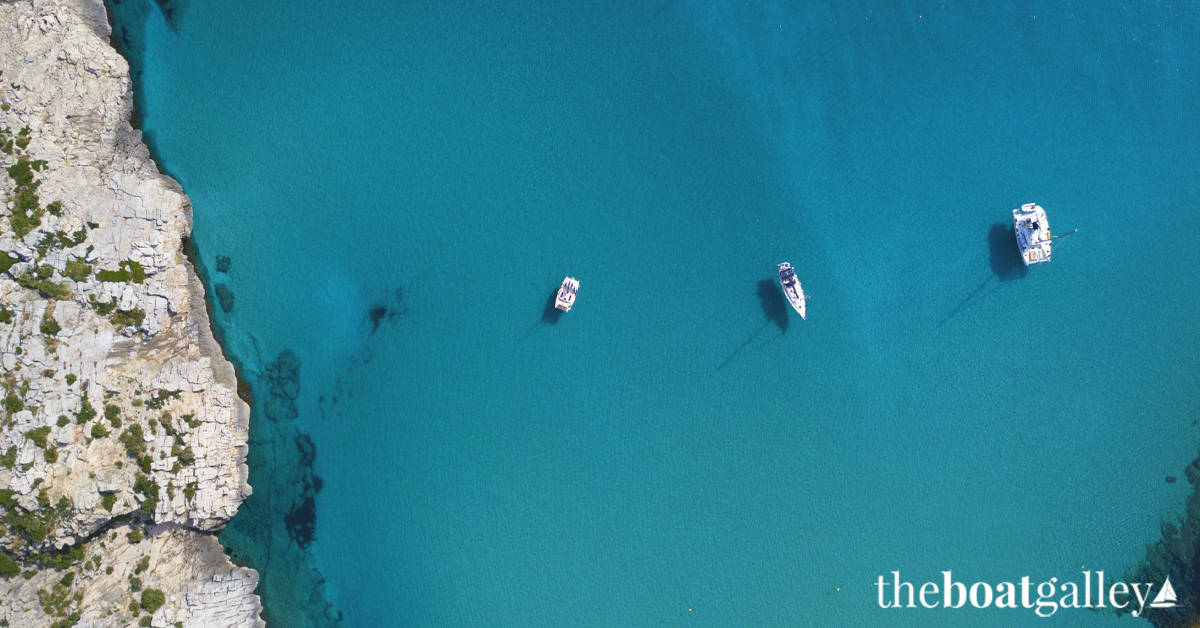 ---
Our FREE Provisioning Spreadsheet
Wondering how much of what foods to take on your next trip? Know just how much to buy of what — all arranged by grocery store aisle — with our handy Provisioning Spreadsheet. Includes detailed instructions to edit it for your favorite foods, how much your family eats, and how long you'll be gone. No spreadsheet skills needed!
It's FREE — get it here.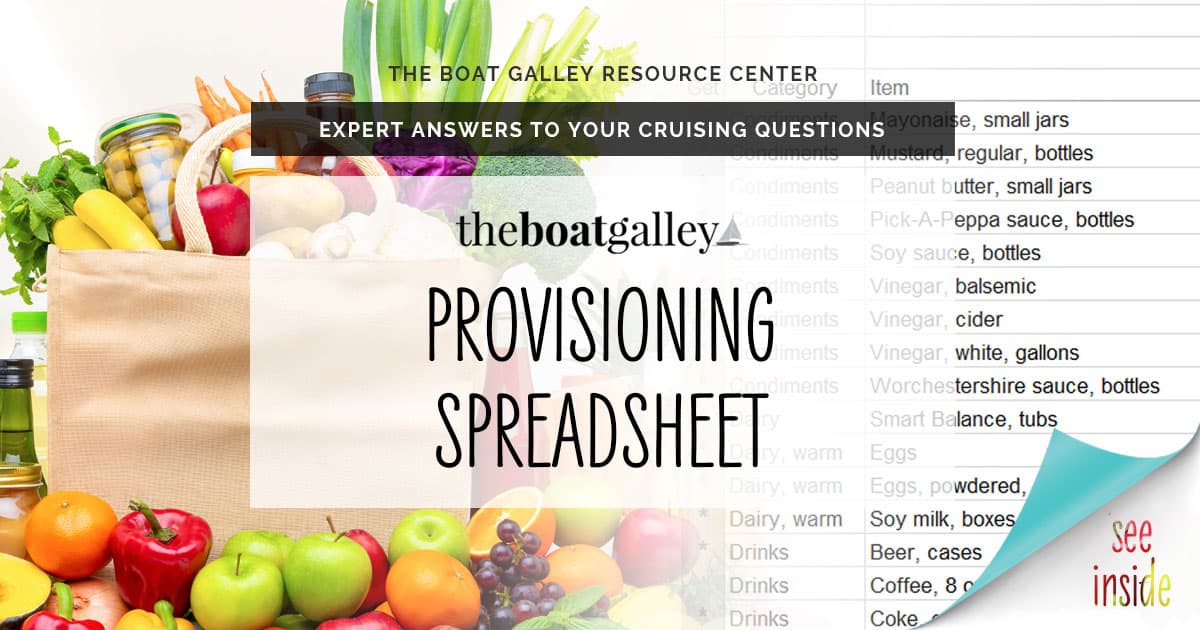 Some links above (including all Amazon links) are affiliate links, meaning that I earn from qualifying purchases. Learn more.