I've always said that the first year of cruising is the hardest, where everything is new. Want more proof that it really does get better? Read Mark and Jennifer Prince's cruising story . . .
"Cruising Stories" are little glimpses of the cruising life, some written by me and others by friends and TBG readers. They're not how-to's or travelogues. They're individual stories, telling what it's really like to live this life — both the joys and frustrations.
Jennifer & Mark Prince | Luna Sea — Mark and Jennifer began cruising full time a little over a year ago – after walking away from corporate America. They now share their 300 sq ft home, s/v Luna Sea, with their dog Molly – and they share their adventures with you. It has been a steep learning curve, but they are hoping to share the lessons, both good and bad, in order to inspire others to follow their own dreams.
Bahamas Round 2! first appeared on their blog, Sailing Luna Sea (used here with their permission). You can also follow them on YouTube and Instagram.
Oh, my. The things we have learned …
As I sit here, in the beautiful harbor at Big Major's Spot, Exuma, Bahamas, watching the sunrise, I cannot help but think of all the things we have learned over this past year.
As a result of all of this learning, our 2nd season cruising is almost night and day from the first. Don't get me wrong. We LOVED our first season out, or we wouldn't be out here again. And we certainly would not be heading south for bigger, longer passages as we move toward Puerto Rico and the Virgin Islands. But this season is, so far, so much more chill. And here are some of the reasons why:
Anchor: I have probably beat this horse to death. But we love our new anchor. It's the first thing we bought when we got back to the States this past spring. I mean literally. The very day we had cell coverage, I was online ordering a new Mantus. The Bruce we had just did NOT work here in the Bahamas. And the result of having a modern-styled anchor? Sleep. Beautiful, sound sleep. Every. Single.Night.
Anchorages: Speaking of anchors… We have become adept at sleeping in some pretty sketchy conditions. As long as we know that anchor is not budging, we can pass out and sleep in the rolliest, crappiest, slappiest conditions. Three-foot seas crashing into our beam? No problemo. See you in the morning for coffee.
But even better? We have rarely had to deploy this new-found skill of sleeping in roller coaster conditions – because we have become fairly adept at picking out mackdaddy anchorages! Experience has led Mark to develop a knack for finding the perfect calm spots in the most random places. Usually with no other boats within shouting distance. 6′ 4″ keel in the Bahamas? No problem, when you have an anchorage bloodhound for your skipper. Does it get annoying to have him poke around an area looking for the "perfect" spot where depth, winds, and currents converge to create our little oasis? Every now and then. But then I wake up to a glassy calm sunrise and remember he has developed some pretty mad skills.
Sleep at night: I cannot stress to you enough how critical sleep is to my marriage. I NEED 9 hours. 10 is perfect. But 5 to 8? Or, god-forbid, less? No. Just no. We may have a mutiny on our hands if I am forced to function on that. These days we are asleep by 9p and up around 6a. Perfecto. Unfortunately, last season this rarely happened. As a result, I was tired ALL of the time. And full of anxiety. And try as I might to learn to sail, anchor, understand weather patterns and wave configurations, provision, cook 3 meals a day from scratch AND go snorkel, paddle board and play on beaches – all while sleep deprived – well, let me just say it led to a few tearful moments where I broke down from exhaustion and questioned every decision we had ever made. And I was not alone here. More than once, Mark and I had discussions about our plans – usually uttering "what the hell were we thinking" at least once or twice in the conversation.
Now I realize this has not changed solely based on sleep. But we can both think clearly and make rational decisions when we are rested. And that is imperative to both our moods AND our safety. And probably our marriage.
Slowing down/speeding up: Last season we ZOOMED thru the Bahamas. When we were heading south, it was because we thought we were still aiming for Puerto Rico and wanted to get there sooner rather than later. Then, when we got to Long Island and decided we should have one more stop in the States, we kinda felt like our trip was over and so we hurried "home."
So this season we declared that, while we do want to get that giant passage to Puerto Rico under our belts, we also will enjoy the Bahamas one more time. We thought we would go slowly, but in true Luna Sea fashion, we are again zipping. This time, however, we are focusing on both the areas we missed the first time (Hello Wax Cay – you beautiful anchorage you!) And stopping at places we really enjoyed. Thus our current visit in Staniel Cay.
Saying Hello: Both Mark and I are somewhat socially awkward. No question about it. Get us in a small group and we cannot stop talking. But more than 6 or 10 people and we clam up and freak out. This led to many an uncomfortable beach gathering last season. It also led to us not being forward enough to go knock on someone's boat and introduce ourselves. One bad run-in with some ass-hats in Marsh Harbor (very rude when we came to say hello) and we clammed up.
This season? Well, if we see anyone remotely our age, we jump in the dinghy and fly over to say hello. And often spill our entire life stories in the following 2.8 minutes. Unfortunate for whomever we have stalked, but it has also led to some fun friendships!
On the flip side, some of YOU guys who apparently read this, are also coming up to us and saying Hi. THIS has also led to some amazing friendships! As bad of a rap as social media gets, it has often been a lifeline out here. Because let me tell you, the 35 to 55 age range is thin. And while we love chatting with everyone we run into – both older and younger – there is just a bond that develops between those of us crazy enough to walk away from The American Dream in what is often the prime earning decades… It is a bond of lunatics and social rebels. And we love it.
Cell coverage: I cannot lie. Technically I can, but  I will giggle and smile when I do it, so it's a dead giveaway. But seriously – I need internet connection. I NEED internet connection. And I am not ashamed to admit it.
Our T-Mobile plan offers unlimited data. It is painfully slow. But as long as there is a tower somewhere nearby I can get weather. If I cannot get weather for more than a few days? Well, a wee bit of last season's anxiety begins to creep back in.
We have only been in a few spots where I could not pull grib files (I prefer Pocket Gribs, if you are wondering) or use Wind Finder. This also helps me sleep at night. The coverage, I am happy to admit, has actually improved since last year. We can finally use the phone as a hotspot. Still painfully slow 2g speeds, but we can both be online at the same time. Usually. And this ups our happy factor.
I also like to be able to use Instagram, FB and upload videos to YouTube. And speaking of YouTube – we are again chronicling some of our shenanigans. This obviously explains why the blog has been quiet – I have been too busy with videos to blog. But some things are just better presented in text. And today I felt like typing. You just never know what inspiration each day will bring…
I am sure there are other things that have made this season so much more relaxed – but those are the key players. And now that the sun has finally broken the horizon, it is time for me to get out there and enjoy this day! I hope you get out there and enjoy yours as well. Cheers!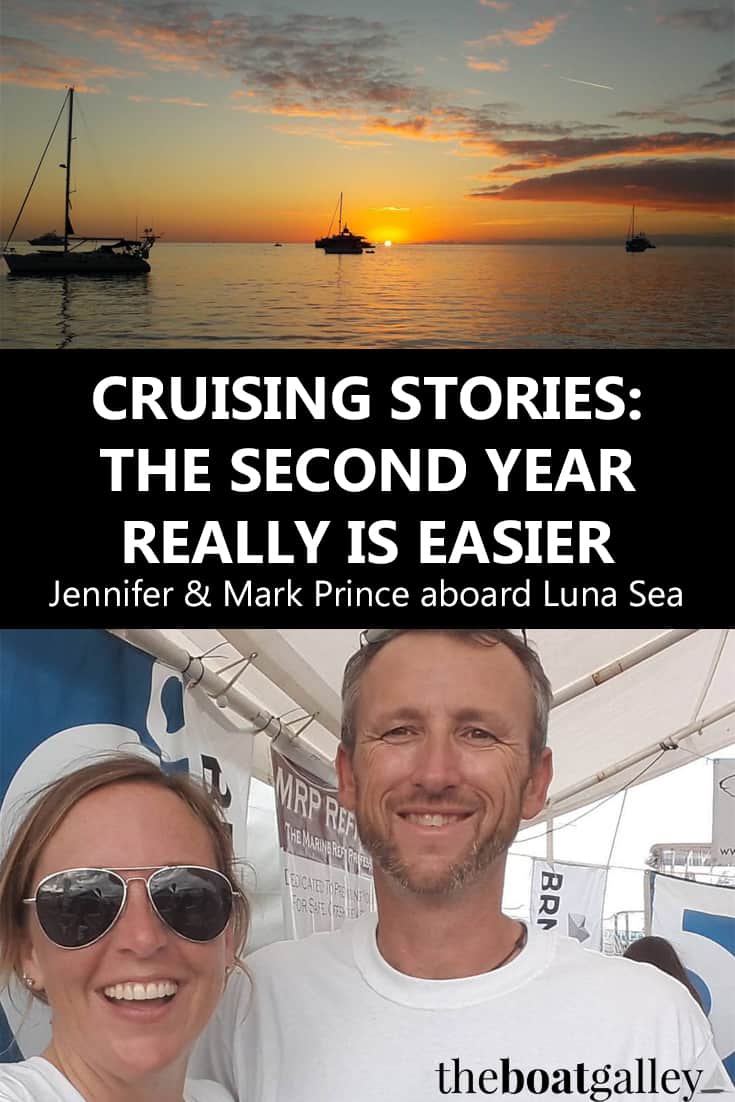 Some links above (including all Amazon links) are affiliate links, meaning that I earn from qualifying purchases. Learn more.