"Cruising Stories" are glimpses of the cruising life. They're not how-to's or travelogues. They're emotional and raw, hitting both the beauty of this life and the tough times. Above all, they're real.
This one, in the words of Brita Siepker, tells how cruising can strain — and ultimately rip apart — a relationship. It's not a pretty picture, it's not what we want to think will happen as we cast off the dock lines. But it certainly is a reality for some portion of cruising sailors.
Brita's story is powerful and gets to the core of what can happen when you leave shore. She originally posted this on her blog Life is Water, and graciously allowed me to repost it here.
---
Sink or Swim
Before you cast off the bowlines, you think you are embarking on the most romantic adventure of your lifetime. You look forward to spending all day every day alone together with the person you most love. You imagine lazy days on deck, arms entangled, lips locked, soaking up the beauty around you. You dream of long nights under the stars, lounging against each other, talking about everything and nothing. You scour the charts for remote anchorages on uninhabited islands where you can skinny dip in the bay and make love on the beach. You plan for long walks on white sand, impromptu follies in blue water. You buy satiny sheets and lacy negligees. You think you will make love early and often every day.
Bowlines cast, the reality of being a cruising couple hunkers down like a hurricane that won't blow through. You live in a teacup in the middle of the ocean. You are alone together twenty-four hours a day, seven days a week, most weeks a year. You are never more than forty feet apart and often less than four. You are completely dependent upon each other; your life depends upon the other making good judgment calls and being a responsible seafarer. There's no one else to talk to, no one to blow off steam with, no one to put it in perspective for you. Personal space is now very public. Every sound you make will be heard, every smell you produce will be smelt, every move you make will be seen. Even the places you used to retreat to for a modicum of privacy – your bathroom (head) or your room (berth) – now have slats in the door. Privacy is a luxury you left behind on land. You're going to have to agree on creative alternatives to awkward tasks like making your way down the companionway, across the saloon, into the head, dropping your foulies single-handedly while you keep yourself off the lee wall, sitting on the toilet while the seat smacks you in the back, doing your business, cleaning up, flushing (i.e., pumping), zipping up, and making your way back across the salon and out the companionway, all the while maintaining a proper look-out and not waking your partner who is finally catching some much-needed sleep in the saloon. You're both going to know way more about each other's bodily functions than either ever wanted to know. If you were looking for more intimacy in your relationship, you've got it, in spades, but it's not romantic intimacy or sexual intimacy or even sweet innocent intimacy. It's down and dirty intimacy that will bring you closer but drive you further apart.
Every passage plan is a fight over where to go and how long to stay. Underway, you are swapping shifts; your time together is limited to a shared meal or two a day when you're both sleep deprived and seasick, or at least sick of the sea. You disagree over how soon to reef, where to drop the traveler, when to heave to. You haven't showered since departure several days ago, you're wearing foulies, a PFD and a headlamp, and you're drenched in sweat, salt and bilge water. A romantic interlude on the foredeck is the last thing on your mind. You want to get to shore as soon as possible and get as far as possible from the person who has been no more than forty feet from you for the last few days.
Land in sight, you expect some relief from the tension and frustration that have been building at sea. One of you is at the bow forty feet forward, one of you is at the helm behind the dodger, the engine is screaming, the wind is howling and the waves are crashing. You attempt to pull alongside a dock and secure dock lines, or approach a mooring ball and get the pendant on deck and lines secured, or drop an anchor into a sand patch thirty below your waterline and get it to set before it slides back across the beautiful coral head. From the bow, one of you is screaming directions back to the helm about speed and direction while you dangle over the lifelines. From the helm, the other is screaming instructions and trying to control a moving vessel that has the maneuverability of a hockey puck on sheer ice and a concrete block in molasses, dependent entirely upon the vagaries of wind and current. All those subtle communication skills you honed in the boardroom are useless on the sea. You are cursing and screaming and condescending and questioning and contradicting. The entire marina, mooring field or anchorage is watching and listening and judging. For a split second, you want to reverse course and head back out to sea.
You bypass the uninhabited islands in favor overcrowded anchorages full of other cruising couples – someone else to talk to finally. Every trip to land is a negotiation over who gets the dinghy and for how long. Your morning run that keeps you sane interferes with his morning trip to the chandlery that keeps you afloat. He wants to stay out drinking at the bar when you want to curl up with a good book under a fan. Your plans to sail to the remote island with amazing diving fall through in favor of buddy boating to the party island. The relationships on your buddy boats are suffering like your own, so everyone is blowing off steam and behaving badly.
In port, you spend long days in the cabin together hiding from the beating sun, doing endless boat chores. You contort your body into a fiberglass lazarette to run wires or install a regulator, where you sit for hours waiting for instructions from the engine room that you can barely hear and likely can not complete. You are inevitably seated on the hold or lazarette in which the other desperately needs to dig for the missing part or ingredient. You are cooking all of your own meals from scratch over not much more than a campfire stove, washing all the dishes in a bowl-sized sink with drops of water, and hunting, baiting and killing bugs in your food storage. Trying to share cooking duties in a boat galley is like playing twister, sharp knives and steaming pot in hand, on a slip and slide. You pump the toilet and unclog it when the joker valve is stuck, in a head that smells of decaying marine life stuck deep in the hoses and spews raw sewage at your face like it is possessed. You change oil, clean filters. This work is all far below your pay grade and far outside your core competencies. Doesn't anyone need you to draft a share purchase agreement in an air-conditioned office over takeout sushi? Does he notice the sludge smeared across your cheek? Or is he so annoyed at your incapability at anything mechanic that it doesn't even matter how clean or gross you are?
You are sweating through every pore you have. You have bug bites on every extremity. You are wearing the same stained, torn clothes you wore yesterday, to save on laundry water. You haven't bathed in days, to save on shower water. You have sweat through your bedsheets so many times it feels like a waterbed. Even if you wanted to cuddle at night, the closest you could stand is to interlink pinky fingers. You shower hoping to look and feel desirable, but then don't dare get sweaty and dirty and hot in bed together. There are no FTD deliveries, no romantic nights out on the town, no weekend getaways. You can't go for a walk around the block or go out for a drink with a friend. You can't hide at the office all day and tell yourself this is not your reality.
You are stuck in a very small space, very far from land, with someone who doesn't like you very much, feeling pretty vulnerable and undesirable, living a difficult life few of your land friends can even imagine. You are hiking profound volcanoes, diving beautiful waters, watching picturesque sunrises and sunsets, experiencing new places and different cultures, living a blessed life you can't believe. And in these confused waters, it's sink or swim. Maybe the marriage survives but the wife won't sail anymore. Maybe the couple stays on the boat and likes each other a little less every day. Maybe a better balance between land and sea time can be negotiated. Miraculously to me, some couples thrive in the dependence and solitude and stress. If there is so much as a hairline fracture in your hull, it will crack, the bilge pumps will fail, and you'll sink. People warn you about the lack of intellectual engagement, the lack of social interaction, the tough sailing conditions and maybe even the lack of Seamless Web and Amazon Prime. People do not warn you may want to put several thousand miles between you and your beloved, and several feet may not even be possible. You can read all the books and take all the classes, stock your boat full of tools and spare parts, install a good life raft and advanced satellite communication devices, but if your relationship isn't seaworthy, either the boat or the relationship will quickly demise.
My first cruising relationship sunk, epically. I put all my heart, soul, sweat, blood and tears into it for four and a half years living aboard, two and a half years cruising the Caribbean, and by the time we sailed back to the city every last drop of happiness had been sucked out of us. We were totally unprepared to deal with the stress presented by cruising; we didn't stock epoxy to fill broken hearts or spare battens to reinforce weakening bonds; we couldn't communicate, didn't tolerate each other's personalities, and had no formal commitment to fall back on. I haven't given up on the lifestyle – I'm currently circumnavigating with the World ARC and am far from ready to retreat to land. I hope the rest of you keep swimming.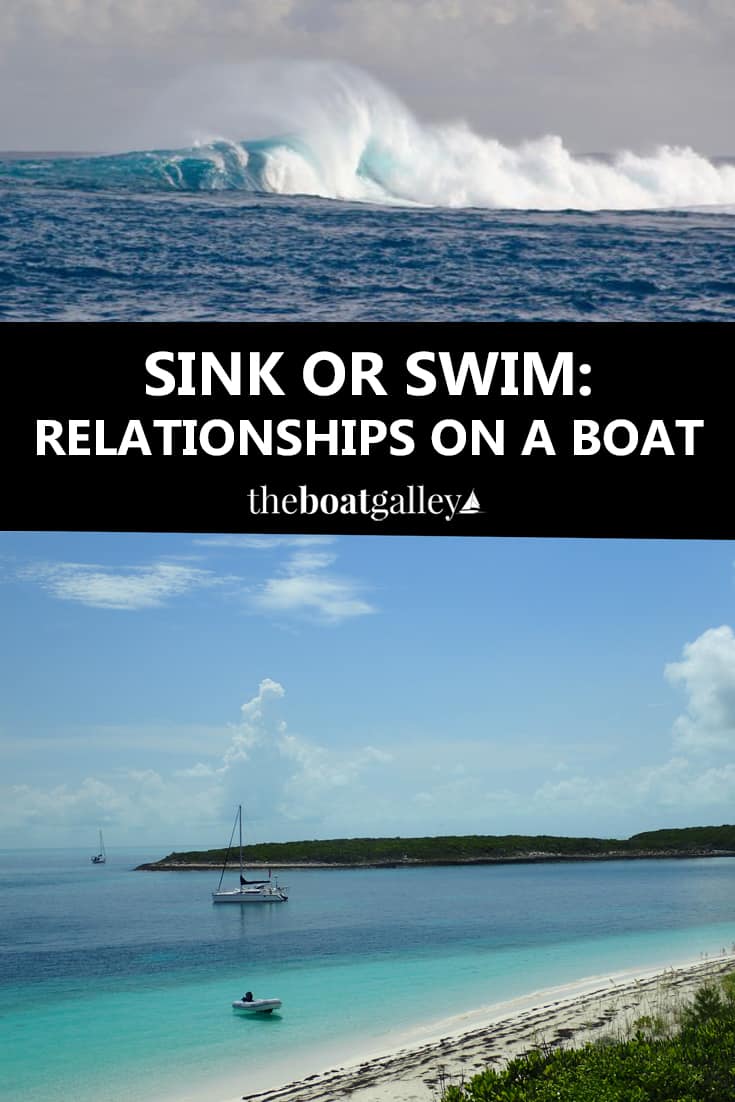 Some links above (including all Amazon links) are affiliate links, meaning that I earn from qualifying purchases. Learn more.