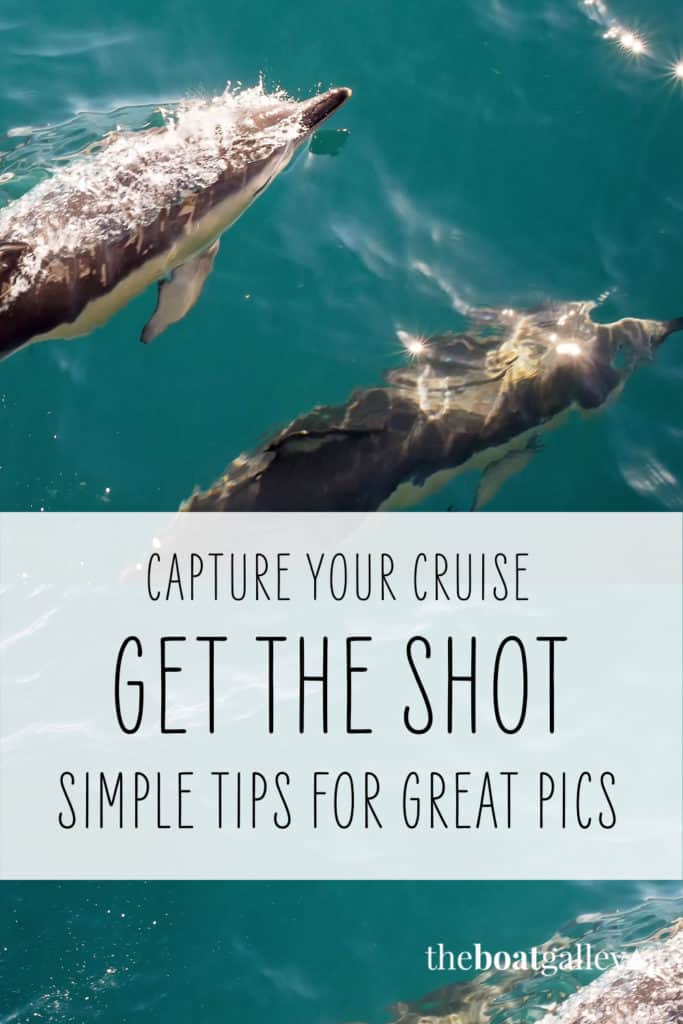 Want your photos to be the ones that everyone wants to see? The ones that look crisp, colorful and really convey the sense of "being there"?
I'm not a professional photographer with all sorts of fancy equipment and years of training. I just enjoy taking photos of our cruising experiences. As we've traveled, I've learned some simple ways to improve my photos considerably.
1. Keep your lens clean. Probably the simplest thing to do, and it will have an enormous impact on your photos. Fingerprints and salt in the air are the two biggest culprits – think how often you have to clean your sunglasses and how much better your vision is afterwards. The same is true for the camera's lens. Get a good lens cleaning cloth and solution and follow the directions. Keep the cap on the lens whenever you're not taking a picture.
A dirty lens ruined an otherwise nice dolphin shot: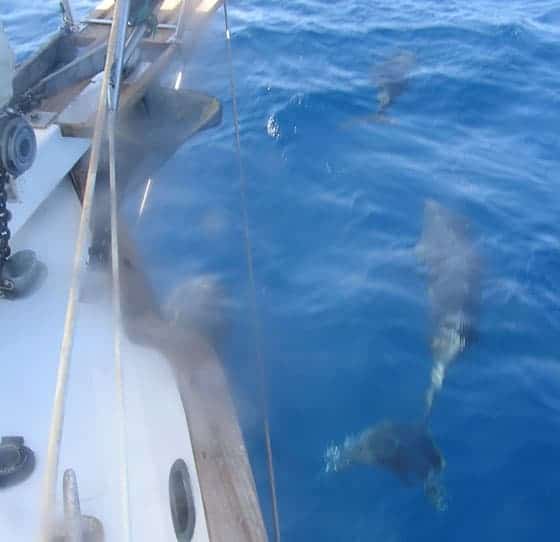 2. Read your camera manual and know what it can – and can't – do. My camera came with a "Quick Start" User's Guide and a much more complete user's guide on CD. It wasn't until I finally sat down and read the full user's guide that I got the most out of the camera. A few of the easy-to-use features that really improve photos include (not all cameras have all these):
Pre-set programs. Most cameras have settings for landscapes, fast action, portraits and more. Using these, instead of the generic "automatic" setting, ensures that all settings are optimized for the type of picture you're taking.
Change resolution. On digital cameras, using a higher resolution means that photos will capture more fine detail and can be cropped or enlarged more without losing quality.
Fill flash. Fill flash is a small burst from the camera's flash, used in daytime to give a little extra light to a shadowed area, such a face under a ball cap.
Flash off. If your flash fires automatically when you're trying to take a photo of something a distance away in the dark, you'll just get a bright photo of the things nearest you (such as the back of someone's head). Turn the flash off, brace the camera on something steady, and you'll be able to get a good photo of the distant object.
Macro mode. Used for shooting close-ups of things like flowers, insects, and shells. Allows the camera to focus at close range.
Multi-frame shooting. Continues to take pictures as long as you have your finger on the shutter button (generally up to a specified limit). Good for unpredictable action such as dolphins and whales surfacing or car racing and is particularly helpful if your digital camera has significant shutter lag.
3. Keep your camera available. The best photos happen spontaneously. How many times have you said "I wish I'd had my camera out"? Having your camera at hand and ready to go will ensure that you don't miss those special moments. So that you don't miss any photo ops:
Start each day with a fresh media card. I download the photos each day and have several large-capacity cards so that I can take plenty of photos without seeing the dreaded "card full" message just as a whale surfaces nearby. When I remove a card to download it, I immediately replace it with another card.
Keep spare batteries handy. Have at least one spare, fully charged.
Weather-proof your camera so you can keep it in the cockpit (I wrap the strap around a winch) and take it in the dinghy. Some cruisers use a Ziploc bag; I opted for a waterproof housing so that I never have to worry about it. I keep the camera in the waterproof housing all the time; this seems to cut down on the long-term problems associated with electronics in salt air. (UPDATE: My most recent camera is now waterproof to 50′ without a housing and I love it — read about it here.)
4. Have people or the boat in the photo to get a sense of place and perspective. Including a bit of the boat – the bowsprit or the bottom of a sail – helps show where the photo is taken from and can add interest to it. A person can help to show the scale of something. If dolphins are riding your bow wave, don't take a picture of just the dolphins – include the bow of the boat as well. To show how steep a trail is, shoot up at someone climbing ahead of you. In particular, all-encompassing landscape shots need something in them to focus on and to show scale. Compare these two photos of us entering the same bay: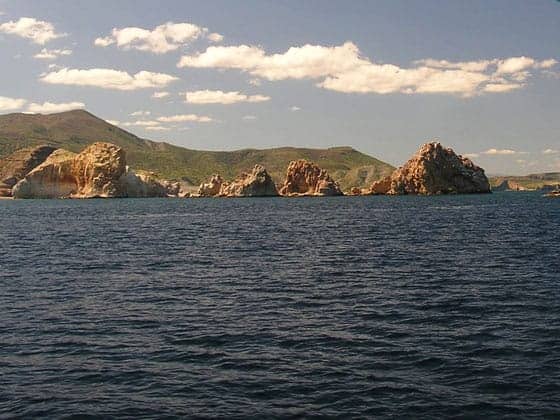 Including the spinnaker and bow of the boat in the photo of our entry into Ensenada San Juanico gives more of a feeling of sailing into the bay: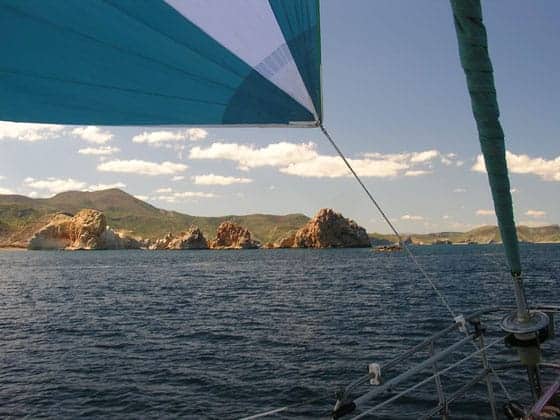 5. More zoom and higher resolution. If you're not happy with your photos, try more zoom or getting closer to the subject. Too many times, trying to get "everything" into one photo results in nothing really standing out. If you're using a digital camera and think that you'll want to do some cropping, use a higher-than-normal resolution so that you'll still have good picture quality. If you're in the market for a new camera, look for the highest optical zoom – at least 5x, and 10x is even better.
6. Take lots of photos and throw the bad ones away. This is one of the greatest benefits of having a digital camera — it doesn't cost anything more to take lots of photos! Wildlife photos are the most obvious ones where you have to take a lot of photos to get a few good ones. But take variations on all your shots – more and less zoom, with flash or fill flash and without, from different angles – and you'll be surprised at how much better you'll like some over others. Once you download your photos, delete the bad ones and choose only the best to show others via Facebook, etc. (I have a friend who posts every picture she takes and it gets tough to wade through 100+ shots . . .) I try not to delete any before downloading as it's too hard to see them clearly on the camera and know which are the best ones to save.
7. Use a polarizing filter. A polarizing filter is like putting sunglasses on your camera. It will help to reduce glare on the water and will also make the sky a deeper blue and clouds stand out more sharply. It will also reduce haze in your photos. A standard polarizer has a slightly gray tint to it; I prefer a "warm" polarizer which is more like amber sunglasses. Many cameras will directly accept screw-on filters, others require adapters and some just will not accept filters. Polarizing filters typically cost $20 to $50, depending on the size used by your camera, and are available at almost any retail or online camera store. Be sure to clean your filter when you clean your lens. Compare these shots, first without and then with a polarizer: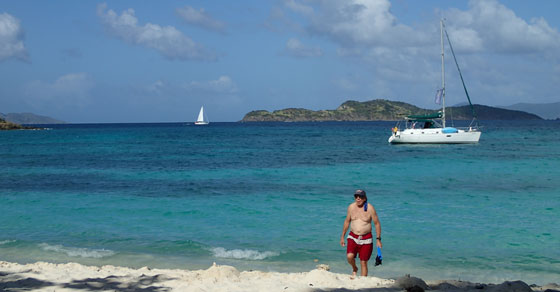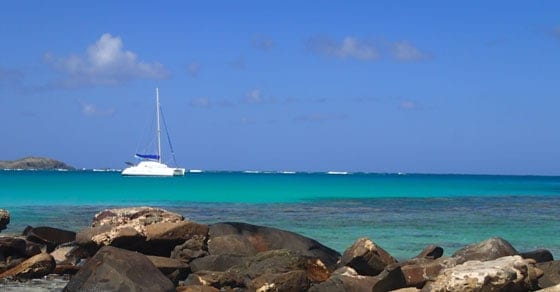 8. In a new locale or event, take some scene-setting photos. Whether you're going to use your photos in a photo album or a computerized slide show, be sure to take some "introductory" photos of the location – a "Welcome to ________" sign or an overview of a harbor, for example. If there are hills or tall buildings surrounding a bay, get up as far as you can and shoot at midday so that water looks its most blue. Another good time is just at sunrise or sunset with the sun behind you. Sometimes, walking just 5 minutes further can result in a much more interesting photo.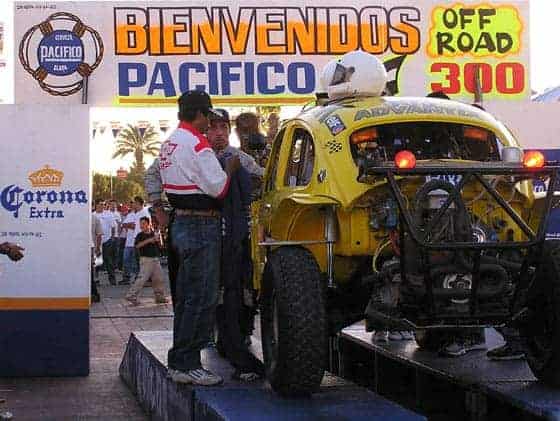 9. Simple editing can help most photos. Take a minute when you download your photos and throw away the bad ones. Then spend a few minutes with a simple editing program. In addition to rotating any pictures that I took vertically, there are only two functions that I use frequently: straighten and crop. Straighten, also called rotate in some programs, allows you to turn the photo in 1-degree increments so that you can make the horizon level. In taking photos from a monohull, it's amazing how often the horizon won't be level. Some programs will automatically trim the edges of the photo so that it still has its rectangular shape; in other programs you'll have to use the crop function. Cropping is also useful to zero in on one portion of the photo, to cut out something that got in the way, or to shift the composition slightly. I also add captions on the first slide of a slide show (for example, "Carnival 2004") and occasionally on other photos as necessary to explain the action. I very rarely use other editing functions.
10. Create a slide show or photo album. The important thing is to organize your photos as you take them, adding captions where appropriate and taking out redundant photos. I generally create a separate slide show (or folder) for special events, such as a festival or inland trip, and then include a few highlight photos of the event into the slide show for the whole cruising season. If you post photos on Facebook or in a blog, resizing them to about 600 x 800 will make them upload/download much faster.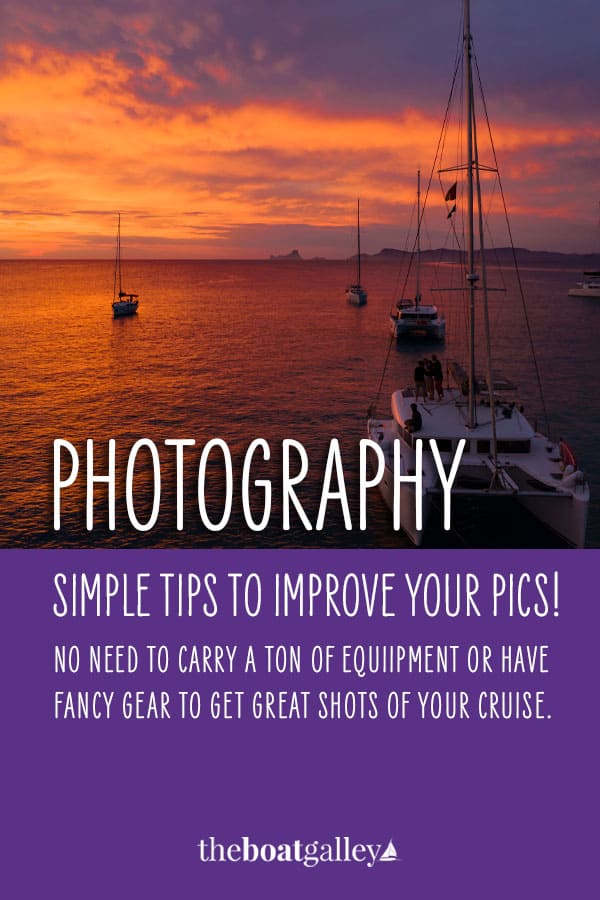 Some links above (including all Amazon links) are affiliate links, meaning that I earn from qualifying purchases. Learn more.