Are there situations when you wouldn't know immediately if someone else on the boat went overboard? In other words, are there times when you can't see everyone else onboard?
If you're like most of us, the answer is "well, of course." We may be in the head, getting food, taking a nap . . . or even just looking the other way. Years ago, racing on an 18-foot double-handed boat, Dave didn't immediately realize I'd gone overboard when my foot missed the hiking strap on a tack. I was hanging on to the sidestay by one hand and being dragged along when he suddenly realized I wasn't in the boat. So I know how easily someone can go overboard and not be missed immediately.
Admittedly, it's best not to have anyone go overboard. But imagine the panic of waking from a two-hour nap and finding your partner (or a pet) gone. I know that I'd much prefer an alarm to sound when they've been gone just seconds.
Over the last several years, devices have come on the market using EPIRB-type signals (see the ACR ResQlink on Amazon) and AIS signals (see the OceanSignal rescueMe on Amazon). Both are fairly expensive; the ResQlink alerts search and rescue authorities such as the Coast Guard (and thus is the best bet for singlehanders) but it can take 15 minutes for them to even be notified; further, it must be manually activated, so if you are knocked unconscious it won't sound the alarm.
The rescueMe alerts the mother ship and other boats in the area via AIS technology (thus requiring the mothership to have an AIS receiver if the device is to be of any use; you cannot rely on a phone AIS app since the device only has a 5-mile range, which is not far enough to reach most shore stations). Additionally, while the AIS devices operate "automatically," they are designed to be used with an automatically-inflating PFD — the PFD inflating is what triggers the device to sound the alarm (yes, everyone should wear their PFD but I know that not everyone does, particularly on nice and calm days — but accidents can happen any time).
Both these types of devices provide information as to the current location of the crew overboard (COB).
Weems and Plath just recently came out with CrewWatcher, a third  type of COB alarm:
Alarms essentially instantly when a crew member goes overboard;
Uses Bluetooth;
Sounds an alarm on a smartphone or tablet (Apple or Android products) on the boat, which can be linked to a louder speaker or set near where the off-watch crew is sleeping;
Directs you to the location where the person was lost overboard;
Activates automatically;
The crew portion of the device is small enough to be put in a pocket or clipped onto any piece of clothing; and
Costs about 40% of either of the other systems
I saw the CrewWatcher at the Annapolis Spring Boat Show and bought one.* I'd always thought of buying one of the AIS devices after we got an AIS-enabled VHF, but frankly, the cost put me off. I didn't like the ResQlink for not sending a signal to the mothership — I know that nearby boats are the best chance for a quick rescue.
The CrewWatcher struck me as hitting the sweet spot between safety, cost, and ease of use. I hope to never have to use it for real, but if someone were to go overboard, I think it would be an invaluable tool — particularly if I were asleep when it happened. The app will sound the alarm at full blast on your phone/tablet or connected speaker, even if you have your device in silent mode. This is a HUGE advantage in my opinion — you can silence the phone to stop the beeps from texts and other notifications while you sleep but still get the advantage of the alarm in case of a COB. I specifically tested this feature and it worked properly on my Samsung Galaxy J7.
The first thing that everyone asks about is the fact that the CrewWatcher does not direct you to the COB's current position, but rather where they went overboard.  I don't think this is really a problem and using Bluetooth and a smartphone/tablet is what makes the device so much more affordable.
My tests have shown that the alarm sounds less than 50 yards from where the person was lost. In other words, while they can still be seen. And even if you take your eyes off them as you are turning the boat around (one of the biggest problems with non-electronically-aided COB recovery methods), the system still directs you — via the smartphone or tablet app — right back to the location where the person was lost. Getting back quickly is key: from there, you have a good chance of finding them.
Once you are back close to the beacon (presumably on the person), the app will pick it up again and let you know that you're very near.
I have tested the system with several simulated COB situations (sending Dave off in the dinghy and also on land) and it's extremely easy to use. Despite numerous attempts, my photos of my phone screens just don't show the app well. So here's Weems & Plath's screen depictions and professional video.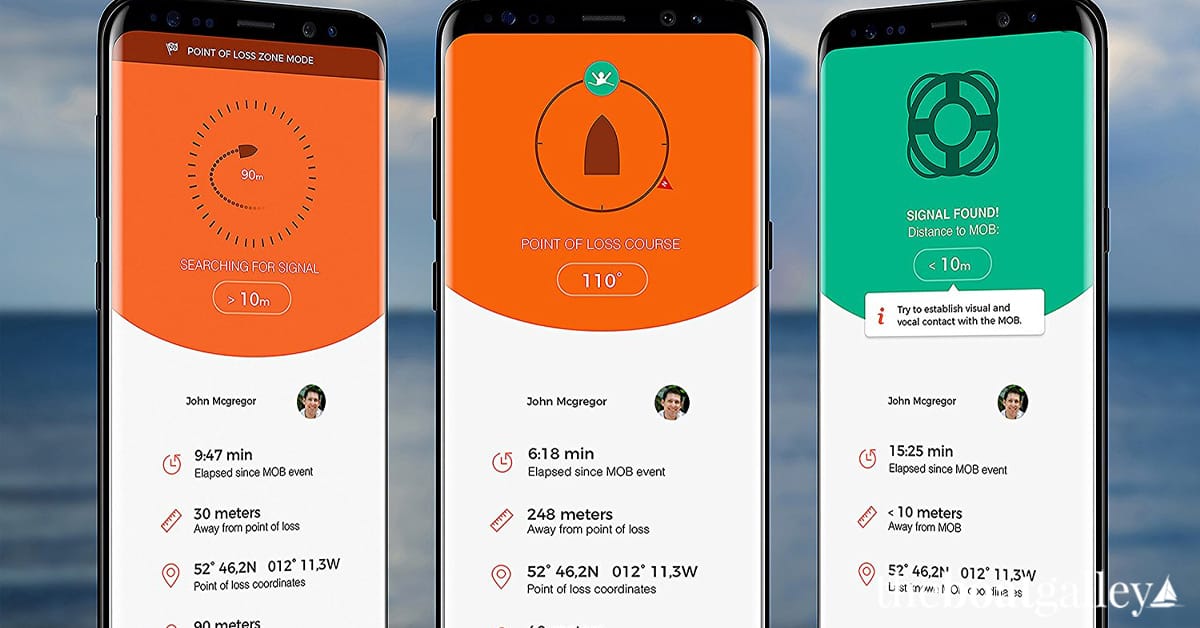 CrewWatcher works basically by keeping a Bluetooth connection alive — when it is broken by the beacon getting too far away (due to a person going overboard), the alarm sounds and the app uses the smartphone or tablet's GPS to mark the spot where the connection was broken and to guide you back to that point.
Your smartphone or tablet needs to have Bluetooth 4.0 or higher. Weems & Plath recommend iPhone/iPad 5 or later, Samsung Galaxy S6 phone or tablet or higher (I can say it works perfectly with my Galaxy J7) or LG G3 or later. Do not put your phone in your pocket when it is the monitor — if you went overboard, no one aboard would know!
You can buy CrewWatcher on Amazon or from many chandleries at pretty much the same price. The app is free from the AppStore (Apple products) or Google Play Store (Android). The app was dead simple to set up and the included instructions for activating the crew unit (dunking it in water) and pairing it via Bluetooth were straightforward and worked quickly and easily. Up to 5 crew (people and/or pets) can be tracked on one smartphone/tablet.
CrewWatcher (single beacon to pass back and forth between the crew on watch) on Amazon
Two Crewwatcher beacons so a double-handed crew can both have one on Amazon (it's slightly cheaper to buy a 2-pack than two separate ones)
If you don't already have a strobe, I'd suggest getting one and clipping it to the CrewWatcher beacon — if a person goes overboard at night, a strobe helps immeasurably in finding them. Note: the one I recommend as being small and economical does NOT come with batteries, so be sure to buy and install them. Lithium will last far longer and is what I always use in safety gear.
*Full disclosure: I received the CrewWatcher at a 45% discount as I'd be reviewing it for them, but I would have bought it without the discount — and my reviews are my honest opinions!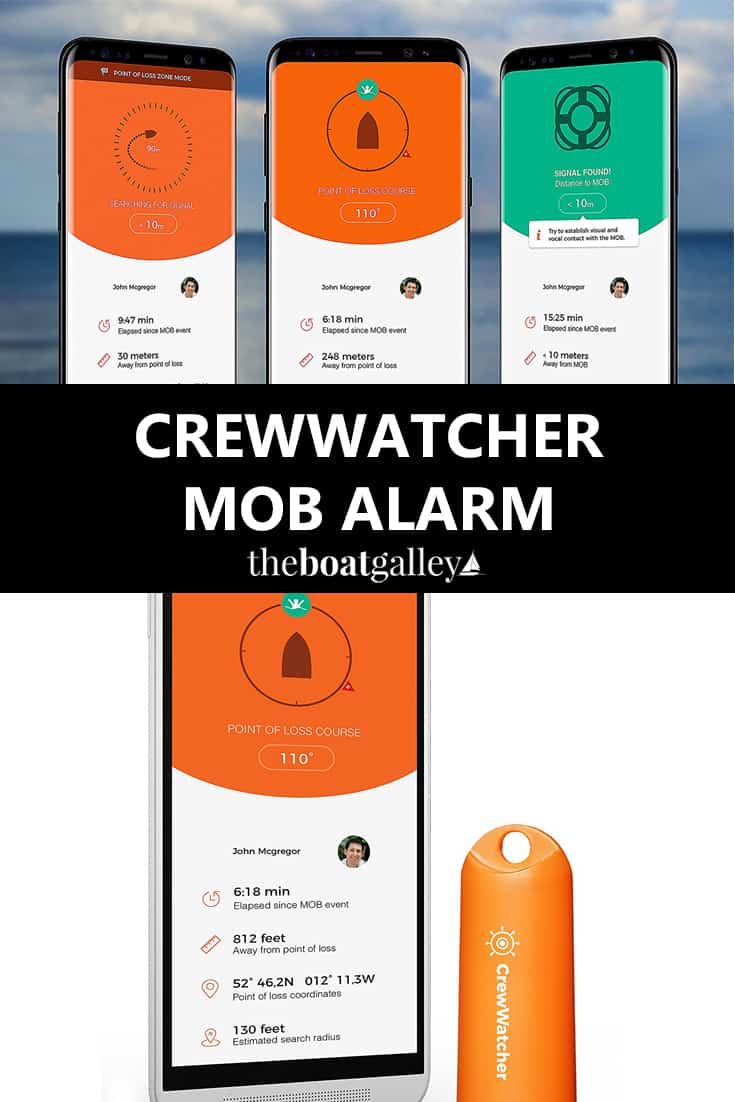 Some links above (including all Amazon links) are affiliate links, meaning that I earn from qualifying purchases. Learn more.