I love couscous anywhere, but it's particularly great on a boat, backpacking or camping.  If you're not familiar with it, it's a North African wheat-based product, slightly smaller than rice grains.  Traditionally, it is served with a stew over it, but it works well almost anywhere that you would use rice or small pasta.  I use it in salads as well as a base for what I call "serve over" dishes.
While it can be harder to find than rice or pasta, instant couscous cooks in just 5 minutes—and all you do is bring it to a boil, then turn off the heat and let it sit until the water is absorbed.  It's fast, uses little propane, doesn't heat up the boat and doesn't waste water (that is, all the water you use is absorbed into it, unlike pasta).
In the US and Canada, couscous is most often sold as instant couscous (in fact, I thought that "instant" was just what couscous was until I began researching for The Boat Galley Cookbook), usually in small boxes like that at right.
In most grocery stores, these boxes of couscous are sold right next to the rice.  Further, they come in several different flavors, such as curry or garlic.  I prefer to buy plain and then add my own spices depending on what I'm making—that way, I don't have to keep several different flavors on hand.
To be sure that you're getting instant couscous, just check the cooking instructions.  You should just have to bring the water to a boil, add the couscous, cover, turn off the heat and let it sit for 5 minutes.  I've never seen it actually labeled as "instant."
Outside the US and Canada, couscous can be hard to find—although I did occasionally find it in La Paz, Mexico on the Sea of Cortez and in San Salvador, El Salvador.  When I'd make trips back to the US, I'd take a few jars like that at right back to the boat with me—the little boxes have a lot of air in them and aren't space-efficient, but the plastic jars don't contain much air and they double as good storage containers on the boat.
I ordered jars of couscous online rather than try to find them near whatever relatives we were visiting—a technique I used for almost everything we'd buy on trips back to the US.  Additionally, I could find whole wheat couscous (more fiber, healthier) online, which I never saw in local stores (admittedly, I live in a small town).  Below is a link for buying couscous at Amazon, where I bought it.  There are several different types and brands—just be sure to get instant:
If you live in a larger city with a Trader Joe's, friends have also told me they've bought whole wheat couscous in jars there.
One note:  plain couscous doesn't have a lot of flavor.  It's great in salads or as a replacement for rice or pasta in many dishes, but you're probably not going to want to eat a dish of it plain without at least some spices and butter or olive oil.
If you have never tried couscous, it's a great addition to your galley provisions!

---
Our FREE Provisioning Spreadsheet
Wondering how much of what foods to take on your next trip? Know just how much to buy of what — all arranged by grocery store aisle — with our handy Provisioning Spreadsheet. Includes detailed instructions to edit it for your favorite foods, how much your family eats, and how long you'll be gone. No spreadsheet skills needed!
It's FREE — get it here.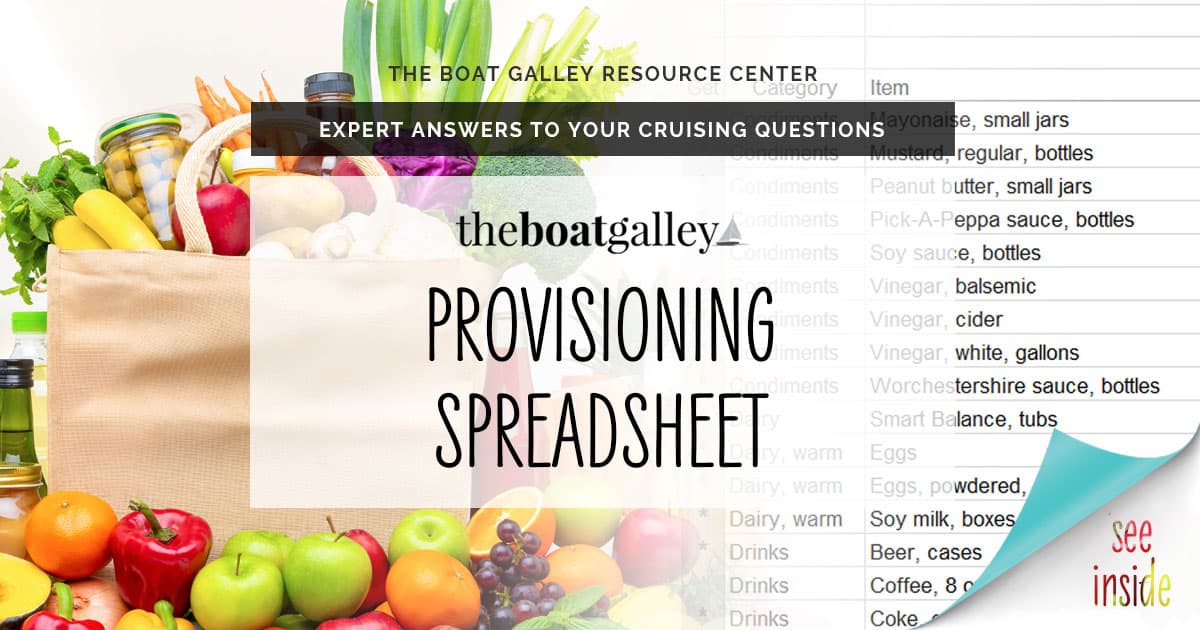 Some links above (including all Amazon links) are affiliate links, meaning that I earn from qualifying purchases. Learn more.