Dave has always been somewhat of a reluctant griller. Steaks, pork chops and chicken breasts he was fine with . . . as long as there was no barbecue sauce to contend with.
Things like veggies? We loved them, but I learned to prepare at least 25% extra to account for the pieces that would be lost between the grates. Fish? It would stick, break apart and fall through.
We tried using foil, but managed to tear that with the spatula. And making foil packets for veggies simply resulted in steamed veggies, not grilled/roasted veggies that we wanted.
And then there were flare ups from dripping grease, barbecue sauce or any marinade I used. Simply put, Dave and I weren't very good grillers and hence not too enthusiastic about it (luckily, Jan, my cookbook co-author, and her husband grill all the time or there might not have been a grilling chapter in The Boat Galley Cookbook!).
All that has changed since I bought a Cookina Barbecue Sheet (link is to Amazon). It's a "plastic" sheet (PFOA free; FDA approved) — about the thickness and feel of a blue tarp to be honest — that is safe to 500º F. (260º C). and non-stick. It measures 15½" x 19½ inches, but can be cut to smaller sizes.
Just put it on the grate immediately before setting food on it. Don't lay it there without food on it as it is very light and just a tiny puff of wind will take it away . . . probably overboard!
Since it is a solid surface, grease and sauces don't fall through and cause flare ups. Fish and hamburgers don't fall apart. Veggie pieces can be easily flipped. Shrimp doesn't have to be skewered. Nothing so far has stuck.
The only thing that we've learned is that it takes two spatulas to flip things since the surface is so non-stick as to be slippery. Hold one spatula on edge beside the food while sliding the other under to meet it, or you might find yourself "chasing" that hamburger around the grill as we did!
One of my worries when I bought it was whether food would brown nicely. Not a problem at all, and if the grill is hot you'll even get grill lines.
We also think that foods retain more moisture using the sheet, making it much easier to get great results for fish and seafood (and it doesn't pick up a fishy smell either).
If you're trying to keep heat out of the boat by using the grill, there are several non-traditional grilling applications that it makes possible:
Cook fried or scrambled eggs on the grill (low heat). Bacon or sausage can also be cooked on it.
You can make toast on the grill without worrying about dropping the bread between grates.
Pancakes do well, too.
How about a literal "grilled" cheese sandwich?
Makes pizza a snap on the grill
Yes, you could do some of these with a grill griddle, but the barbecue sheet is cheaper, takes up less space and weighs a lot less — not to mention that it's nonstick.
The Cookina sheet itself is easy to clean — just wash it as you would any other dish. Make sure to get it completely clean, though, as build up over time can result in sticky spots. No cleaning the grill!
It rolls up nicely for storage and even comes with a "napkin ring" to keep it rolled. I'll admit I don't know how long it will last yet, but we've used it enough already to bring the cost down to less than $1 per use, so I figure it's less than aluminum foil and nonstick spray (not to mention being better).
Supposedly the Cookina sheets are now available at Home Depot, but they're not yet in the one near me. I bought mine on Amazon (and I'll be getting a second one to take to Barefoot Gal):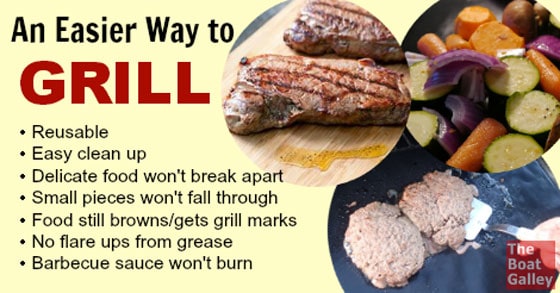 Some links above (including all Amazon links) are affiliate links, meaning that I earn from qualifying purchases. Learn more.