When I wrote about using a Keurig Coffee Maker on a boat, I mentioned that I had discovered some compostable K-Cups and would report on them after I'd used them for a while.
I bought 4 boxes of them — Espresso, French Roast, Fog Chaser and Donut Shop — not knowing which would be our favorite.
I really wanted to like these little pods, called Rogers Family Coffee One Cups.  You can buy them directly from the company or in larger quantities (at better prices) on Amazon.  Buying them in 80-packs on Amazon is one of the better deals I've seen on K-Cups, although they're still not "cheap."
Unfortunately, there are a number of reasons why I'm just not thrilled with them and don't intend to buy more:
They're hard to ready for the compost:

You start by taking the top off — and they don't just tear off, you have to cut it with scissors to make a flap to grip to pull it off.  I couldn't just tear it from the hole that the brewer makes as it's a really tough material.
Then you have to dump the grounds out.  That part is easy.

Then you have to pull the bottom filter off the ring; the ring is compostable but the filter part isn't.  And that means you have to get the filter TOTALLY off . . . and it seems to be glued on with something akin to 5200.  I've never gotten it totally off, which means there will be shreds of filter in my compost, since it won't break down.
This whole process takes me about 3 minutes per cup . . . and as noted above, it's still not perfect.  It takes me less time to fill and dump out a reusable K-Cup, using the little filters to make it easier to clean out — and those can be easily composted with no "prep."

The Rogers Family pods come in a cardboard box with a "biodegradable" bag holding the pods.  Forget about pulling the bag open:  I'm not strong enough.  I have to use scissors.  I also cut the bag up before putting it in the compost so it mixes in better.  Another bit of time . . . maybe a couple minutes.  Just as a side note:  once the bag is open you have to keep the pods in an airtight container (not too different from any other type of coffee other than actual K-Cups).

The ring and bags do not break down quickly or easily.  The first ones have been in our compost pile for over two months and look like I just put them in.  Admittedly it's winter, but the food scraps I put in at the same time are definitely breaking down.  Yes, I marked where I put those first ones and dug them up just for this post — the things I do in the name of research!  On the Rogers Family Coffee website, it says that it will take a year to break down (I didn't see this page when I purchased them, so didn't realize how long it would take).  Everything else we put in the compost takes 6 months or less, so this means that we have to separate these out to use the compost.

Finally, and this is a personal matter, we just weren't that thrilled with any of the coffee varieties we tried.  However, I see lots of great reviews online for the coffee — both in the pods and in one-pound containers — and guests that we had really liked it.  So that's just our preference and not really a reason for you not to try them.
Another point is that their shipping is slow.  It took 8 days from ordering to receipt — and shipping was by UPS.  If you're used to getting something by UPS in 2 to 3 days, you definitely have to allow more time! Not a deal-breaker by itself, just an annoyance.
All that said, Rogers Family Coffees are all fair trade, many are hand-picked and/or organic.  I think they're on to a great idea here, with compostable K-Cups, but the idea just needs more refinement to make it really work.  Right now, the work involved and the length of time for the pods to break down just make them impractical for all but the most dedicated.
I find it a lot easier to use my favorite coffee in the reusable K-Cup with a compostable filter which makes it much easier to dump the grounds.  Initially I found it a bit of a pain to fill the container and it's gotten a lot smoother with practice.  Using a refillable K-Cup is also cheaper.  I got my set up on Amazon, although some larger grocery stores are now carrying them too:
Has anyone else tried the pods from Rogers Family?  What are your thoughts?  Please leave a note in the comments!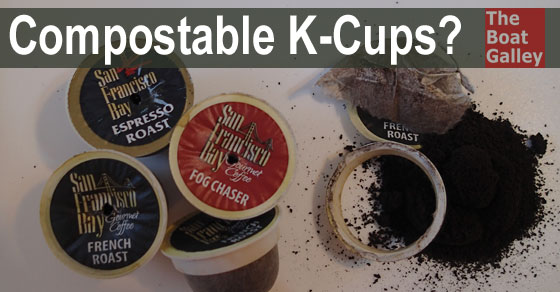 Some links above (including all Amazon links) are affiliate links, meaning that I earn from qualifying purchases. Learn more.