Twice in the past month, I've been asked about a gimballed wine bottle holder for the cockpit. It turns out that there are very few available — in fact, I've only found one after numerous e-mails to vendors!
The problem with wine bottles is that while you may be able to set them in a regular drink holder (a regular wine bottle is actually slightly smaller than most can cozies), the drink holder doesn't come up far enough on the wine bottle, it will be top-heavy and there's a good chance it will fall out of the holder.
Snap-it! makes this gimballed wine bottle holder, that comes up further on the bottle to keep it from tipping out.  The rail clamp is sized to your rail, and comes in 7/8 inch, 1 inch, 1-1/8 inch and 1-1/4 inch sizes — be sure to specify when you order.
It's only available from one seller, and I have never purchased anything from them (I've used Snap-it! products though, and been very happy with them):
And be sure to check out these ideas for wine glasses (some pretty non-traditional) and wine glass holders.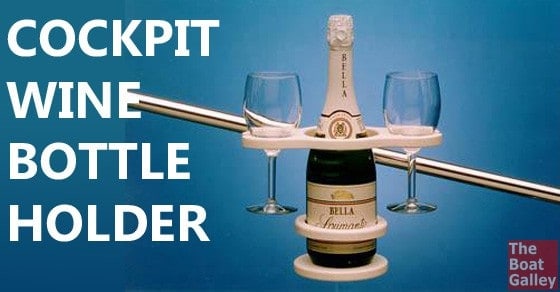 Some links above (including all Amazon links) are affiliate links, meaning that I earn from qualifying purchases. Learn more.