Boating in Canadian waters? There's some phenomenal cruising there, but I just found out from reader Leslie LaBute that you can't buy Media Crema (canned half-and-half that doesn't need refrigeration until it's opened) there. How horrible! Media Crema is great for so many things and wonderful to have on a boat where refrigerator space is non-existent or very precious.
She's actually gone so far as to bring some back from trips to the US, but just recently found an even better product that she can get in Canada!
Leslie reports that you can find these small (6 ounce – 3/4 cup – 170 ml) cans of "Cream Product" in the international aisle of the grocery store . . . or at least she can in Windsor, Ontario. They're a Danish product, from a company called Nordex. As with Media Crema, the cans do not need to be refrigerated until they are opened.
You can use a can of the cream in the same way as I've discussed in the articles talking about Media Crema (available in Mexico and in the Latin foods aisle of most US supermarkets), although it contains about 25% less. You can make sour cream, wonderful soups and more (see 10 great uses for Media Crema). But the "cream product" has an extra benefit . . .
The label says it's 23% butterfat — and it will whip! Leslie chilled the can, then beat the contents with sugar and vanilla for about 5 minutes. You can see the results in the photo below. YUM!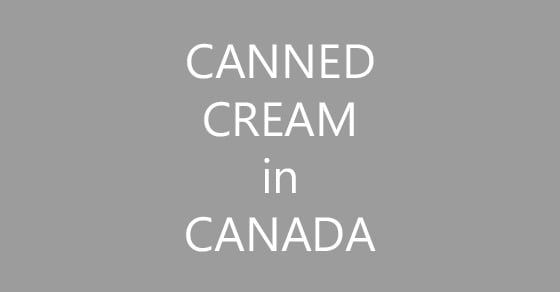 Some links above (including all Amazon links) are affiliate links, meaning that I earn from qualifying purchases. Learn more.