Oh my!  Whipping cream that doesn't need to be refrigerated until it's opened??  Does it really exist??
Yep.  I love boxed milk and Media Crema for use on a boat.  Even if you've got refrigeration, it's nice not to have to keep stuff cold until you open it . . . and you can store them for 6 months or longer unopened.
BUT — while I could sometimes find cream in a box (Media Crema is more like half-and-half), it wouldn't whip.  It was great for recipes or coffee, but I couldn't make a topping with it.
A few days ago, I was in a Trader Joe's . . . and found boxed whipping cream.  And yes, it does whip (the box suggests chilling it for 6 hours before whipping and that's what I did).  It's just $1.29 for an 8-ounce (1 cup) box — or at least that's the price in St. Louis; it's probably more on either coast.
Now, you can whip it with a whisk but frankly it's hard. I had a manual egg beater on Que Tal — it's a great non-electric solution for lots of foods.  If you're willing to use a bit of electricty, an immersion blender is perfect.
Once you've opened the box, or made it into whipped cream, it does have to be refrigerated.
Since finding it in Trader Joe's, I've looked for boxed whipping cream online and only found the Trader Joe's, which is available on Amazon although at a steep markup.  I asked friends in Mexico if they've ever seen it, since the boxed milk and cream are very popular there, and none have seen it.  So I guess it's a Trader Joe's exclusive.
So if you think it would be nice to occasionally have some whipped cream on board and are near a Trader Joe's, you might want to pick up a few boxes.  They'll last at least six months!
---
Our FREE Provisioning Spreadsheet
Wondering how much of what foods to take on your next trip? Know just how much to buy of what — all arranged by grocery store aisle — with our handy Provisioning Spreadsheet. Includes detailed instructions to edit it for your favorite foods, how much your family eats, and how long you'll be gone. No spreadsheet skills needed!
It's FREE — get it here.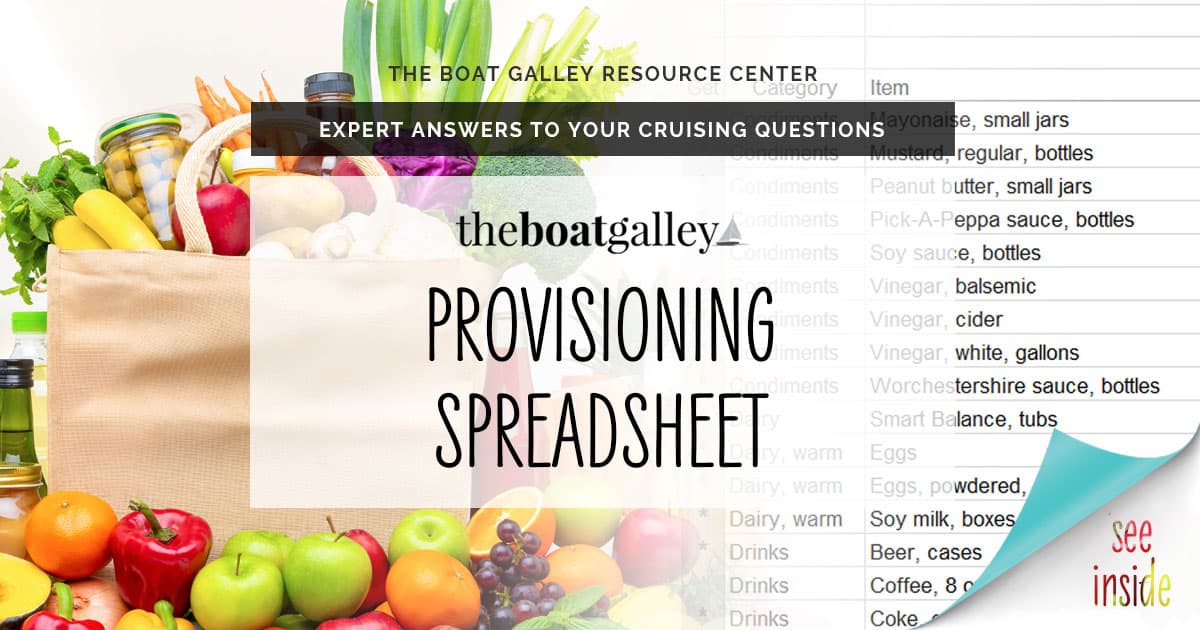 Some links above (including all Amazon links) are affiliate links, meaning that I earn from qualifying purchases. Learn more.