My first experience with Bimbo bread came when we began cruising in Mexico.  In every grocery store — and tiny tienda — it was the predominant brand of bread.  So I bought it.
And I learned that Bimbo must have been created especially for cruisers.  It just doesn't get moldy.  I've kept loaves for three and four weeks — just in a gear hammock — before opening them.  Even opened, I've rarely had any mold.  And we were in some pretty hot climates — Sea of Cortez in the summer, El Salvador in the rainy season.
Pretty much every cruiser I know in Mexico and Central America used Bimbo bread, despite all of us making jokes about what might be in it.
And about a year ago, I heard that friends were finding Bimbo in Florida . . . and it kept just as well as they remembered from Mexico.  I meant to write a post about it for the readers who are in Florida, but sort of forgot to.  Oops.
Then, about a week ago, I was in a grocery store that I don't often shop in and it carried Bimbo.  Okay, if Bimbo has made it to farm towns in Illinois, it must be pretty mainstream in the US now.
As store-bought bread goes, Bimbo seems to be pretty much on a par with other mass-market brands.  There's white and whole wheat.  The taste is pretty much like any other sandwich bread.  It just lasts a lot longer, making it great if you're going to be away from stores for a while.

And sometimes, they have cool premiums, like when they gave away models of a couple dozen different Bimbo trucks — cruisers kept collections and it turned out that this one was fairly rare (the one of a Bimbo semi was the rarest).  It was the middle of summer when only a couple dozen boats are actively cruising the Sea of Cortez, and people would actually report on the radio net the new models they'd found.  Okay, there wasn't a lot else going on.
So, has Bimbo made it to your store?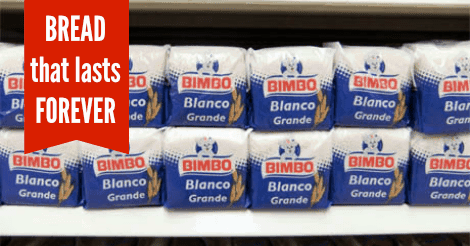 Some links above (including all Amazon links) are affiliate links, meaning that I earn from qualifying purchases. Learn more.