Driven to his wits' end one day in an otherwise wonderful anchorage, our friend Tim Schaaf decided to develop a better flyswatting technique.
In all seriousness, it works and has saved our sanity – not to mention a nights' sleep – more than once.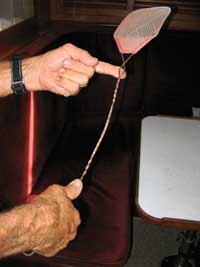 Hold a regular flyswatter (one with a wire handle works best) in your dominant hand with your thumb along the handle. Use your other hand to "cock" the business end of the flyswatter back and wait for one to land within range. Release as you bring the flyswatter down.
The increased speed of the "swatter" results in a much higher hit rate – Tim, now owner/captain of the charter catamaran Jet Stream based in Tortola, British Virgin Islands, boasts over a 95% success rate!
Dave and I were a little skeptical when Tim first told us about this. But as our success rate with the "traditional" technique hovered near zero for me and only slightly higher for Dave, we were willing to try anything.
Imagine my surprise when I nailed all three of the flies I aimed for that evening!
Of course, you still have to "pick your shot" — where there is clear space to bring down the swatter flat on the surface. If I miss, it's almost always because I took a bad shot where there wasn't a sufficiently large flat surface to bring the swatter down on.
We've been doing this for over ten years now and it's still effective. Just a couple of days ago we had our annual "fall fly-in" as we were having our hot water heater replaced. The installer — a friend of ours — was absolutely astonished at how quickly we got rid of them.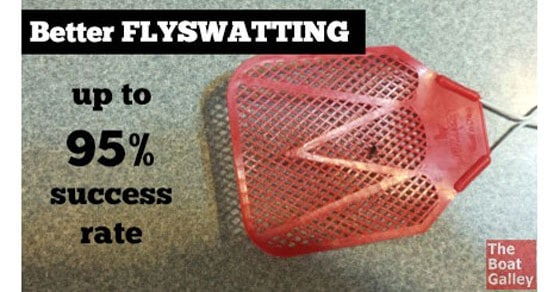 Some links above (including all Amazon links) are affiliate links, meaning that I earn from qualifying purchases. Learn more.