UPDATE: Since I originally wrote this article, I learned about the Omnia Stove Top Oven, which gives better results very easily. Be sure to check it out!
Yeast breads are a little trickier to bake on the stove top than quick breads (that is, breads made with baking powder).
With yeast breads, we expect a dry, crunchy crust. But when I "baked" bread in the Dutch oven using the same method as for quick breads, I got a crust that was more like that of a bagel—in other words, a chewy crust.
The bread was good, but it wasn't quite the same as when I had baked it in a conventional oven—and that's what I wanted. After a lot of experimentation, I've been able to consistently obtain a drier crust—like that in the photo.
The basic problem is that in a Dutch oven, bread tends to "steam" rather than "bake." The moisture comes from the dough itself, but my question was why this was a bigger problem in a Dutch oven than in a conventional oven.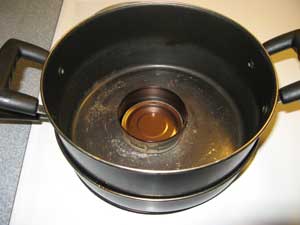 I finally figured it out, but I first need to explain that the typical arrangement for baking in a Dutch oven, as I described in how to bake quick breads on the stove top, is to put something—a tuna can, a trivet or, as a reader suggested yesterday, the saucer from a clay flower pot—on the bottom of the Dutch oven, and place the baking pan on top of that. This keeps the bottom of the bread from burning.
I've come to the conclusion that "steaming" resulted from three differences between conventional baking and Dutch oven baking:
The smaller size of the Dutch oven;
Conventional ovens have a vent, which allows the steam to escape; and
A typical pan sitting on a tuna can in the Dutch oven has little space between the sides of the pan and the lid, which traps the moisture right over the baking loaf.
Another problem is that the top crust does not really brown, as it does in a conventional oven.
The solution was four-fold:
Bake the bread on a flat sheet instead of a pan with high sides, since this allows the humidity to dissipate through the entire volume of the Dutch oven;
Bake denser bread (less yeast, more flour) so the loaf wouldn't overflow the flat sheet;
Bake darker breads (whole wheat and rye) that have color of their own; and
Periodically lift the lid to let accumulated steam escape.
The result is still not quite a French baguette-style super-crunchy crust, which is baked with extra steam for the first 10 minutes then the remaining time dry. But it's very comparable to a typical loaf of homemade bread.
One important note on this technique: Because this requires using a dry pan over high heat, I recommend using either a cast iron Dutch oven (which is heavy and won't harmed) or a Dutch oven that you don't intend to use for anything else. An aluminum or stainless steel Dutch oven will be discolored, and possibly warped, by using it to "bake" on the stove top. I warned you!
A cast iron Dutch oven will definitely do a better job of baking, as it is far heavier and will both hold heat better and distribute it more evenly.  However, when I say it's heavier, that's exactly it:  a 12″ cast iron Dutch oven weighs almost 13 pounds, while a good aluminum one weighs about 8.
If you don't have an oven and plan to make bread reasonably often, I'd really make an effort to find a way to get and use a cast iron Dutch oven as the results are so much better. (I used to use one camping, but it was sold when we moved aboard Que Tal and now all I have is the very cheap and thin one in the photos. The cast iron was SO much better!)
And if you're on passage or in a rolly anchorage where you have to use your stove gimbal, be sure to put an equal weight on the other side of the pivot point for any pan you use!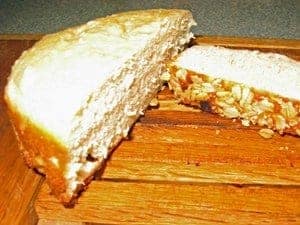 All that said, there is nothing wrong with baking yeast bread using the same technique as for baking quick breads on the stove top as long as you don't mind a chewier crust. That's what I did for the loaf on the right, and it tasted great.
Since that technique uses a pan with sides, it's much easier to get the bread in and out of the Dutch oven without burning your hand, and since it doesn't use as high heat, you do less damage to your Dutch oven.
So now on to step-by-step directions for baking yeast breads in a Dutch oven so they have a more traditional yeast-bread crust:
Equipment:
You'll need a Dutch oven, a flame tamer or a larger skillet that you can set the Dutch oven in (to even out hot spots), and a tuna can, trivet or saucer from a clay flower pot. Oven mitts aren't essential, but will definitely help protect your hands.
As a "pan," you'll need a metal disk or flat pan that's at least 3″ less in diameter than the Dutch oven—4″ smaller is even better. The heavier the metal, the better. I used the bottoms from two coffee cans, one on top of the other. A small pizza pan would be perfect.
Bread:
A dark, heavy bread dough is best. Unless you have a very large Dutch oven, a loaf made from 1/2 cup water is about the right size (it will make a "personal" loaf just right for two people). The photos here use my mom's Swedish Rye Bread recipe.
While I normally caution against adding too much flour to bread dough, my caution here is against too wet a dough — if it doesn't hold its own shape to some extent, it will overrun the edges of your "pan" and cause a big mess.
Method: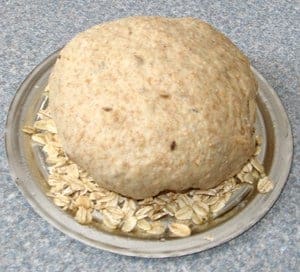 Make your bread dough as usual, being sure to size the batch to your pan. When it comes time to put it in the pan, prepare the pan with a coating of oil and a thick layer of dry oatmeal.
Shape the dough into a round ball and put it in the center of the disk, as shown in the photo at right.
Let the dough rise slightly—remember that it will still get larger when you put it in the Dutch oven, and you don't want it to overflow the disk.
Place the Dutch oven on the flame tamer and put the tuna can in it, then cover. Preheat over the highest possible heat for 5 minutes (time it). Place the bread on top of the tuna can, being very careful not to burn your hand on the hot sides of the Dutch oven. Replace the lid. Leave the burner at its hottest setting for 5 minutes (again, time it).
Without removing the lid, turn the heat down to just slightly over medium (on my stove, 4-1/2 where 7 is hottest). Let it bake another 5 minutes, then briefly remove the lid to release accumulated steam.
Replace the lid and let the bread bake for the remainder of the allotted time (with my equipment, a loaf takes almost exactly the same time in total that it would have for a full-size loaf in a conventional oven).
It's hard to test the loaf for doneness by tapping on it like you would do in a conventional oven. If you have an instant-read meat thermometer, you can stick it into the center of the loaf—for a heavy bread, a temperature of 190 to 200 degrees F. means that it is done.
When done, very carefully remove the bread from the Dutch oven (again, watch your hands on those hot sides) and place it on a cooling rack, cutting board or plate.
Enjoy!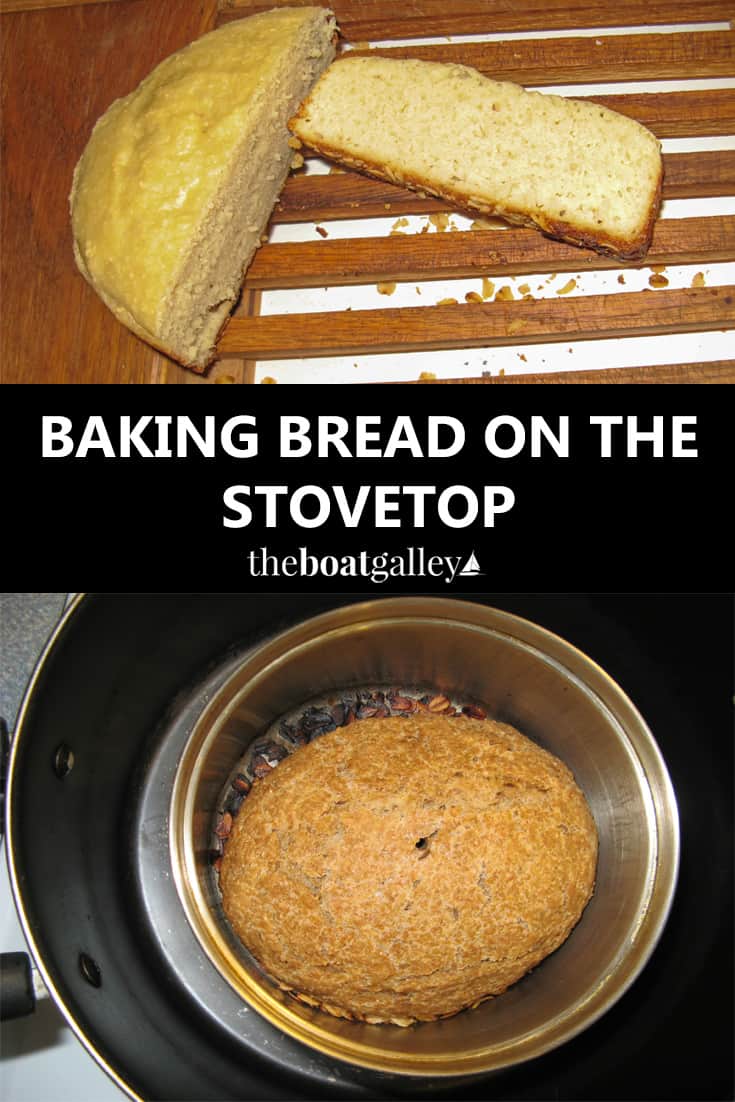 ---
Our FREE Provisioning Spreadsheet
Wondering how much of what foods to take on your next trip? Know just how much to buy of what — all arranged by grocery store aisle — with our handy Provisioning Spreadsheet. Includes detailed instructions to edit it for your favorite foods, how much your family eats, and how long you'll be gone. No spreadsheet skills needed!
It's FREE — get it here.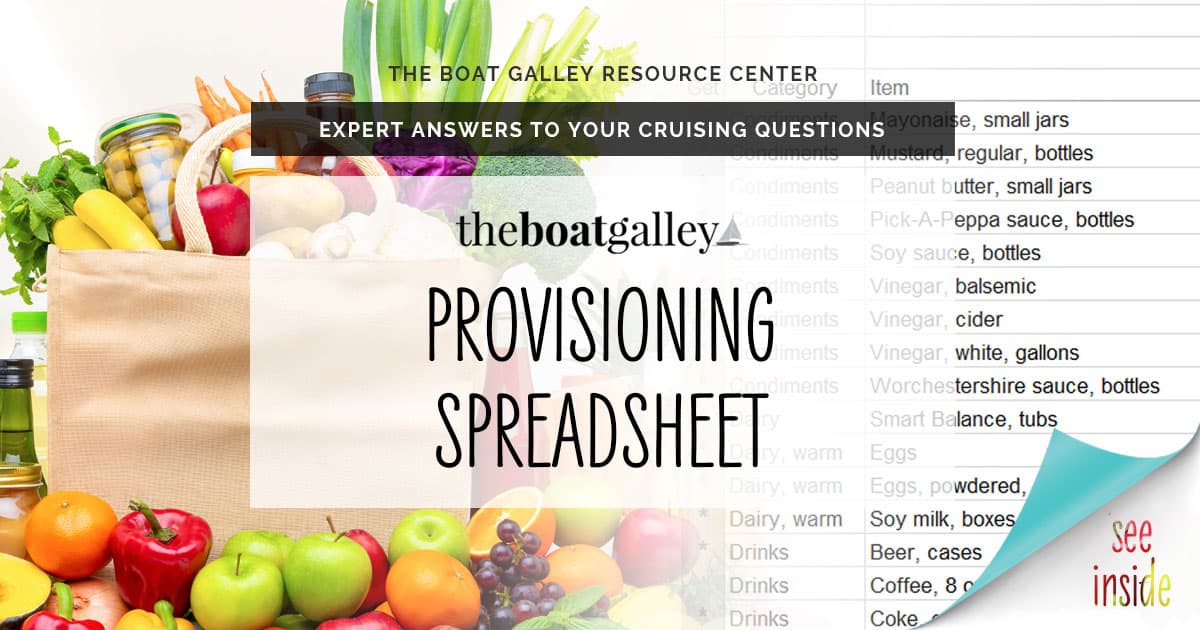 Some links above (including all Amazon links) are affiliate links, meaning that I earn from qualifying purchases. Learn more.