Whether your boat has an actual refrigerator or a cooler, I'll bet that there's never enough space in it. And when you want to cool something, or keep leftovers, it's a jigsaw puzzle to figure out how to fit it all in.
A couple of weeks ago, Dave and I did a family camping trip with a whole bunch of kids, grandkids, nieces, nephews and more — 21 total — where we just had one cooler for our food for the week. Our cruising experience really paid off as I'd already figured out lots of "tricks" that the kids were just learning. Every day, they'd stop by our camp site to see how I dealt with various challenges.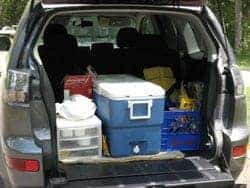 One daughter-in-law was interested in how I made salads for our lunch every day and couldn't imagine where I had room to store a bowl of pasta salad to keep it chilled after making it just after breakfast. Another wanted to see how I'd marinated veggies that I was going to roast for dinner in my Omnia stove-top oven (the Omnia got lots of questions and raves, too!). Neither one could figure out how I'd had room in my cooler tucked in the back of our car.
The answer was freezer bags. I almost never put "hard" containers into the cooler (or the boat refrigerator, for that matter), except for the large bins that I use to separate food. Almost everything that needs to be chilled goes in Ziploc-type bags, and I double-bag really liquid things (such as marinades) or foods likely to puncture the bag.
No wasted space, they can fit in almost anywhere, the big bins have solid bottoms just in case something does spill, and many bags can be washed out and re-used.
Even better, the bags take up almost no room to stow when they're not being used!
A quick note: while I've never felt like we were camping out on Que Tal, over and over I'm struck by how many of the cooking and kitchen tricks I learned from one apply to the other. And both are wonderful for being in the great outdoors!
Some links above (including all Amazon links) are affiliate links, meaning that I earn from qualifying purchases. Learn more.