Ever wonder why your meat isn't as flavorful as you remember from years past?  We're all tending to eat leaner meat (and if you're cruising outside the US, it's almost always a lot leaner) and it's the fat in meat that adds much of the flavor.  While lean meat is better for your health and waistline, you may want to do a few things to add a bit more flavor to your foods.
Bouillon Powder
I almost always use bouillon powder instead of salt when cooking meat dishes.  It has about one-third the sodium of salt (brands can differ), so it's somewhat healthier if you don't use more, and it adds a lot of flavor.
I bought a couple extra salt shakers, enlarged the holes a bit—bouillon "grains" are larger than salt, or maybe "clumpier" — and kept beef and chicken bouillon powder at hand.  Be sure to put a few grains of rice in the shakers (or in the original containers if you don't use shakers) to absorb dampness, just as with salt.
You can use bouillon cubes for the same purpose—with most brands, 1 cube is equal to one teaspoon of powder.  The powder is simply a little more convenient and seems to be cheaper in most places.
MILK ALLERGY INFO:   Dave has an allergy to milk, so I'm alert to potential trouble items.  I've found that almost all bouillon powder and cubes sold in the soup aisle in US groceries contain milk (whey).  Interestingly, the Knorr bouillon powder sold in the Latin foods section (primarily labeled in Spanish, with English in small print—shown in the photo) does not, while the Knorr in the soup aisle, labeled primarily in English, does.  Of course, check the labels in your store before buying—things can change!
In Latin American countries, you can not only get the usual beef and chicken bouillon, but frequently tomato, vegetable, shrimp, and sometimes ham or bacon.  In the right foods, all can be a good addition.
Use Liquid Drained from Cans
If you use canned meats, canned mushrooms or other canned vegetables, you probably drain the liquid before using the food.
Save that liquid and use it in place of water in various recipes.  It will add flavor—and save water.
I use the liquid when I need to add water to something on the stove, in casseroles, and also when cooking rice, potatoes and pasta.  Admittedly, it's an indirect method of adding flavor to meat by adding it to the rice and pasta, but it's effective particularly when it all ends up being eaten together, as with spaghetti and sauce.
A further extension of this is to save the water from boiling potatoes, pasta or veggies and use it in other cooking.  It will also add flavor and nutrients to meat dishes, and I also frequently use it in breads such as my basic White Bread recipe.
Use Marinades
Marinades are great for meats that will be served by themselves—that is, not incorporated into a dish with other ingredients.  Marinades add flavor and, most often, a bit of fat in the form of olive oil or another oil.  Here's my favorite meat marinade recipe.
Some marinades even help to tenderize meat, which can be a problem with lean cuts (the fat marbling naturally tenderizes meat).  However, a tenderizing marinade won't turn a chuck steak into a NY Strip—it will simply be a more tender chuck steak, still better suited to slow moist cooking than grilling.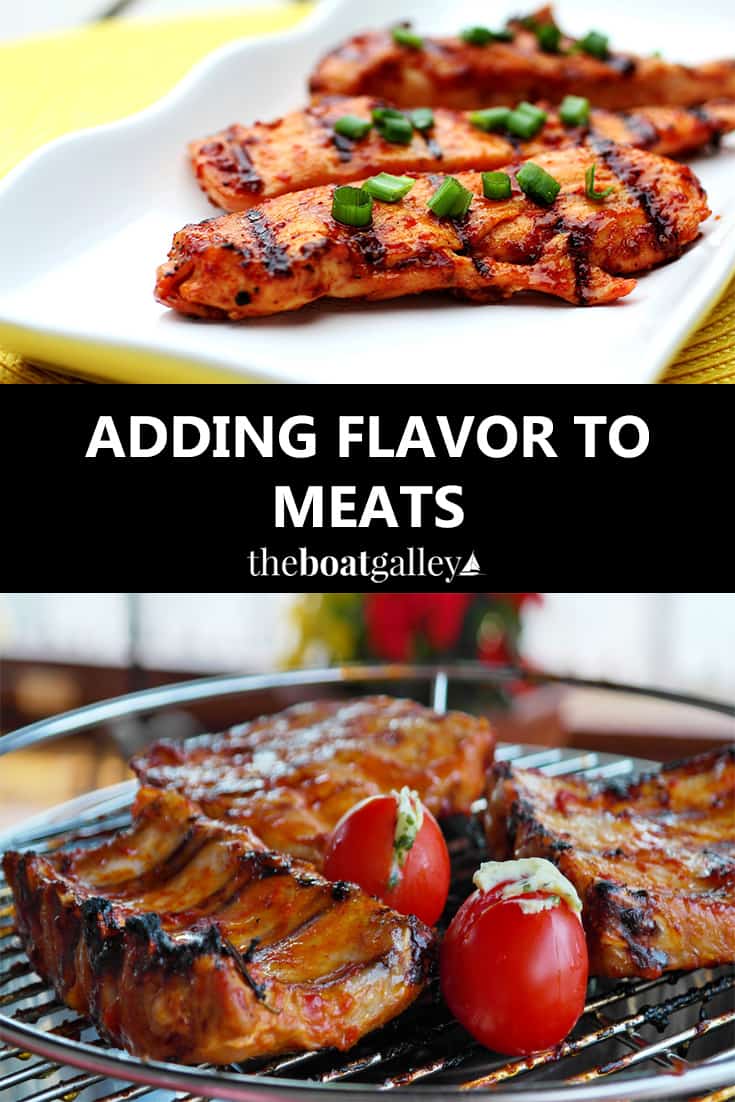 Some links above (including all Amazon links) are affiliate links, meaning that I earn from qualifying purchases. Learn more.