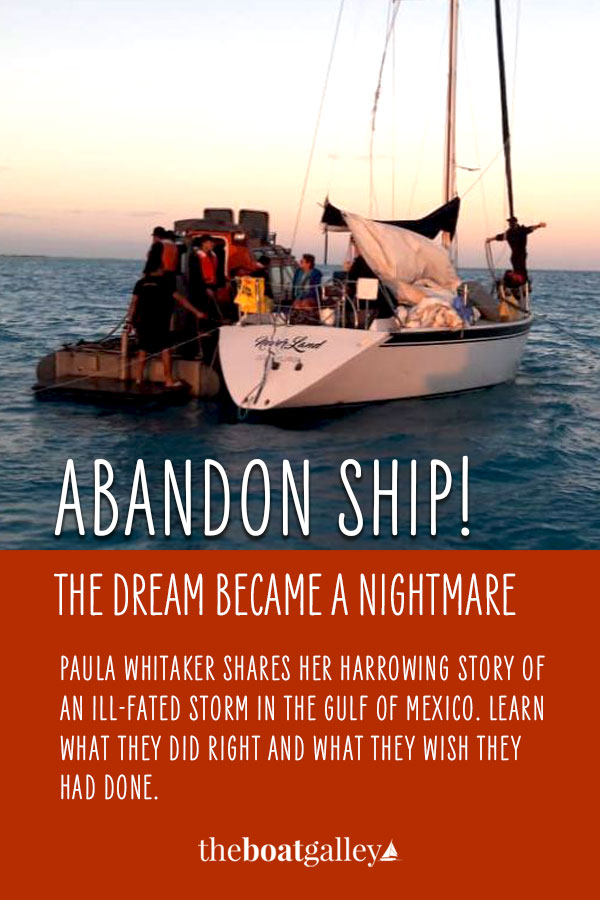 Paula Whitaker shares her harrowing story of an ill-fated storm in the Gulf of Mexico. Learn what they did right and what they wish they had done. I think we can all learn from their experience and I thank Paula for being willing to share.
---
A Rocky Start
Sometimes, a sailing trip begins with an omen.
We spent two years of prepping for our first ocean voyage. We took ASA classes, spent two years sailing on weekends and holidays, and spent six months cruising the Gulf Coast from Florida to Texas. Finally, my husband, Captain Robert, and I felt ready to cross the Gulf of Mexico from South Padre Island, Texas, to Isla Mujeres, Mexico.
We spent much time preparing and agonized over the weather window we had been looking for ever since arriving at South Padre a couple days after Thanksgiving. Using every resource available to us for the weather forecast, we finally found a seven-day window to make our 750-mile passage across the Gulf.
We were ready, the boat was ready. Checking three different weather models, the only thing showing was a system developing behind us that we expected to be well ahead of.
The day was a little crisp but sunny. Coming out of our slip, we hit bottom just outside Sea Ranch Marina. The water levels had been extra low for a week, and the channels here are narrow and mismarked. Our six-foot draft caused us issues all around the south Texas area. e were sick of constantly dealing with the depths.
We called TowBoatUS and got the 4th tow off the bottom since our arrival in South Padre, (and what we hoped was our last). But, ten minutes later it happened again, and Angel, the local tow driver (who by now I had on speed dial) turned around and pulled us off again. Pretty frustrating, since we could see the Gulf of Mexico from the Marina the whole time.
Finally, we were in the Gulf, and free. We had never been so excited and filled with anticipation.
Soon, the sails were up, the engine was off, and we were ready for the adventure of a lifetime.
Was our rocky and three-hour late departure an omen of things to come?
Living our Dream on the Open Sea
The first two days were glorious sailing. We got into a groove with our watches, and although I am a very nervous night sailor, we were doing fine, staying awake and alert during watches and actually sleeping some on the rest periods. On a good track and speed, we expected to arrive ahead of schedule. We had used zero diesel at this point, and the winds were strong and favorable.
On day three the winds shifted, and in order to use them, we had to take a more southern tack. We dropped further south, losing some time in the process but still on track. We would have to cut east hard when the winds shifted again, but we still felt like we were doing ok.
It's funny how, when you are in the middle of an ocean and removed from all communication with civilization, while it's part of why you love sailing, it is also kind of frightening. All of our weather information came from online. All of our everything came from online. Without a signal, we had no means of getting new information.
I tried picking up the weather on the VHF but was unable to get anything. We felt the weather changing. We didn't feel the warmer weather we had been expecting as we got closer to Mexico. It was, in fact, getting colder.
When Your Dream Becomes a Nightmare
Going into that night the water became rough, the winds picked up and were gusting. With the sails reefed, we strapped in for a rough night sail. We then spent two days and nights in rough, windy conditions. Our autopilot failed and we took turns hand steering the boat.
We dropped the main but it was too rough to get it into the cover without endangering ourselves. Even at this point, it wasn't a comfortable sail but we still had things under control and everything on the boat was operational except the autopilot.
But things started to deteriorate as time went on. During one shift change, I lost my footing and slammed into the other side of the cockpit, hitting my back hard against the lazarette. I had the wind knocked out of me, but got right up and continued taking care of my duties. I was also seasick and had been vomiting off and on for about 18 hours.
Things weren't looking too wonderful. Everything on the boat had been pretty much tossed in the cabin and our home was a complete mess. I felt severe pain from my fall and Captain was exhausted. We were still taking our shifts, but having very little success in sleeping during our rest periods.
But the worst was yet to come.

The next night, when I climbed over everything and made my way to the head. Shockingly, I saw blood in my urine. When the the lurching boat made me dizzy again I threw up for about the millionth time. This was also clotted with blood.
I went to the companionway and tried to tell Captain what was happening to me and he was literally fighting to keep us on course. I was having to shout above the wind and I still don't think he heard me. Looking out, I saw a huge wave forming behind him, and I yelled, Hang On!!!!!
It broke over the stern, flooding the boat in a big whoosh!
Mayday!
We lost the use of most of the electronics, and we were being tossed around like a matchstick. All Captain had now was the autopilot instruments and the compass. The chart plotter only showed our coordinates. Thank goodness I had put our passports, cash, wallets, etc in a waterproof bag 2 days earlier, just in case, even though I failed to pack a proper ditch bag, which I regret.
The captain said to call Mayday. I went down below, and the radio was out. The entire electrical panel was dripping with water.
I do not know why, maybe I read this in a book somewhere, as I had read many books and blogs preparing for this crossing, but, I blew as hard as I could on the electrical panel where the radio switch was. Water and a gooey jelly dripped out…and the radio came back on!! I pushed the red emergency button and called Mayday.
You never, ever imagine that you will actually need to call a Mayday. But we needed help if we could find any.
We weren't even sure what anyone could do for us. But we knew the storm was getting worse, we had no way of knowing if there was any direction we could go to get out of it, and both of us were physically in trouble. The pain in my back had reached the excruciating point, I was weak and dizzy, and Captain had been awake for over 24 hours in a fight with the sea.
The first answer was from a Chinese tanker. He said he could see us. He said the seas were too rough for him to attempt a rescue, but he would call the Mexican Navy and/or US Coast Guard. What we learned later was there is a dividing line between what the Coast Guard and Mexican Navy covers. We were in the Mexican Navy's area. We were around 300 miles from our original destination, and still further south than we had meant to be to cut across to Isla Mujeres.
The Mexican Navy answered. They also got us in sight and then said the seas were too rough to do anything, but they would stay in the area. I was curled up in the fetal position in pain and hoping I had just bruised my kidneys and not anything worse.
Captain finally came down below and crawled in the tiny aft berth with me, saying we would just ride it out because he had nothing left to fight with. We knew the Navy ship Vera Cruz was nearby, which gave us some relief from anxiety and fear. We were both wet, cold, and exhausted. There was nothing dry left on the boat.
I had gone up into the v-berth and found some dry towels and laid them over the aft berth where we were resting, but they soon absorbed water and were just as cold and wet as everything else. We just laid there, in our life jackets and foul weather jackets wrapped up with each other and waiting.
Waiting Out The Storm
It was unbelievable that we actually fell asleep, but exhaustion will always eventually take over. When we woke, the sun was just barely coming up and we looked at each other in relief….it felt better! Still very rolly, but definitely not the driving storm we had been in for two days. Robert got up, getting ready to go above and assess the situation.
But, it still got worse
At that moment, we got hit by a HUGE wave, which knocked the boat almost entirely over!
Robert yelled, "Hang on!!!! The boat will right itself!!!!". Something huge and heavy hit me in the side of my head, in my right ear, and a bottle of rum landed in my lap. (You can't make this stuff up.) These items had been securely stowed around the corner in the galley. It felt like a very wet roller coaster ride. The boat did right itself, only to get hit again, and one more time, altogether three huge waves in a row.
Everything in the interior of the boat was trashed, even the huge heavy refrigerator door came open, dumping the contents everywhere, I did not have a working phone or camera at this point, so I have no pictures, but it was pure chaos. Eggs had flown all over the cabin, leaving a gooey mess on top of all the soaked and ruined interior items.
After the waves were past, Robert went above while I looked out from the companionway. The mainsail was ripped to shreds, the bimini and solar panels were gone, along with the dinghy and the motor, the ice chests, the water jugs, and the chart plotter housing was laying in the floor of the cockpit.
Robert tried to start the engine. The batteries would not crank the starter, although it tried.
We were sitting in a calm cove. The big waves had been the breakwater into the protected cove of what we would later learn was Isla Desterrada, or "Deserted Island" in the Alacranes.

Waiting for Help
We spent two days and nights anchored here waiting for help. Then, the Navy ship Vera Cruz found us again. They arrived in a smaller boat, and the crew was cheering, waving, and smiling as they came around the reef.
Later, Commander Camargo would tell us that he was not sure they would find the boat again, or us alive.
After a lot of back and forth, and two separate Navy crew members trying to start the boat, we were asked to leave the boat and be taken to Puerto Progreso. This was an extremely difficult thing for us to do, but in a foreign country with only a rudimentary grasp of the language, with a non-working boat with extensive damage, we knew we needed help.
By this point night was falling again, so a decision needed to be made quickly. I will never forget the feeling of leaving her there and not knowing if we would ever see our boat again. The rescue onto the large Navy ship waiting out in rougher water was harrowing, but when we were finally ensconced on the ship, they fed us and gave us clean dry bunks, and we fell asleep.
Upon arrival at Puerto Progreso, an immigration official awaited us to take care of our passport paperwork and an ambulance was there with a doctor, who checked us over. We were badly bruised all over, but my back, and kidneys were much better by that point and they gave us a clean bill of health. A navy Lieutenant drove us to a hotel for the night and promised to try to help us retrieve the boat the next morning. It was 3:00 a.m. when we checked in the hotel, in a strange country, with no friends, a very basic knowledge of the language, and without our beloved boat.
It took 7 days to finally get someone to tow the boat into port from the island 65 miles away. We were promised, each and every day, that it would be done "manana". In the meantime, we were hauled twice by uniformed officials to the Port Captain and basically threatened with a $5000.00 USD tow bill and fines by the Ecologica Police for any damages to the reef if the boat broke anchor.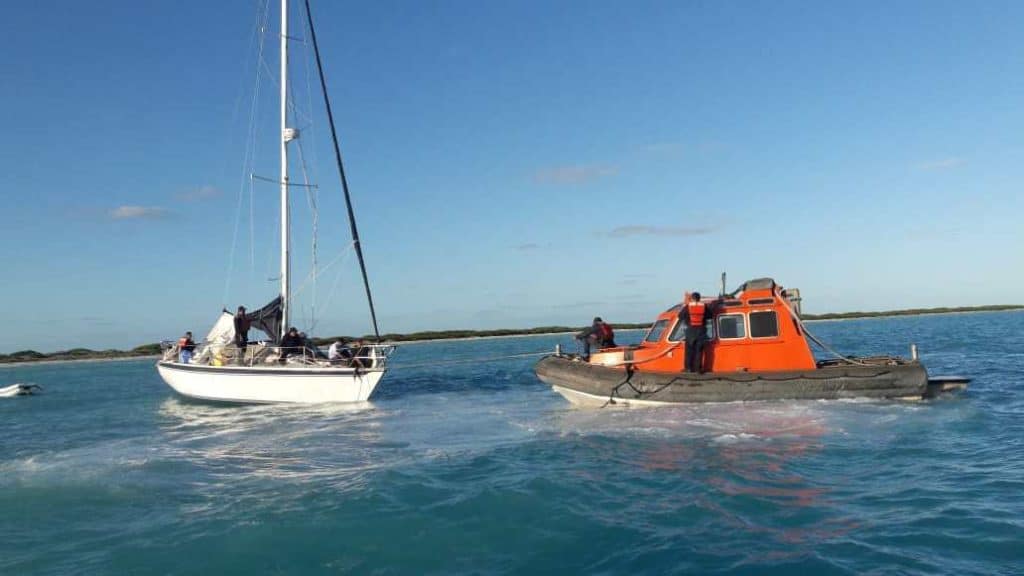 Any thoughts we had of keeping her were erased when we realized she had been boarded and stripped of pretty much everything that wasn't nailed down, and even a few things that were. The charges to us for the tow ended up being 35000 pesos, or $1850.00 US dollars, approximately. The towing was finally done by a fishing boat.

Lessons Learned
I'm thankful to The Boat Galley for the articles about ditch bags, storage, and provisioning.
Although my ditch bag did not have everything in it it should have, our papers and money were safe and left the boat with us. I should have put all the electronics in a waterproof bag as well. We ruined two phones, two Kindles, two tablets, and a laptop.
Even if we had been stranded for a month, we would have had ample dry, nonperishable food and water.
We had all the safety gear needed for signaling other boats, and we used them; the best lifejackets money could buy, and every safety item the Coast Guard recommends. We got a voluntary Coast Guard inspection prior to leaving, and we filed a float plan as recommended so my kids would have been calling the Coast Guard if we did not check in by December 26th.
S.V. NeverLand did exactly what she was designed to do, and although we got knocked around and almost turned upside down, she came through. We should have equipped her with jacklines because then we could have safely gone out and secured the mainsail when we took it down.
We should have gotten a storm drogue, or storm anchor, and we should have practiced using them. And we should have studied more about storm tactics.
When we dropped off south of our planned route, thinking we could make the time up when the wind changed, we actually dropped out of the weather zone I had been studying, and right into El Norte.
I should have studied the weather patterns of the entire season and area more thoroughly, rather than just looking for a weather window of 7 days for our exact route. (I probably would have talked us out of going at all, but we would still have our boat.) We should have secured the dinghy to the deck with redundancy.
We should have had a backup, waterproof, spare weather/VHF radio aboard, and a generator.
I believe we should have done a few shorter crossings for practice, before jumping into this longer and more dangerous one. We had been through several Gulf of Mexico storms in our travels, but this one made those look like bath water. Nothing we had seen or been through prepared us for the ferocity and duration of this storm.
I still question whether we should have left the boat when they asked us to. I guess I will second guess that decision for a long time. However, we had had many talks about what we would do, if the boat became severely damaged. After all, we lived in hurricane country and sailed through hurricane season. You have to talk about it.
The boat was paid for and we had liability insurance only. While we loved it, we also were prepared to walk away rather than dump thousands more into her for major repairs. The irony of the fact that we got nowhere near a hurricane all season, but got in the soup well after the season was over, is not lost on us.
We should have called the US consulate as soon as we started having issues with the local officials. I now know that they could have smoothed the way with a few phone calls and probably gotten the boat back to us the next day. We also now know that for a very nominal amount we could have paid someone to interpret for us.

Aftermath
Currently, we remain in Mexico. We miss our boat and we are having to rewrite our story completely for the next year and a half that we thought we would be using to cruise the Caribbean. We truly do not yet know what we will do from here.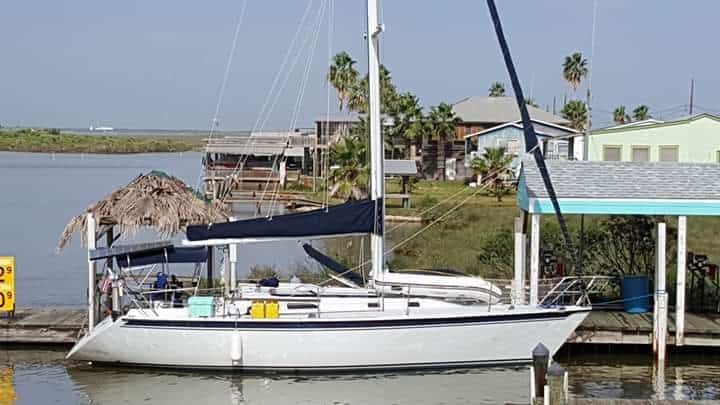 Our financial loss is substantial. But we are stronger- both individually, and as a couple. And we feel very fortunate to have survived it. We appreciate and savor everything life is giving us right now, from the smell of fresh coffee brewing to our daily walk on the beach.
A local businessman purchased the boat. They picked it up 15 minutes after they made the down payment, and they provided us with a free place right on the beach to stay for two months as part of the purchase price. All in all, the outcome could have been much worse.
I am currently writing a memoir about our sailing story, as well as a fiction novel on Patreon, which will be launched next week. Obviously, this article an extremely abbreviated version of everything that happened. Every experience like this helps us learn and grow as sailors and yes, as human beings. I have always hated the phrase "What doesn't kill you makes you stronger" but I'll be damned if it isn't one hundred percent true.
Will we sail again? Don't rule it out.
---
---
Our FREE Provisioning Spreadsheet
Wondering how much of what foods to take on your next trip? Know just how much to buy of what — all arranged by grocery store aisle — with our handy Provisioning Spreadsheet. Includes detailed instructions to edit it for your favorite foods, how much your family eats, and how long you'll be gone. No spreadsheet skills needed!
It's FREE — get it here.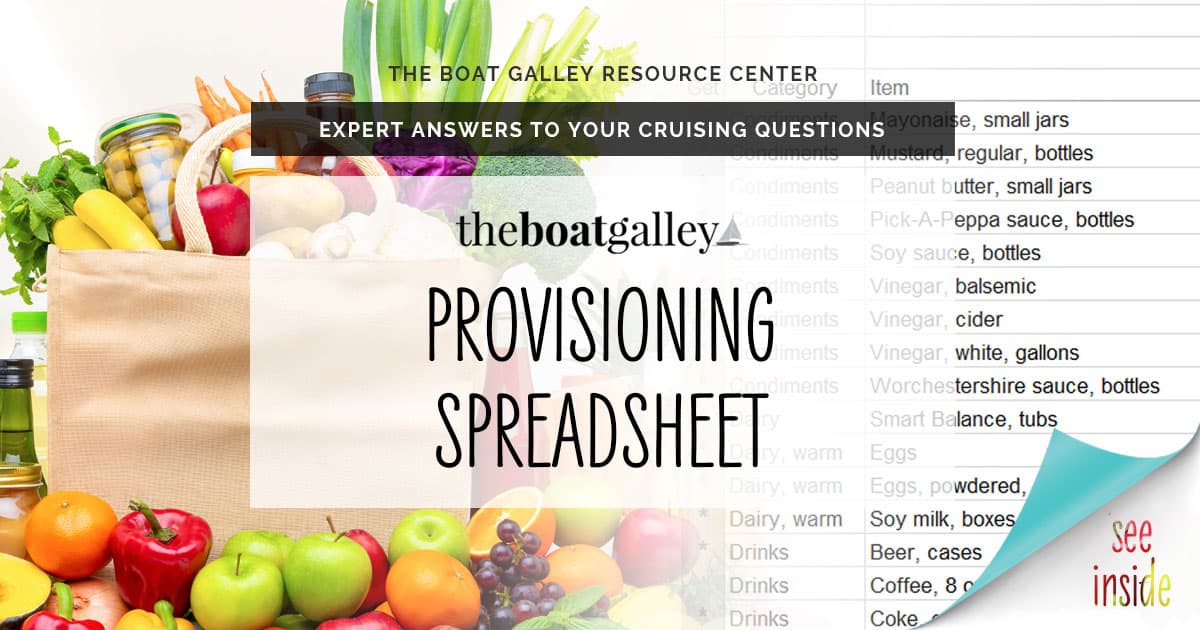 Some links above (including all Amazon links) are affiliate links, meaning that I earn from qualifying purchases. Learn more.